This healthy Greek Pizza with Tofu Feta is a great way to switch up pizza night! Made with tofu feta and vegan tzatziki, it is sure to please!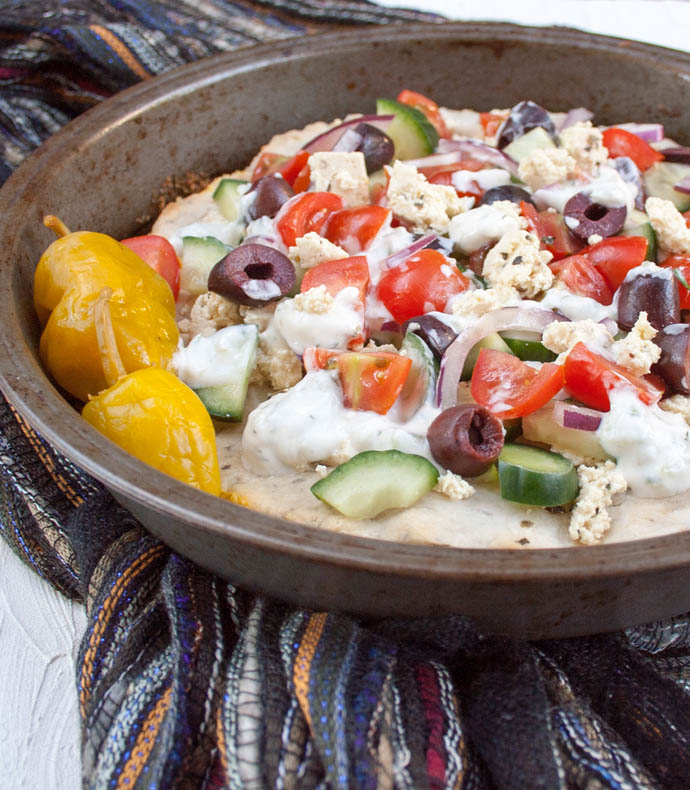 This Greek Pizza with Tofu Feta is basically a Greek Salad on a pizza crust. These days I think of pizza dough like bread - a vehicle for whatever you want to put on top of it.
My go-to pizza is pineapple and onion, but it's fun to change up pizza night. I like to switch up pizza night by making my pizza with fusion flavors, like a Thai Pizza or Vegan Hawaiian BBQ Pizza.
If you prefer traditional pizza, and are adverse to the idea of having something cold on your pizza, just think of it like eating a stuffed pita or wrap.
Many moons ago I worked as a server at a Greek restaurant for a short time. Since I love Greek cuisine, it's no surprise that a chunk of my tips went towards the food. Being vegan and gluten free, I can no longer eat a lot of Greek food, so I create my own versions, like Tofu Feta and Vegan Tzatziki.
Now I just need to create a recipe for vegan gluten free pita bread. I miss making sandwiches with it. But of all the types of bread that I have eaten, I miss bagels the most. I am sure there are some good vegan gluten free bagels out there, I just have yet to try them.
For pizza and rolls, I like to use Pamela's pizza mix. It tastes great, but isn't ideal for a quick meal. The dough has to be mixed and left to rise for a couple of hours.
I used Pamela's for this pizza. To make things easier, I like to make it ahead of time, like in the morning or the night before.
Other Fusion Recipes
Recipe
This vegan Greek pizza is fusion food at its best.
*Don't forget to come back and leave your feedback and star rating.
Affiliate links below. We are a participant in the Amazon Services LLC Associates Program, an affiliate advertising program designed to provide a means for us to earn fees by linking to Amazon.com and affiliated sites.
Here's the pizza mix I used to make the pizza. It has a wonderful yeasty flavor.
📋 Recipe
Greek Pizza with Tofu Feta
This healthy Greek Pizza with Tofu Feta is a great way to switch up pizza night! Made with tofu feta and vegan tzatziki, it is sure to please!
Instructions
Make pizza crust according to directions. Mine took 10 minutes to bake.

Top with cucumber, red onion, olives, tomatoes, tofu feta, and vegan tzatziki. Serve with peperoncinis.
Nutrition
Calories:
579
kcal
|
Carbohydrates:
100
g
|
Protein:
7
g
|
Fat:
13
g
|
Saturated Fat:
3
g
|
Cholesterol:
0
mg
|
Sodium:
1091
mg
|
Potassium:
240
mg
|
Fiber:
8
g
|
Sugar:
4
g
|
Vitamin A:
410
IU
|
Vitamin C:
11.6
mg
|
Calcium:
74
mg
|
Iron:
0.5
mg
Vegan Made Easy
Discover vegan products and dishes on the abillion app. Use code WMOON to get started.
Sign Up For My Newsletter
Get a FREE ebook with my Top 10 Vegan Recipes as a welcome gift!
*Note: Nutrition information should be considered an estimate only. Different nutrition calculators give you different results.