This Green Detox Juice is delightfully sweet while being incredibly healthy. It is perfect for starting your morning or doing a cleanse.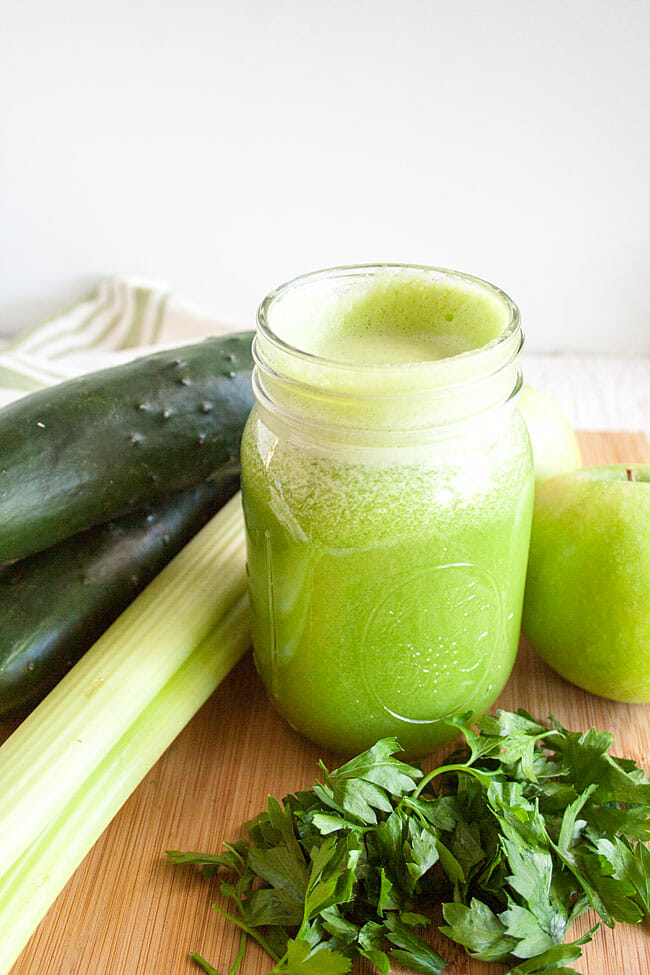 One of the best things that you can do for yourself is to consume a variety of fruits and vegetables throughout the day. A great way to do that is make fresh juice with a juicer.
This Green Detox Juice is delightfully sweet while being incredibly healthy. It has the perfect balance of apples, celery, cucumber, and parsley.
What Does Green Juice Do For The Body?
You not only get more nutrients than eating fruits and vegetables alone, but you get an instant boost of energy. Green juice helps to detox the body, flush out toxins, and improve your energy, digestion, and overall health.
It also helps to alkalize your body.
You'll notice an immediate boost of energy and well-being when you drink it.
If you stayed up too late, and kicked back a few too many glasses of wine, this will get you moving again.
I have been juicing for many years but I am not great at consistency. I go through phases of juicing daily for a few months, then go without for a few months or longer.
One thing that I can say for sure is that I always feel better when I am juicing on a daily basis. I feel more energized and healthy.
A green drink is like a shot of vitamins into the veins - its effects are immediate.
There are times when my body tells me it's time to juice. I get cravings for a freshly pressed green drink.
Normally it happens in the Spring or early Summer months, but recently it happened in the Fall. It's those times that I know a cleanse is in order, or at least a daily juice.
Ingredients
Apples
Celery
Cucumber
Parsley
Tips
Use organic ingredients. It defeats the purpose to drink toxins in your juice.
Drink on an empty stomach. This allows the juice to go straight into your system.
Drink within 15 minutes if possible. I've noticed fresh juice gives me more energy than older juice.
How Long Does It Last?
While it is best to drink freshly made juice right away, if it's stored properly it will last for up to two days. Store juice in a glass airtight container. Fill juice to the top of the container so that air doesn't get to it.
If you don't plan on drinking it up within two days you can freeze it. Freeze juice immediately after juicing. Thaw in the fridge.
When To Drink It?
Fresh juice should be consumed on an empty stomach at least 30 minutes before a meal. This allows your body to absorb all the nutrients.
If you drink fresh juice first thing in the morning on an empty stomach you'll get a nice energy boost, and you may not need that morning cup of coffee afterwards!
How Much Should You Drink A Day?
Since I am not a doctor, I cannot tell you how much green juice to drink, but I know for myself that less is best when starting out.
If you are detoxing for the first time you may feel side effects, so start with small amounts to begin with.
Other Healthy Drinks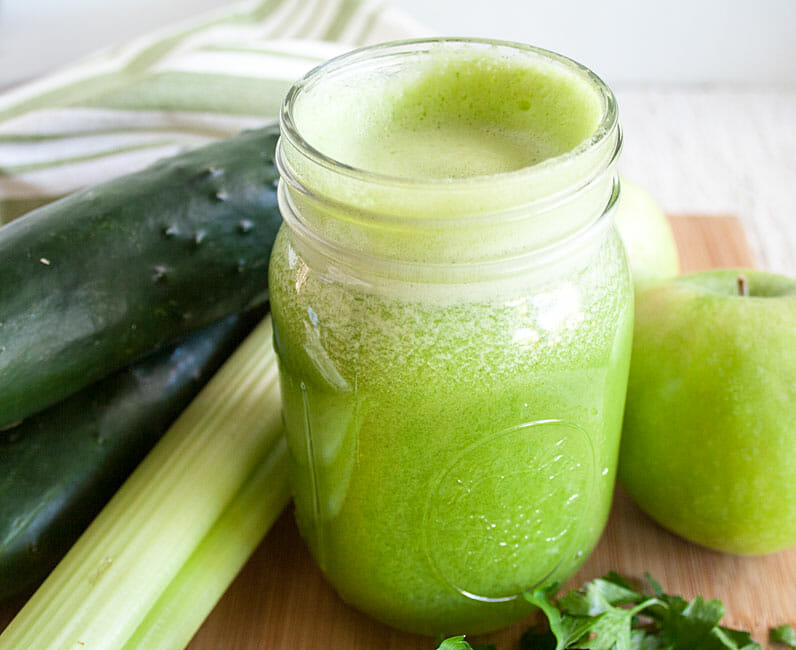 Recipe
This green juice recipe for detox is perfect for a cleanse or to include more fruits and vegetables in your diet.
*This post was originally published November 23, 2014. I updated the photos and added text.
*Don't forget to come back and leave your feedback and star rating.
Affiliate links below. We are a participant in the Amazon Services LLC Associates Program, an affiliate advertising program designed to provide a means for us to earn fees by linking to Amazon.com and affiliated sites.
I currently use a BELLA 13694 High Power Juice Extractor (below), but I used to use a Champion juicer. If you plan on juicing a lot, I would recommend investing in a good quality juicer, like the Champion.
Since I don't juice as often as I used to, I bought the Bella, which costs less. The Bella still does what I need it to do. My Champion bit the dust since I didn't take as good of care of it as I could have.
One thing I really liked about the Champion, is it had a blank, which enabled me to make desserts like Vegan Banana Ice cream, so it all depends on what you are going to use it for and how often.
📋 Recipe
Green Detox Juice
This Green Detox Juice is delightfully sweet while being incredibly healthy. It is perfect for starting your morning or doing a cleanse.
Ingredients
2

Granny Smith apples

1

large cucumber

2-3

stalks of celery

Handful of parsley
Instructions
After washing and slicing the apples and vegetables, juice in a

juicer. (Make sure to remove the apple core and seeds.)
Nutrition
Calories:
244
kcal
|
Carbohydrates:
60
g
|
Protein:
3
g
|
Fat:
1
g
|
Saturated Fat:
0
g
|
Cholesterol:
0
mg
|
Sodium:
105
mg
|
Potassium:
1109
mg
|
Fiber:
12
g
|
Sugar:
44
g
|
Vitamin A:
950
IU
|
Vitamin C:
30.1
mg
|
Calcium:
112
mg
|
Iron:
1.3
mg
Vegan Made Easy
Discover vegan products and dishes on the abillion app. Use code WMOON to get started.
Sign Up For My Newsletter
Get a FREE ebook with my Top 10 Vegan Recipes as a welcome gift!
*Note: Nutrition information should be considered an estimate only. Different nutrition calculators give you different results.