These vegan Vegetable Fritters make a great appetizer or meal. If you have vegetables to use up, these are a great way to use them up.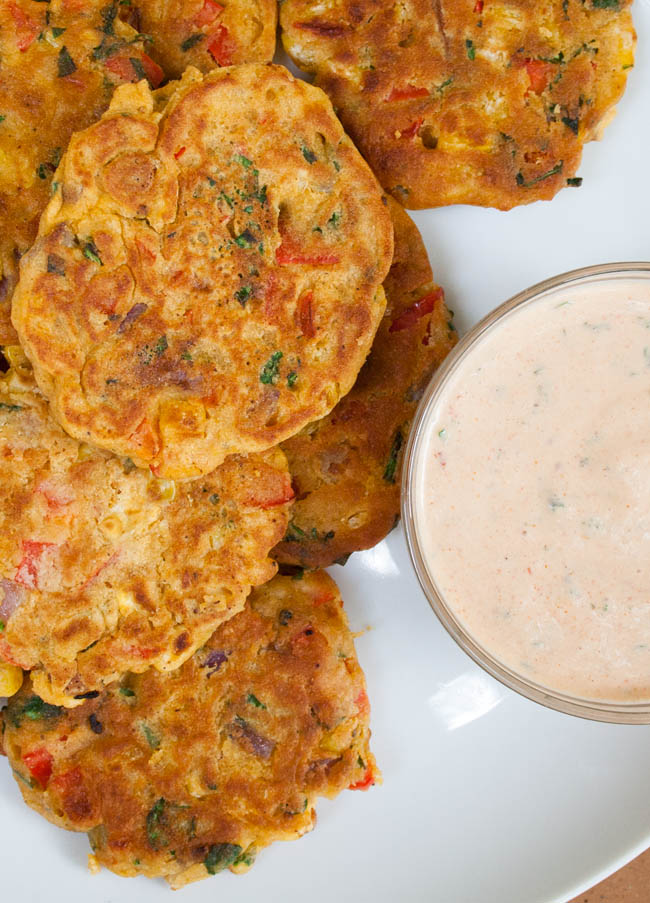 Chickpea Flour
I got the idea for these vegan Vegetable Fritters after making a Chickpea Omelet Two Ways. They are similar in that they both have chickpea flour and vegetables, but their flavor profile is a bit different.
The Chickpea Omelets have a "cheesy" flavor from nutritional yeast. Even though they are a vegan omelet, they are a lot like a flatbread.
I love how versatile chickpea flour is. There are so many ways to use it.
If you love Indian food, like I do, I probably don't have to tell you how great pakoras are, which contain chickpea flour. They are one of my favorite appetizers to get when I eat at Indian restaurants.
Now that would be a fun recipe to make! I have a feeling I would want pakoras every night if I started making them.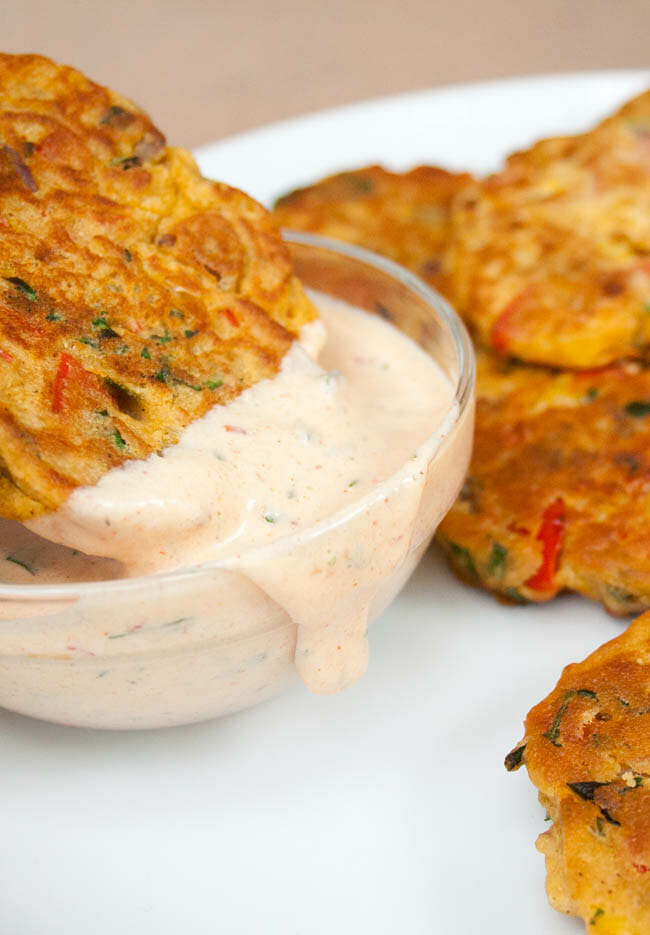 Veggies, Veggies, Veggies!
This is one of those dishes that if you have vegetables to use up in the fridge, this is a great way to get rid of them.
You could use almost any vegetable you want here, keeping in mind the water content of the vegetable, which will change the consistency of the batter.
I don't have kids, but I bet they will love these. The great thing about Vegetable Fritters is that you can hide loads of veggies in the batter.
Even the pickiest eaters who claim to hate veggies won't realize all the vegetables they are eating.
Want your kids to try a broccoli recipe they'll love? Try my Broccoli Fritters. They go great with hummus.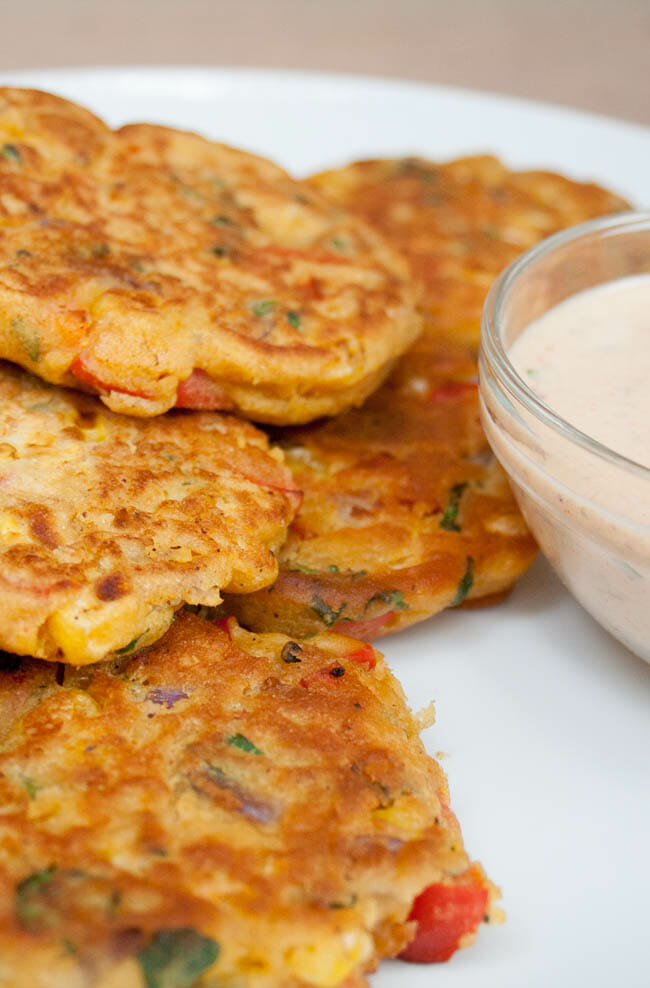 My Tofu Frittata is another great place to sneak in some veggies. It is another versatile recipe where you can add whatever veggies you want. It is also one where you can spice it up or down.
Corn and red pepper add a sweet element to these dairy-free fritters, while red onion, chickpea flour, and a bunch of spices add a savory element.
Vegetable Fritters Need a Good Dipping Sauce
Since I love spicy food, I paired these with one of my latest dressings, Vegan Chipotle Ranch Dressing. Anytime that I can sneak some spice into a dish, I am all over it.
The spiciness of the chipotle pairs nicely with the sweet corn and other ingredients in these fritters.
If Vegan Chipotle Ranch Dressing is too spicy for your tastebuds or your kiddos, check out my Vegan Ranch Dressing - it is quite tame! It has all the same fresh herbs without the spicy smoky flavor.
These Vegetable Fritters are packed with flavor! Vegan Chipotle Dressing adds a spicy touch.
Click To Tweet
These crispy Vegetable Fritters are fast and easy to make. I ate them for dinner, but they would also work well as an appetizer or snack. You could make extra and pack them for lunch to eat at work.
Affiliate Link
Other Appetizers You Might Like
Tips for Making Vegetable Fritters
When mixing the flour mixture it will look like pancake batter.
You only need enough oil to coat the pan. This is a shallow fry, not a deep fry.
After you heat your pan on medium-high heat, you'll want to test the oil to see that it's ready. To test your oil, sprinkle a few drops of water in the pan. If they sizzle, your pan is ready. You can also test the oil with a wooden spoon. The oil will start bubbling around the spoon.
Don't worry, the mixture will stay together when you add it to the frying pan. No, it doesn't need an egg, or in my case a chia egg to stay together. The fritters stay together all on their own.
When scooping the vegetable fritter mixture onto the skillet, you can flatten it and push straggling pieces inward to make a more rounded shape.
The veggie fritters are ready to flip when they are golden brown.
Place fritters on a paper towel lined plate to absorb excess oil.

Vegetable Fritters
I hope you love these vegan gluten free fritters as much as I do! If you love this recipe, please come back and leave your feedback and star rating.
Affiliate links below. We are a participant in the Amazon Services LLC Associates Program, an affiliate advertising program designed to provide a means for us to earn fees by linking to Amazon.com and affiliated sites.
Here's the chickpea flour that I used to make the fritters. I love the taste compared with other gluten-free flours.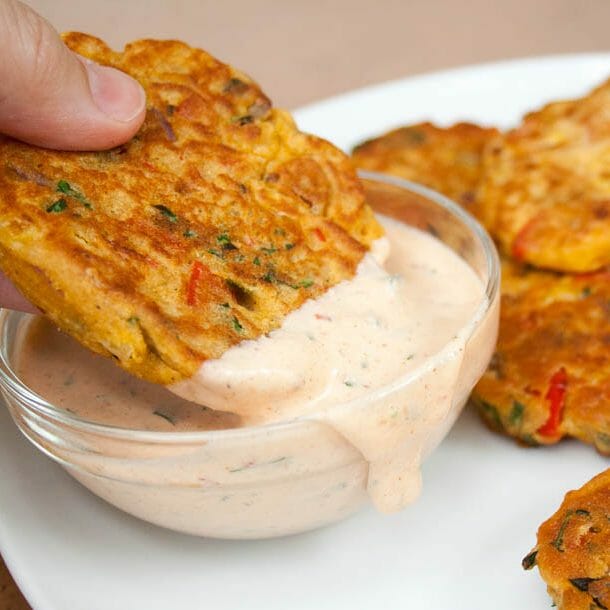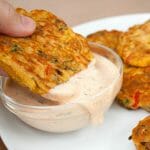 Print
Vegetable Fritters
These vegan Vegetable Fritters make a great appetizer or meal. If you have vegetables to use up, these are a great way to use them up!

Ingredients
¾

cup

chickpea flour 

(garbanzo bean flour)

½

cup

water

1

teaspoon

cumin

½

teaspoon

cayenne pepper

¼

teaspoon

paprika

¼

teaspoon

garlic powder

½

teaspoon

salt

pepper

¼

cup

chopped red onion

¾

cup

chopped red pepper

¾

cup

corn

2

tablespoons

chopped parsley

vegetable oil

Vegan Chipotle Ranch Dressing 

(optional)
Instructions
Mix dry ingredients. Add water and whisk until all the clumps are out. Fold vegetables into batter.

Heat pan on medium high heat. Add enough vegetable oil to cover the pan. You can test the oil by dropping a couple of drops of water or the batter into the oil. If they sizzle, your oil is hot enough.

Spoon some of the batter on the pan, fitting as many fritters as you can on the pan you use. Cook until browned. You should be able to lift the fritter easily when it is ready. Flip and cook the other side. Repeat with the rest of the batter, adding more oil as needed.

Serve with Vegan Chipotle Ranch Dressing.
Nutrition
Serving:
1
g
|
Calories:
49
kcal
|
Carbohydrates:
8
g
|
Protein:
2
g
|
Fat:
0
g
|
Saturated Fat:
0
g
|
Polyunsaturated Fat:
0
g
|
Monounsaturated Fat:
0
g
|
Trans Fat:
0
g
|
Cholesterol:
0
mg
|
Sodium:
119
mg
|
Potassium:
56
mg
|
Fiber:
2
g
|
Sugar:
1
g
|
Vitamin A:
515
IU
|
Vitamin C:
16.5
mg
|
Calcium:
15
mg
|
Iron:
0.8
mg
Vegan Made Easy
Discover vegan products and dishes on the abillion app. Use code WMOON to get started.
Sign Up For My Newsletter
Get a FREE ebook with my Top 10 Vegan Recipes as a welcome gift!
*Note: Nutrition information should be considered an estimate only. Different nutrition calculators give you different results.
Do You Prepear?
I have partnered with Prepear as one of their Meal Plan Pros to offer meal plans and recipes to users. It makes meal planning fast and easy! Plus it's FREE!