This Pear Kombucha is fruity and fizzy. Made with fresh juicy pears, it's a sweet drink for fall and the holidays.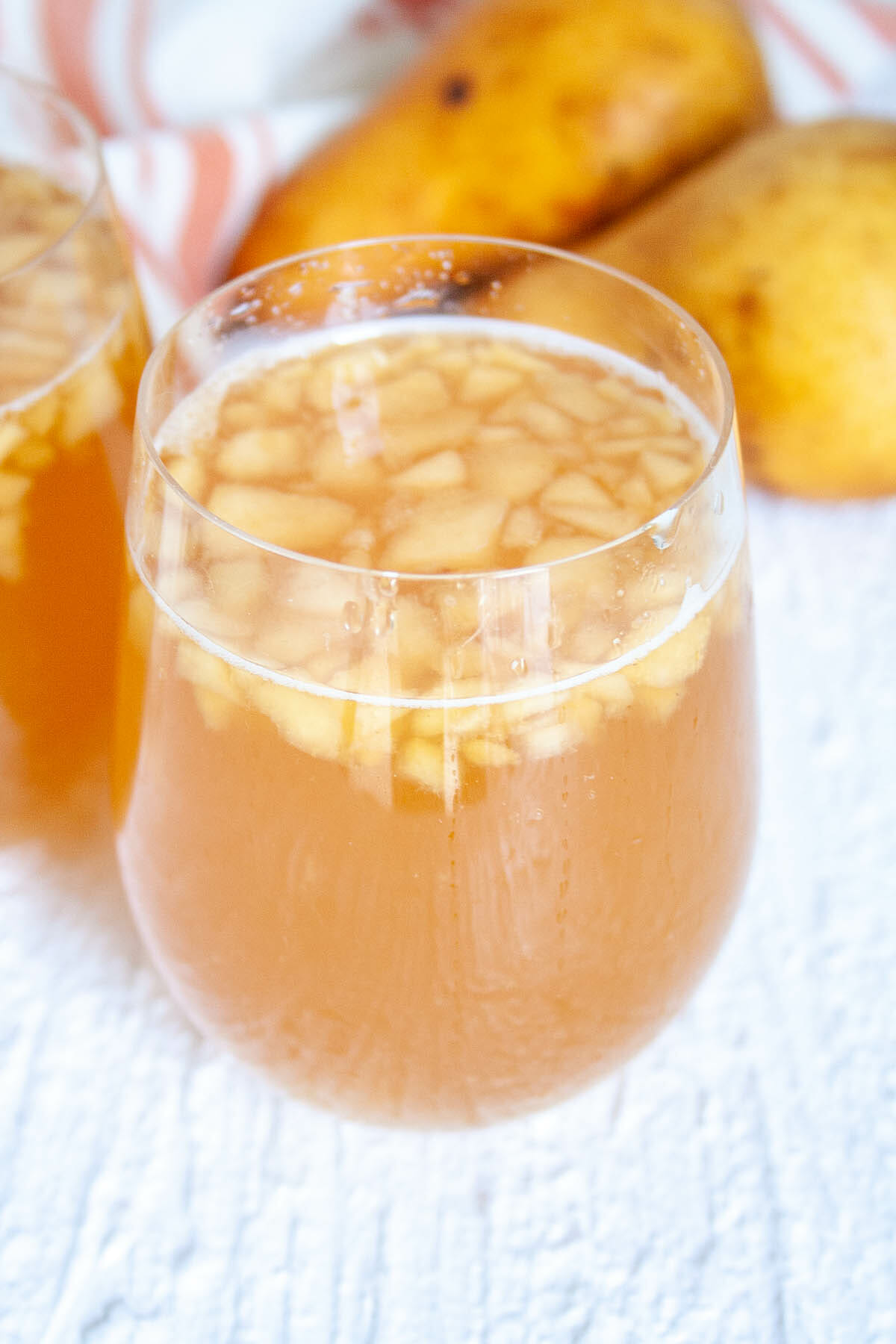 This Pear Kombucha has a wonderful sweet fruity flavor. It is the perfect drink for fall.
You can also add chai spice mix to make Chai Pear Kombucha.
Serve it alongside apple cider or in place of it for Thanksgiving.
Some other fall flavors are Apple Cinnamon Kombucha, Pumpkin Spice Kombucha, and Chai Kombucha.
Jump to:
Two Types of Fermentation
To make homemade kombucha, you start with the first fermentation.
The first fermentation of kombucha is when you combine sweetened tea, a kombucha scoby, and some starter tea. You let it ferment for 7-21 days and the result is uncarbonated unflavored kombucha.
To make Pear Kombucha, you will be making a second fermentation.
The second fermentation involves taking that kombucha you made in the first fermentation and adding flavor. You let it ferment for another 3-5 days in sealed bottles. The result is a fizzy flavored drink.
You can ferment even longer, if needed, letting the kombucha ferment up to 14 days. It all depends on the amount of sugar content in the flavor you're adding, and the temperature of the room.
Warmer temperatures will cause faster fermentation, and higher sugar content will also speed up fermentation.
What Makes Kombucha Fizzy?
The second fermentation is when kombucha gets fizzy. By putting it into a sealed container at room temperature and adding a sugar source (fruit and / or sweetener), carbon dioxide builds.
🧾 Ingredients
This is an overview of the ingredients. To see the full list of ingredients with measurements and instructions, see the recipe card at the bottom of this post.
Homemade kombucha: You'll need freshly made kombucha that has not been refrigerated yet.
Pear: I used fresh pears. You could also use pear juice.
🥣 Supplies
🔪 Instructions
Smush ½ cup chopped pear into each bottle. Pour homemade kombucha into the bottles, leaving 1-2" head space. Let sit 3-5 days.
Pop open the lids at least once a day. Pressure builds, and this allows it to escape. Taste each day to test its flavor and fizziness. For this recipe I let mine ferment 5 days.
Should I Burp My Second Ferment Kombucha?
Yes! If you don't you could have a mess. By adding sugar to the homemade kombucha and fermenting a second time in bottles with swing top lids, you're creating an environment for carbonation. If you don't allow it to escape, you'll have kombucha all over your kitchen.
How Long Does It Take To Get Fizzy Kombucha?
It can take anywhere from 1-14 days. It depends on a few things.
It depends how much sugar you have in the kombucha. (Sugar in the form of fruit and / or sweetener.) The more sugar, the faster you'll get carbonation.
It also depends on the weather. Warmer temperature = faster carbonation. I've had bubbly kombucha after a day in summer months and bubbly kombucha after a week in colder months.
💭 Tips
Use bottles with swing top lids! Mason jars and store-bought kombucha bottles that have the seal broken won't hold carbonation.
You can add maple syrup, agave syrup, brown sugar, white sugar, or another sweetener to make the kombucha sweeter.
Strain the chopped pears after fermenting, if desired.
Shake bottle before pouring a glassful.
Refrigerate after the kombucha is done fermenting.
I used chopped pears but you could also use pear juice.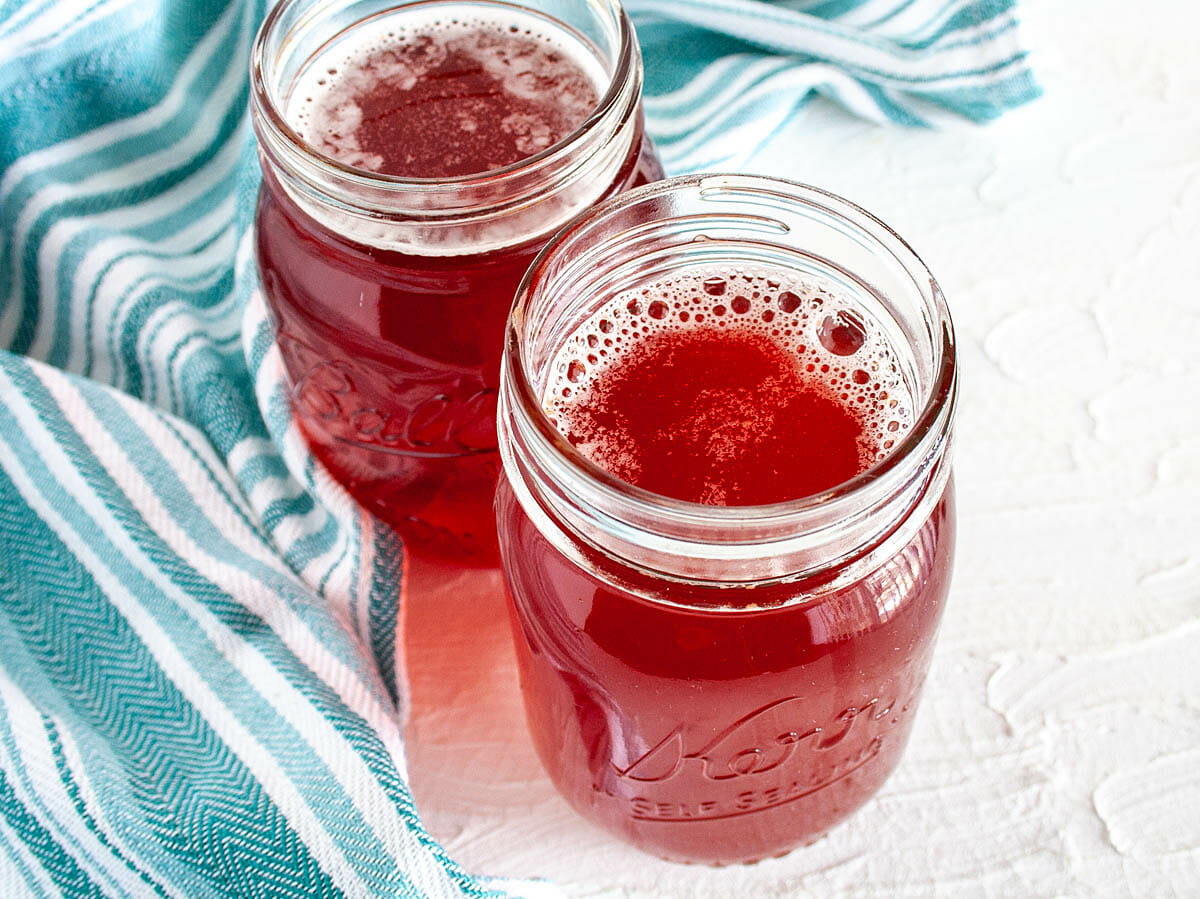 5 Secrets To Making Kombucha
Kombucha just got easier!
We respect your privacy. Unsubscribe at any time.
🥃 Other Kombucha Recipes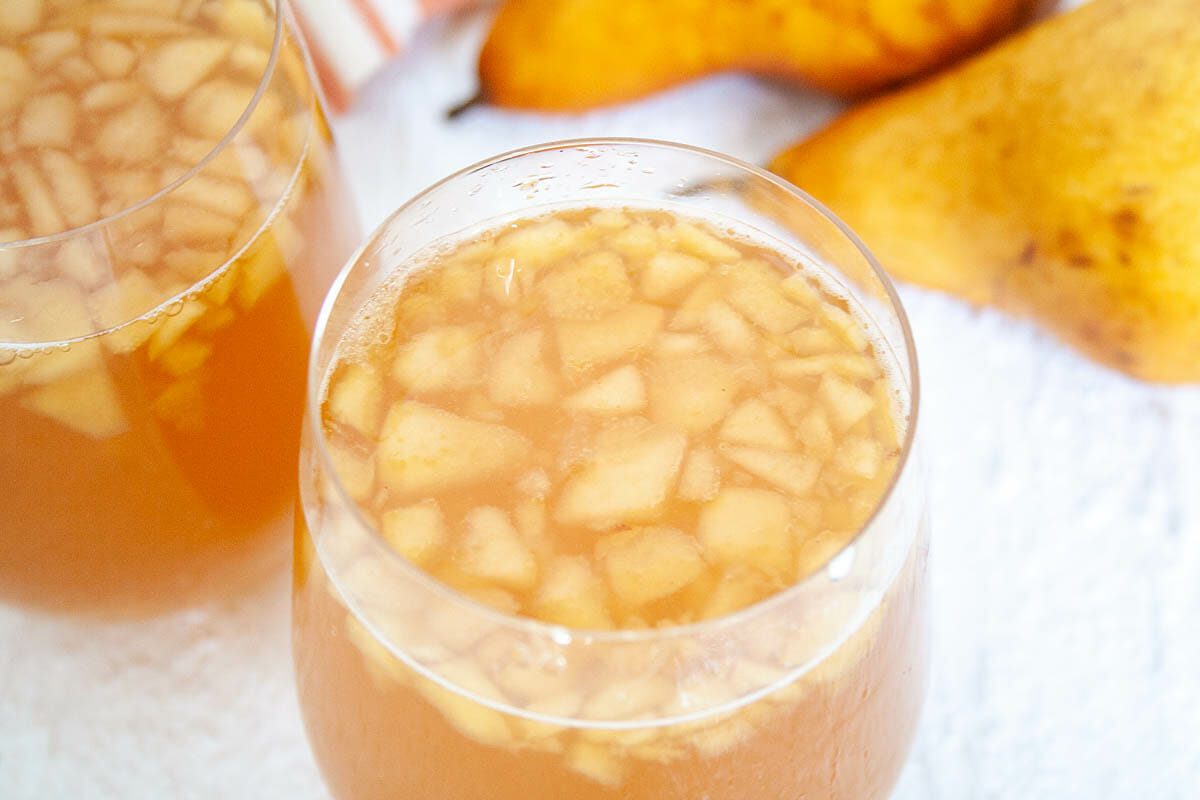 *Don't forget to come back and leave your feedback and star rating.
Affiliate links below. We are a participant in the Amazon Services LLC Associates Program, an affiliate advertising program designed to provide a means for us to earn fees by linking to Amazon.com and affiliated sites.
🧂 You May Need
📋 Recipe
Pear Kombucha
This Pear Kombucha is fruity and fizzy. Made with fresh juicy pears, it's a sweet drink for fall and the holidays. 
Instructions
Line up 4 bottles (25 ounce) with flip top lids.

Smush ½ cup chopped pears into each 25 ounce bottle.

Using a funnel, pour freshly made homemade kombucha into each bottle leaving 1-2" head space.

Let bottles sit out (at 75° - 85°) 3-5 days, making sure to pop the lids each day to let out the pressure of the carbon dioxide. Taste each day to test its flavor and fizziness.

Refrigerate when you are happy with the amount of fizz and flavor.
Nutrition
Calories:
70
kcal
|
Carbohydrates:
18
g
|
Protein:
0.1
g
|
Fat:
0.04
g
|
Saturated Fat:
0.01
g
|
Polyunsaturated Fat:
0.02
g
|
Monounsaturated Fat:
0.02
g
|
Sodium:
12
mg
|
Potassium:
31
mg
|
Fiber:
1
g
|
Sugar:
17
g
|
Vitamin A:
7
IU
|
Vitamin C:
1
mg
|
Calcium:
9
mg
|
Iron:
0.05
mg
Vegan Made Easy
Discover vegan products and dishes on the abillion app. Use code WMOON to get started.
Sign Up For My Newsletter
Get a FREE ebook with my Top 10 Vegan Recipes as a welcome gift!
*Note: Nutrition information should be considered an estimate only. Different nutrition calculators give you different results.