This Southwest Spaghetti Squash is a healthy meal. It is loaded with black beans, corn, and red pepper on a bed of spaghetti squash with a smoky chipotle dressing.
This is one meal that you can feel good about eating and feeding your family. It is a veg-on-veg fest, with plant-based ingredients.
This Southwest Spaghetti Squash has all of my favorite Southwest ingredients in it: corn, black beans, red pepper, jalapeño, tomato, and a smoky chipotle dressing, all served on a bed of spaghetti squash.
This vegan Southwest Spaghetti Squash is a healthy meal. It is loaded with flavor!
Click To Tweet
Chipotle Peppers
Ever since moving to Tucson about seventeen years ago, I have been influenced by the local Mexican cuisine. Before moving here, I don't think I had ever tried chipotle peppers. Now chipotle peppers in adobo sauce are a staple in my pantry because I can't live without them.
If you have never tried a chipotle pepper, it has medium heat with a smoky flavor. Although, I should say if you think jalapeños are spicy, you will think chipotles are spicy too.
Chipotle peppers are dried and smoked jalapeños. Chipotle peppers in adobo sauce are rehydrated and mixed in a spiced tomato sauce.
Chipotle peppers fall between 3,000 and 10,000 units on the Scoville Scale, to give you an idea of their spice level.
I have used this Chipotle Dressing (or a variation of it) on a Southwestern Black Bean Salad, Black Bean Jicama Tacos, and Lentil Quinoa Burritos. Can you tell it is one of my favorites!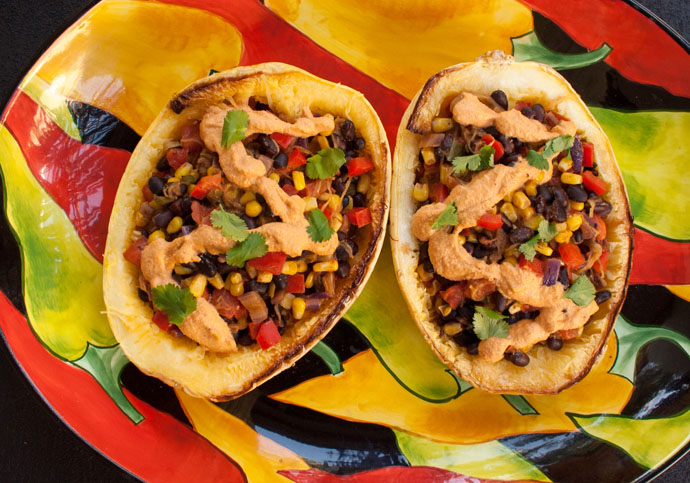 Low Carb
Spaghetti squash is a great alternative to pasta. Since I have been eating low carb for the last six months, I like to use it in place of spaghetti or other noodles. Spaghetti squash is fairly low carb compared to other vegetables, with greens being the best.
I actually made this almost a year ago. I always have about three months worth of posts waiting to be posted at any given time, and some recipes move to the top of the list for whatever reason.
Since I have been eating low carb, I haven't had black beans for a very long time. I am slowly adding beans back into my diet because I am eating more carbs now than when I started.
Just last week I made a Lentil and Mushroom Shepherd's Pie with Mashed Cauliflower, and last month I made a 3 Ingredient Vegan Chili, which has pinto beans in it.
Seeing this Southwest Spaghetti Squash is making me realize how much I miss black beans. They are always the first bean that I grab in the grocery store.
Don't get me wrong, I like other beans too. Garbanzo are another bean that I always have in my pantry, since they are so versatile. But for some reason black beans get more of my attention.
One of my favorite recipes with black beans is Maple Chipotle Black Bean Lettuce Wraps with Mango Salsa. They are sweet and spicy, which is my absolute favorite flavor combination.
Another way that I love to eat spaghetti squash, is Vegan Spaghetti Squash Alfredo. It has a creamy alfredo sauce made from cauliflower. There's another veg-on-veg fest for you!
I also like to eat it with pesto, which I have a recipe for that I will be posting in the coming weeks.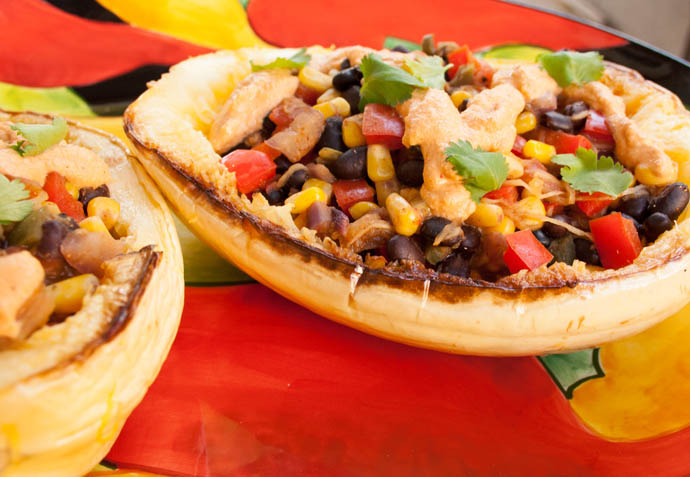 Southwest Spaghetti Squash
This vegan spaghetti squash is a meal you can feel good serving your family.
*Don't forget to come back and leave your feedback and star rating.
Affiliate links below. We are a participant in the Amazon Services LLC Associates Program, an affiliate advertising program designed to provide a means for us to earn fees by linking to Amazon.com and affiliated sites.
I love these Pyrex baking dishes! I used a 7 ½" x 9 ½" baking dish for this recipe. It's great because it comes with a cover, so I can put it in the fridge.
Print
Southwest Spaghetti Squash
This Southwest Spaghetti Squash is a healthy meal. It is loaded with black beans, corn, and red pepper on a bed of spaghetti squash with a smoky chipotle dressing.

Ingredients
1

spaghetti squash

1

tablespoon

olive oil

+ more for drizzling on squash

½

cup

chopped red onion

1

cup

chopped red pepper

15

oz.

can black beans

1

cup

corn

2

tablespoons

finely chopped jalapeño

1

clove

garlic

minced

2

teaspoons

chili powder

1

teaspoon

cumin

Salt and pepper

½

cup

chopped tomato

Cilantro
Instructions
Preheat oven to 450°.

Slice spaghetti squash in half lengthwise. Scrape out seeds and stringy bits. Drizzle olive oil in a baking dish, and place spaghetti squash cut side down. Roast at 450° for 25-30 minutes, or until fully cooked and tender. Scoop out spaghetti squash after it has cooled.

In a skillet, heat olive oil. Add red onion and cook until translucent. Add red pepper, black beans, corn, jalapeño, garlic, and seasonings. Cook until red pepper and jalapeño are crisp tender.

Add tomato and spaghetti squash, and cook a few minutes. Pile filling back in squash boats. Top with chipotle dressing and cilantro, and serve.
Nutrition
Calories:
181
kcal
|
Carbohydrates:
32
g
|
Protein:
6
g
|
Fat:
4
g
|
Saturated Fat:
0
g
|
Cholesterol:
0
mg
|
Sodium:
341
mg
|
Potassium:
588
mg
|
Fiber:
9
g
|
Sugar:
7
g
|
Vitamin A:
1315
IU
|
Vitamin C:
47.4
mg
|
Calcium:
78
mg
|
Iron:
2.6
mg
Love Animals?
Support animals by reviewing vegan dishes or products on the abillion app. One review = $1 and takes 30 seconds! Use code WMOON to get started.
Nutrition Facts
Chipotle Dressing - per 2 Tablespoons
Amount Per Serving
Calories 59
Calories from Fat 36
% Daily Value*
Fat 4g6%
Cholesterol 0mg0%
Sodium 162mg7%
Potassium 48mg1%
Carbohydrates 3g1%
Protein 1g2%
Vitamin A 50IU1%
Vitamin C 1.1mg1%
Calcium 2mg0%
Iron 0.5mg3%
* Percent Daily Values are based on a 2000 calorie diet.
*Note: Nutrition information should be considered an estimate only. Different nutrition calculators give you different results.
You May Also Like: