This Coffee Kombucha combines two great drinks into one. It's the perfect pick me up for anytime of the day!

This Coffee Kombucha is one of my favorite flavors, and will be in my repertoire for many brews to come. The combination of kombucha and coffee is truly delightful.
I used a secondary fermentation process for this recipe, which is a way to make a guaranteed batch of drinkable kombucha. I was going to try using coffee in the first fermentation instead of black tea, but after reading about all the things that could go wrong, I didn't want to chance it.
Coffee is contains oils and is highly acidic, which is why it can be a disaster.
Other Kombucha Recipes
Two Types of Fermentation
The first fermentation of kombucha is when you combine sweetened tea, a kombucha scoby, and some starter tea. You let it ferment for 7-21 days and the result is uncarbonated unflavored kombucha.
For the second fermentation you remove the scoby and take that kombucha you made in the first fermentation and add flavor. You let it ferment for another 3-5 days in sealed bottles. The result is a fizzy flavored drink.
You can ferment the flavored kombucha up to 14 days. It all depends on the amount of sugar content in the flavor you're adding, and the temperature of the room.
Warmer temperatures will cause faster fermentation, and higher sugar content will also speed up fermentation.
How to Make This Recipe
First you'll need some homemade kombucha, some bottles with flip top lids, and a funnel.
Pour ¼ cup maple syrup and ¼ cup cold brew coffee into each bottle. Pour your homemade kombucha into the bottles, leaving 1-2" head space. Let sit 3-5 days.
Pop open the lids at least once a day. Pressure builds, and this allows it to escape.
Tips
I recommend using cold brew coffee for this recipe since it's a lot less acidic. I pretty much only drink cold brew coffee, so I didn't even try this with regular coffee.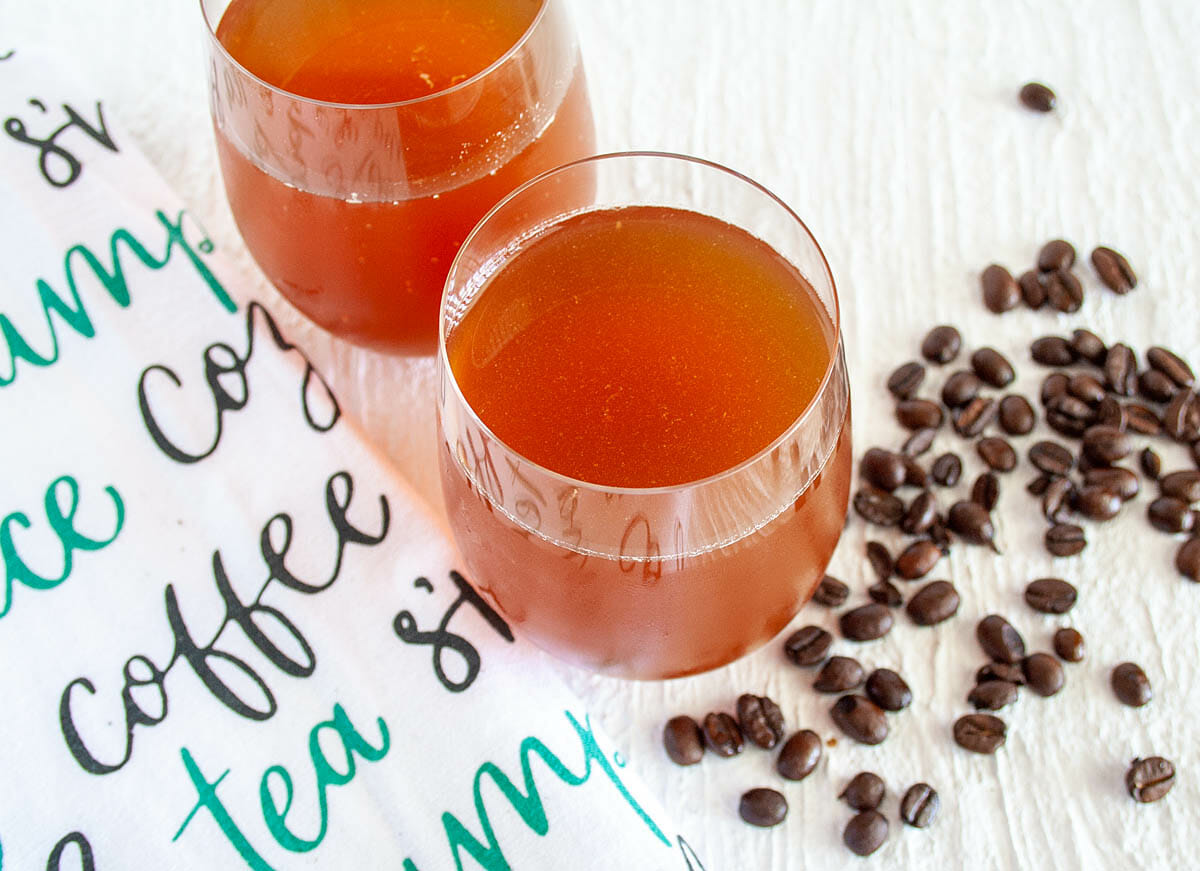 Recipe
*Don't forget to come back and leave your feedback and star rating.
Affiliate links below. We are a participant in the Amazon Services LLC Associates Program, an affiliate advertising program designed to provide a means for us to earn fees by linking to Amazon.com and affiliated sites.
You May Need:
Print
Coffee Kombucha
This Coffee Kombucha combines two great drinks into one. It's the perfect pick me up for anytime of the day!
Instructions
Line up 4 (25 ounce) bottles with flip top lids or other air tight bottles.

Pour ¼ cup cold brew coffee and ¼ cup maple syrup into each 25 ounce bottle.

Using a funnel, pour freshly made homemade kombucha into each 25 ounce bottle leaving 1-2" head space.

Let bottles sit out (at 75° - 85°) 3-5 days, making sure to pop the lids each day to let out the pressure of the carbon dioxide. Taste each day to test its flavor and fizziness.

Refrigerate when you are happy with the amount of fizz and flavor.
Notes
**Important! If you are gluten free you may want to avoid coffee altogether. I personally have never had a problem drinking it, and I have a gluten intolerance. It is probably because I drink whole bean organic coffee, and grind it myself. I learned that it can be problematic for people who don't tolerate gluten. So I did some research and one article mentioned to try organic whole bean coffee because it isn't highly processed causing cross-reactivity issues. So please do the research yourself, and test it out. I try to only post recipes that are 100% gluten free since I have a gluten intolerance. I am really careful about avoiding gluten in my daily life.
Nutrition
Calories:
128
kcal
|
Carbohydrates:
32
g
|
Protein:
1
g
|
Fat:
1
g
|
Sodium:
15
mg
|
Potassium:
70
mg
|
Sugar:
30
g
|
Calcium:
37
mg
|
Iron:
1
mg
Love Animals?
Support animals by reviewing vegan dishes or products on the abillion app. One review = $1 and takes 30 seconds! Use code WMOON to get started.
*Note: Nutrition information should be considered an estimate only. Different nutrition calculators give you different results.