Not only is henna all-natural, but it is also good for your hair. It seals in oils and tightens the cuticle. Here I will show you how to color your hair with henna.
Henna is a natural herb that has been used for thousands of years to dye hair, skin, nails, and fabric. It is really good for your hair because it seals in oils and tightens the cuticle.
It is a great alternative to the chemicals normally used to dye hair. Henna coats and seals the hair shaft. It helps protect the hair from the damaging effects of sun, salt, chlorine, wind, and pollution in the environment.
Most hair coloring agents use hydrogen peroxide or ammonia to strip the hair so the color will be absorbed. They use petroleum or coal tar-based ingredients.
These have been found to increase the long-term risks of cancer. Chemicals weaken and destroy the hair shaft over time.
Even if it says "natural" on the packaging, it is not necessarily safe. Some brands use peroxide in their products.
The Food and Drug Administration has approved henna to color hair. It is one of a select group of natural products to achieve official FDA recognition.
You can use it to color your hair or strengthen and condition your hair with Light Mountain Neutral Henna. I will walk you through the process so that you can try it for yourself.
Jump to:
How Long Does Henna Last?
It lasts for about 4-6 weeks. It isn't as vibrant after 4-6 weeks, but the color is permanent.
How Often Should I Apply Henna?
It depends on how fast your hair grows and what color your roots are. If you start seeing roots that bother you, you're probably going to henna more often than someone who doesn't mind.
I usually henna every 6 weeks or so. I've even gone 8 weeks in between. It's a time consuming process, and sometimes I am just unmotivated to do it.
I love the color and the way my hair feels, so I will continue using henna for a very long time.
First, you'll want to gather all your materials.
What you will need
Henna (I used Light Mountain Natural Henna in Red)
12-16 oz. distilled water (for fewer chemical interactions)
newspaper
old towel
old clothes
safety pin
clothespin
ceramic or glass bowl
wooden or plastic spoon
plastic bag for trash
mirror, if doing it by yourself
*Instructions are at the end of this post.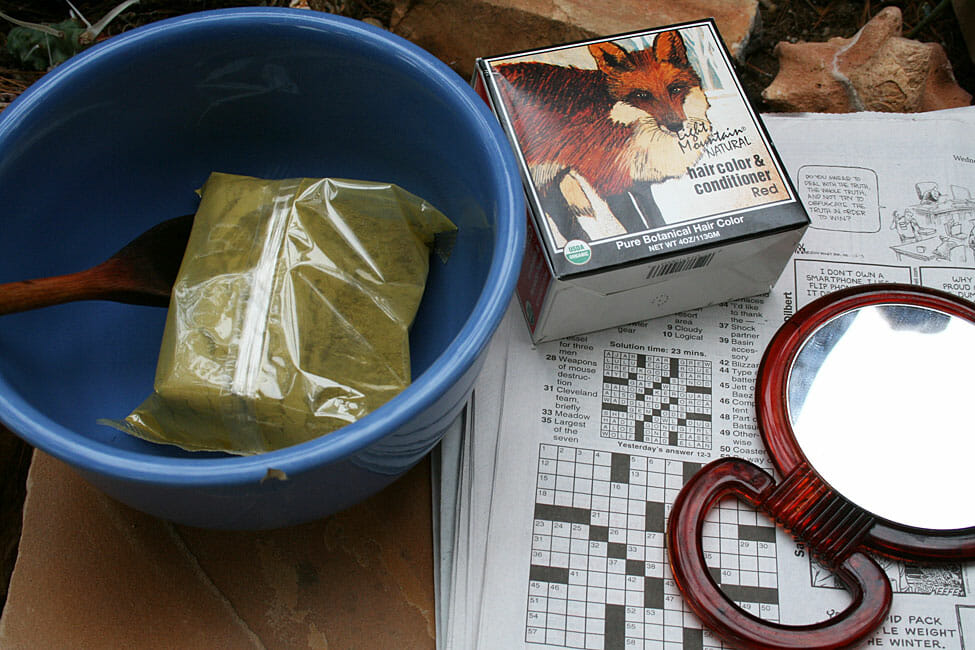 I like to use a mirror since I henna my own hair. If you have someone do it for you, this may be unnecessary. It can be a messy process, so I put newspaper all over my bathroom floor and counter.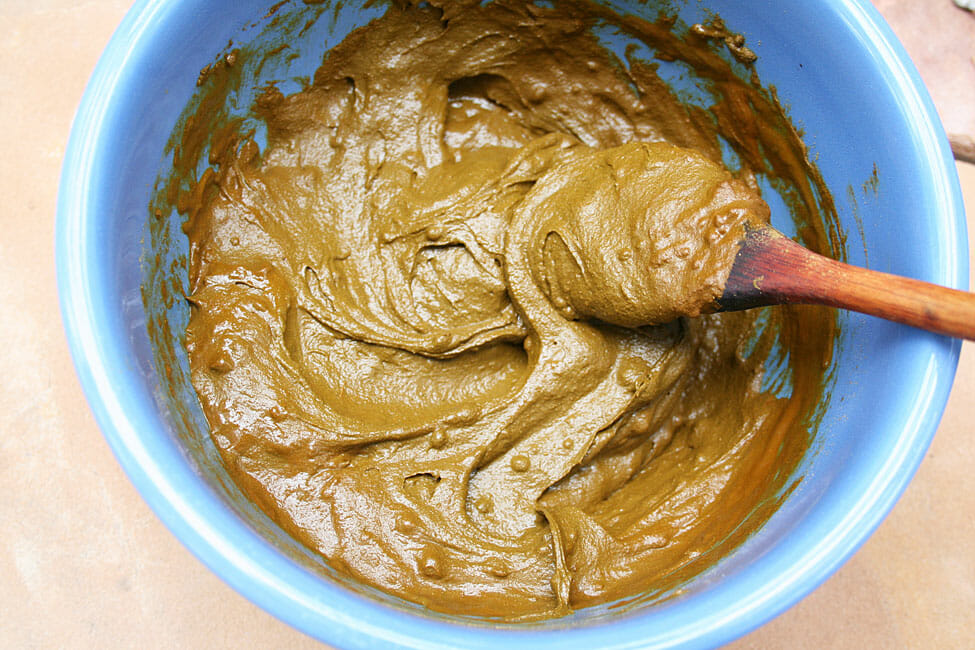 The consistency will be thick and creamy.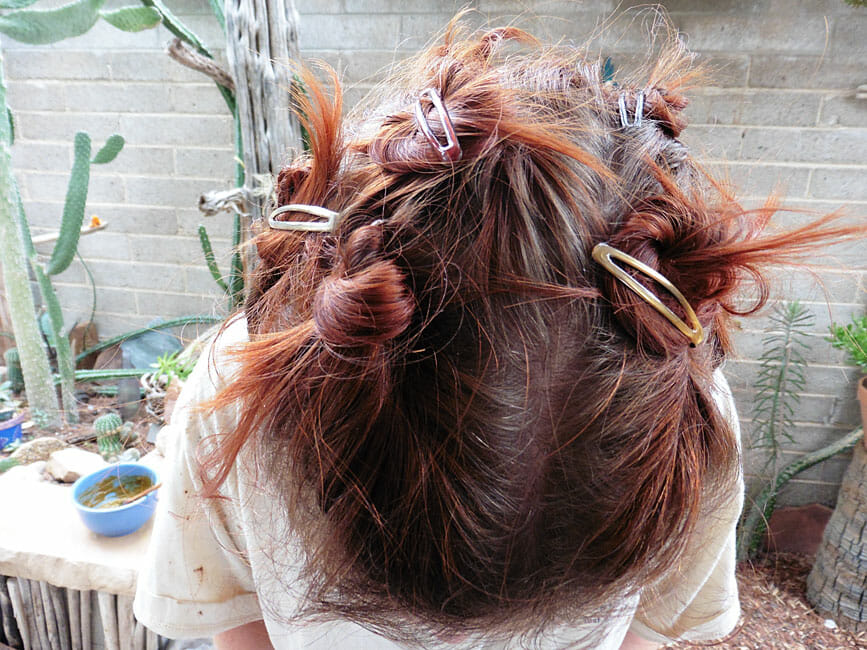 I use metal barrettes, which is a no-no. (Do as I say, not as I do.) The metal actually can react with the henna, but I am very careful to not let it touch. I removed the barrettes as I put the henna on.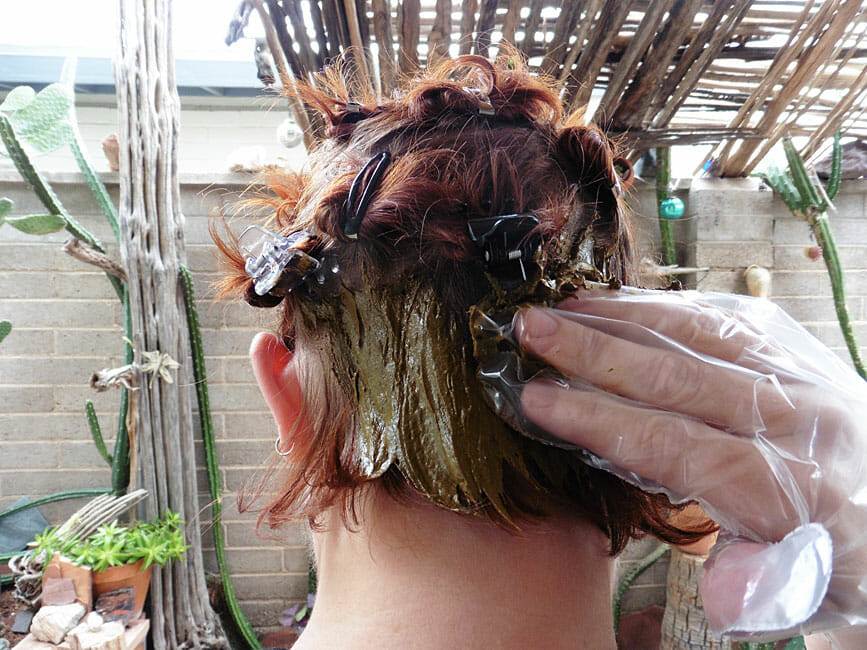 I start at the bottom and work up. Some people prefer to start at the top and work down. It's all a personal preference.
Yeah, it looks pretty funny! It gets on my ears and neck and sometimes they are slightly orange for a day or two, but it's worth it.
Other DIY Natural Products
Finished!
How to Color Your Hair with Henna
Not only is henna all natural, it is good for your hair. It seals in oils and tightens the cuticle. Here I will show you how to color your hair with henna.
Materials
Henna

I used Light Mountain Natural Henna in Red

12-16

oz.

distilled water 

for fewer chemical interactions

newspaper

old towel

old clothes

safety pin

clothespin

ceramic or glass bowl

wooden or plastic spoon

plastic bag for trash

mirror

if doing by yourself
Instructions
Get all of the above ingredients ready. You will need to do a strand test first with some hair from a brush.

Boil 12-16 oz. distilled water.

Add the hot water to the henna slowly, stirring with a non-metal spoon. Do not add all the water at once. Check the consistency as you stir. It should be fairly thick and creamy. When you lift the spoon out of the mix, it should cling to the spoon. I usually only use about 12 oz. of the water.

Depending upon the color you choose, it will need to cure anywhere from 10 minutes to 3 hours. Light Mountain suggests you cure the red henna for 1-3 hours, but I have applied it after 20 minutes and it has turned out fine. If you use the neutral, it doesn't need to cure and you can use it right away.

Remove all jewelry. Metal and henna are not good together.

Cover your floor, counter, etc. with newspaper.

Wrap your old towel around your shoulders, and pin with a safety pin.

Divide your hair into sections and use barrettes or hair clips for easier application. Even though I mentioned that metal should be avoided, I use metal barrettes for this. I just make sure to not have any henna touch the barrettes. I remove each barrette as I go.

After putting on the included plastic gloves, start applying the henna from the bottom and work your way up the scalp.

After covering all your hair, put the included plastic bag on your head and cinch with a clothespin.

Leave the henna on for 45 minutes up to 4 hours. I usually leave it on for 45 minutes to 1 hour. Use intermittent heat for 5-10 minutes to help set the hair. To be honest, this is the first time I actually did this step. Normally I haven't and it has turned out just fine. The heat is supposed to bring out more enhanced red tones. If you are using red, auburn, mahogany, or light brown you may want to include this step. Just be careful not to melt the plastic bag-cap.

Rinse with warm water. Light Mountain Henna says to aid in removing the mixture, apply conditioner to the hair, then rinse again. They also say to wait 24 hours before shampooing. However, I have used shampoo twice during the removal then conditioner, and not only has it turned out fine, it has lasted 4-6 weeks. This time I only rinsed because the consistency of the henna was really creamy. There were times when the mixture has been a bit gritty. It just depends upon the batch you get. If you get a gritty batch, don't let it deter you, it will still come out. Of course, a creamy batch is preferred, and if you stick with it, you will get many of those.
Notes
*If your hair is color treated, they say to wait 4-6 weeks to use henna.
*They have a two-step process for gray hair as well. I have a few white - not gray hairs - that grow at the front of my scalp, and the Light Mountain Natural Henna works great for me.
Sign Up For My Newsletter
Get a FREE ebook with my Top 10 Vegan Recipes as a welcome gift!
Retrieved from:
"Natural vs. Chemical Coloring" (n.d) - https://www.light-mountain-hair-color.com/natural-vs-chemical.html