This Super Creamy Vegan Mac and Cheese is sure to take you to your happy place! Made without nuts.
Vegan Macaroni and Cheese
When it comes to comfort foods, many people reach for mac and cheese. Just because you're vegan doesn't mean you have to give up the creamy pasta dish.
It just means switching out a few of the ingredients for some healthier ones.
This Super Creamy Vegan Macaroni and Cheese with nutritional yeast was inspired by my Tofu Nacho Cheese Sauce. I started with the same ingredients for the base, then added in a few to make it taste more like mac and cheese.
I started with silken tofu, nutritional yeast, corn starch, paprika, and turmeric, then I added some traditional ingredients like mustard powder and Earth Balance buttery spread.
The results are a creamy cheesy pasta that is rich and indulging. And did I mention it's much healthier than the original?
This Super Creamy Vegan Mac and Cheese actually reminds me of a gluten free boxed version that I bought years ago. I'll have to track it down to see how the ingredients compare.
One ingredient I know it won't have is silken tofu, unless there's a powdered version of it that I don't know about.
This Super Creamy Vegan Mac and Cheese is sure to take you to your happy place! Made without nuts.
Click To Tweet
I know for some people giving up cheese is tough. When I went from vegetarian to vegan almost 20 years ago, it was a bit of a challenge for me as well.
After a year of being vegan I couldn't stand the smell in the deli section of the grocery store. Now it actually doesn't bother me so much.
Taste buds change and if you are committed to being vegan for a good reason it will be quite easy. It has been for me these last 20 years!
Other Vegan Recipes You Might Like

Super Creamy Vegan Mac and Cheese
This ultra creamy vegan macaroni and cheese is dairy free, nut free, and gluten free. This is the side dish you're going to want on your Thanksgiving menu!
*Don't forget to come back and leave your feedback and star rating.
Affiliate links below. We are a participant in the Amazon Services LLC Associates Program, an affiliate advertising program designed to provide a means for us to earn fees by linking to Amazon.com and affiliated sites.
Here's the brown rice pasta I used to make the vegan macaroni and cheese. I love the taste of it.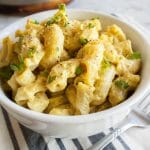 Print
Super Creamy Vegan Mac and Cheese
This Super Creamy Vegan Mac and Cheese is sure to take you to your happy place! Made without nuts.

Instructions
Cook noodles as per directions, but 3-4 minutes less than cooking time, since you'll be cooking noodles in the sauce later. Drain pasta, reserving a ¼ cup of the pasta water.

Mix all the sauce ingredients except the Earth Balance in food processor.

Pour the sauce into a pan. Add the Earth Balance. Cook on medium heat until the Earth Balance melts. Add pasta and pasta water. Simmer for about 5 minutes or until heated through.
Notes
If you have leftovers, add a little unsweetened plain almond milk (like 1-2 tablespoons per serving) to wake the pasta back up, so it's not so dry.
If you don't mind processed foods, you can add a couple of slices of vegan cheddar that are chopped up for extra richness (or ½ slice per serving).
Nutrition
Calories:
318
kcal
|
Carbohydrates:
49
g
|
Protein:
11
g
|
Fat:
8
g
|
Saturated Fat:
2
g
|
Cholesterol:
0
mg
|
Sodium:
81
mg
|
Potassium:
233
mg
|
Fiber:
1
g
|
Sugar:
1
g
|
Vitamin A:
390
IU
|
Calcium:
31
mg
|
Iron:
1.9
mg
Love Animals?
Support animals by reviewing vegan dishes or products on the abillion app. One review = $1 and takes 30 seconds! Use code WMOON to get started.
*Note: Nutrition information should be considered an estimate only. Different nutrition calculators give you different results.
Do You Prepear?
I have partnered with Prepear as one of their Meal Plan Pros to offer meal plans and recipes to users. It makes meal planning fast and easy! Plus it's FREE!