This healthy Asian-inspired Edamame Quinoa Buddha Bowl with Miso Tahini Dressing is a complete meal.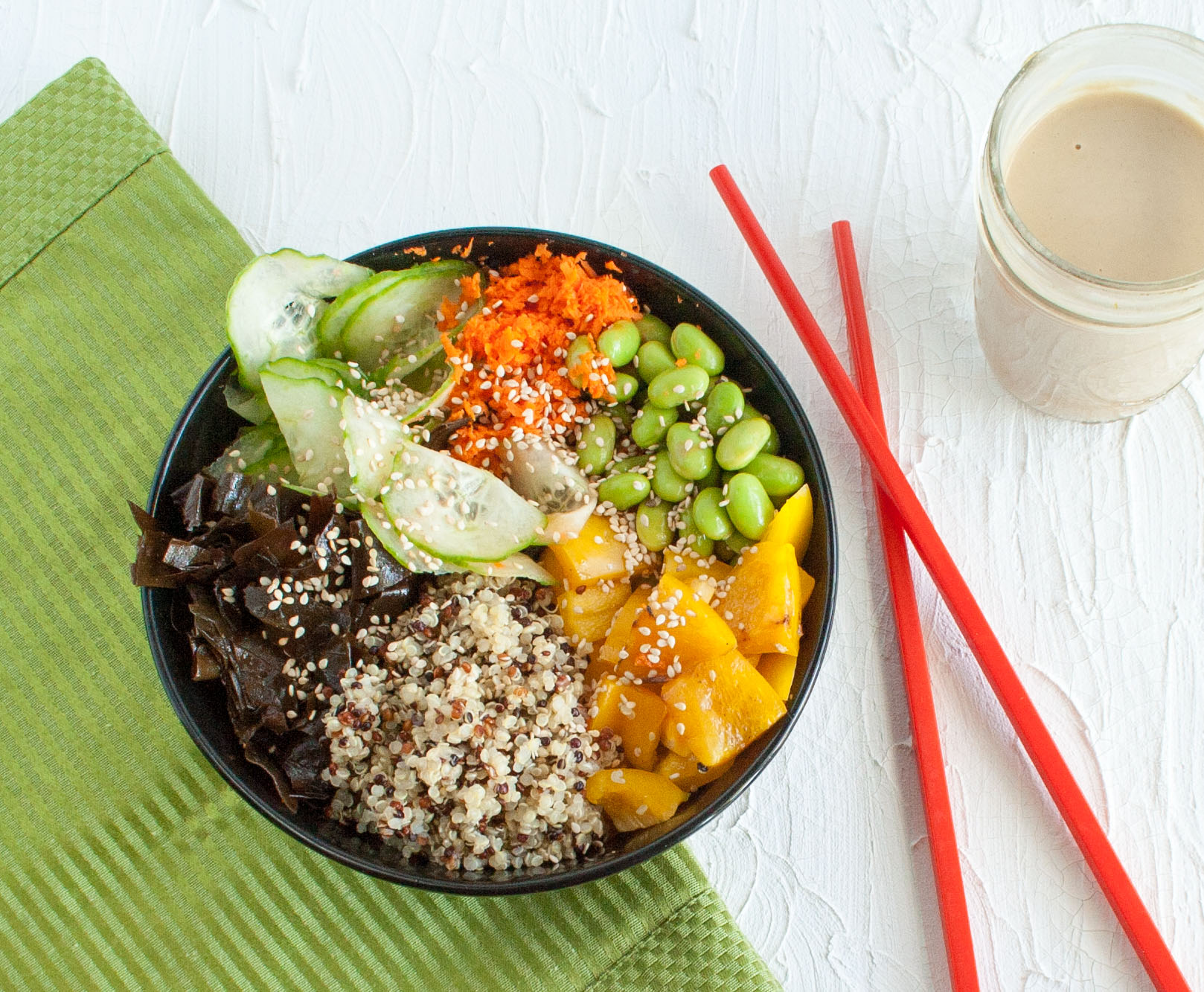 What Is A Buddha Bowl?
I have seen Buddha bowls all over the internet for a while now, and I became curious. There are a few different stories of how and when they came about, but no consensus. Some say they are called such because the bowl looks like the round belly of a Buddha.
Other stories suggest it has to do with a Buddhist's begging bowl. The thing that I know is why I was attracted to them in the first place. They contain ingredients that I normally eat in one sitting, and sometimes in one bowl.
As I understand it, a Buddha bowl is a meal-sized bowl that includes a grain, greens, raw and/or cooked vegetables, a protein, a dressing (many times tahini based), and possibly a fermented food (like kimchi). They also can have nuts or seeds.
For this Edamame Quinoa Buddha Bowl with Miso Tahini Dressing, I have included edamame, quinoa, carrots, cucumber, bell pepper, kelp, and a miso tahini dressing.
You are probably thinking: Willow, why on Earth would I want to eat seaweed? Well, first of all, you could use fresh greens instead, if you really are resistant to the whole seaweed idea.
Second, I have doctored up the seaweed, so you won't even notice that you are eating seaweed. No seaweed taste here!
Other quinoa recipes you might like are my Vegan Quinoa Breakfast Bowl and Gluten Free Tabbouleh. It is made with jalapeño and cilantro for a twist on a classic dish.
If you love miso, try my Cashew Miso Dip. Another recipe to try is my Tofu Peanut Noodle Bowl.
Other Asian-Inspired Recipes
This vegan Buddha bowl with Asian flavors is a versatile meal. Use leftover veggies or the ones listed here. Change it up each day to make things exciting!
*Don't forget to come back and leave your feedback and star rating.
📋 Recipe
Edamame Quinoa Buddha Bowl with Miso Tahini Dressing
This healthy Asian inspired Edamame Quinoa Buddha Bowl with Miso Tahini Dressing is a complete meal.
Ingredients
Instructions
Dressing
Mix all ingredients until smooth. If you refrigerate before serving, you may want to thin with more water afterwards.
Kelp
Boil enough water to cover kelp, then simmer for 15 minutes, or until tender. Drain water. Chop into small pieces and cook for a couple of minutes in a pan with toasted sesame oil and tamari.
Bowl
Rinse quinoa thoroughly. Bring quinoa and water to a boil. Reduce to a simmer and cook until water is absorbed, about 15 minutes. Layer quinoa, grated carrots, thinly sliced cucumber, bell pepper, edamame, and kelp in a bowl. Dress with miso tahini dressing. Garnish with sesame seeds.
Sign Up For My Newsletter
Get a FREE ebook with my Top 10 Vegan Recipes as a welcome gift!
Nutrition
Calories:
431
kcal
|
Carbohydrates:
40
g
|
Protein:
17
g
|
Fat:
24
g
|
Saturated Fat:
3
g
|
Cholesterol:
0
mg
|
Sodium:
830
mg
|
Potassium:
751
mg
|
Fiber:
8
g
|
Sugar:
5
g
|
Vitamin A:
5610
IU
|
Vitamin C:
35
mg
|
Calcium:
204
mg
|
Iron:
5.8
mg
*Note: Nutrition information should be considered an estimate only. Different nutrition calculators give you different results.