These easy sweet, savory, and spicy Baked Tofu Temaki Sushi with Cauliflower Rice are a host's best friend. Each guest can customize their own!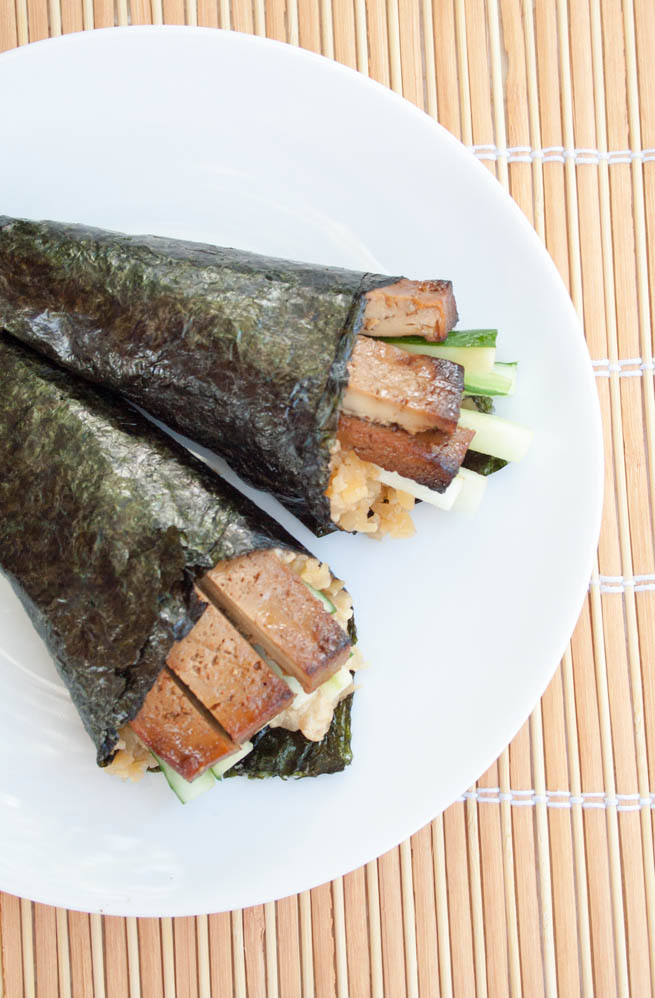 What is Temaki Sushi?
Temaki, also known as a hand-roll, is a large cone-shaped piece of nori wrapped around sushi rice and other ingredients. It is eaten with hands instead of chopsticks.
These Baked Tofu Temaki Sushi with Cauliflower Rice were inspired by my pantry ingredients - or lack thereof. I wanted a wrap but was out of tortillas.
I have been making wraps and cones out of nori sheets for years, but didn't know there was a name for the cones until recently.
Temaki sushi are hand rolled sushi, so you don't need a bamboo mat (although I never use one anyway). It just takes a little practice to get your sushi rolls tight.
It is best to eat them right away so that the nori doesn't get soggy. They are great for a party because everyone can roll their own, which is great for the guests because they can customize their ingredients.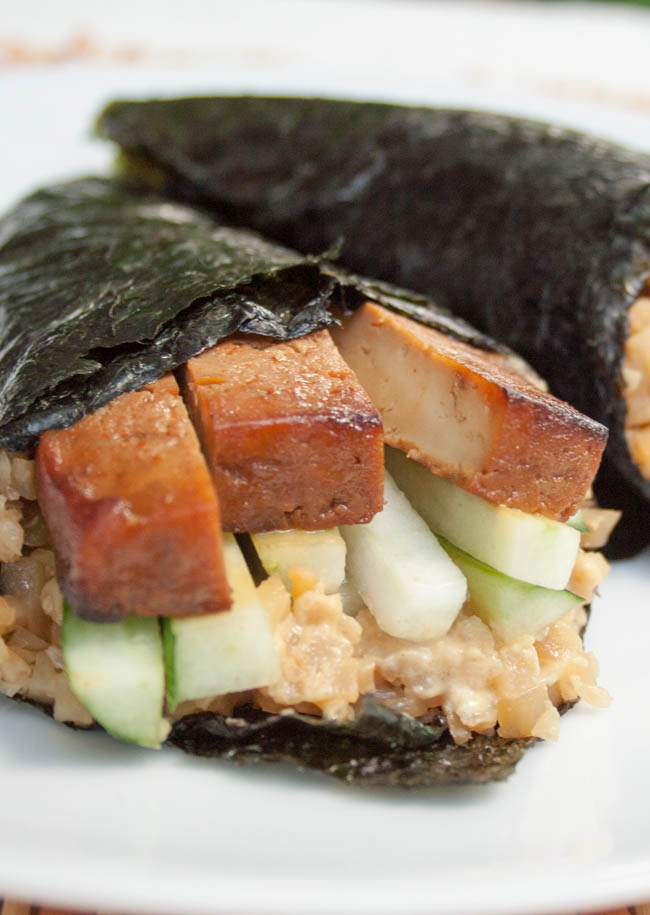 Sweet, Savory and Spicy
In the past I have fried the tofu in tamari and sesame oil. This time I marinated and baked the tofu in maple syrup and tamari, making it sweet and savory.
Baked tofu adds a great texture to this dish. It is crispy on the outside, and soft on the inside. The marinade gets baked on, adding a lot of flavor.
For the cauliflower rice I added similar flavors to sushi rice. You wouldn't even know it is cauliflower instead of rice. That's a win in my book!
Dijon mustard adds a spicy touch, and compliments the sweetness of the baked tofu and cauliflower rice. Mustard is similar to wasabi, in fact they are in the same plant family, so it works well when you don't have any (which I didn't at the time of making this).
I do love wasabi though. It works well for clearing up the sinuses, which I have problems with in the Fall and Spring especially. Feel free to use wasabi instead. Your sinuses will thank you!
I included crisp, fresh slices of cucumber, but I imagine carrot strips or avocado slices would be a great addition as well.
Enjoy!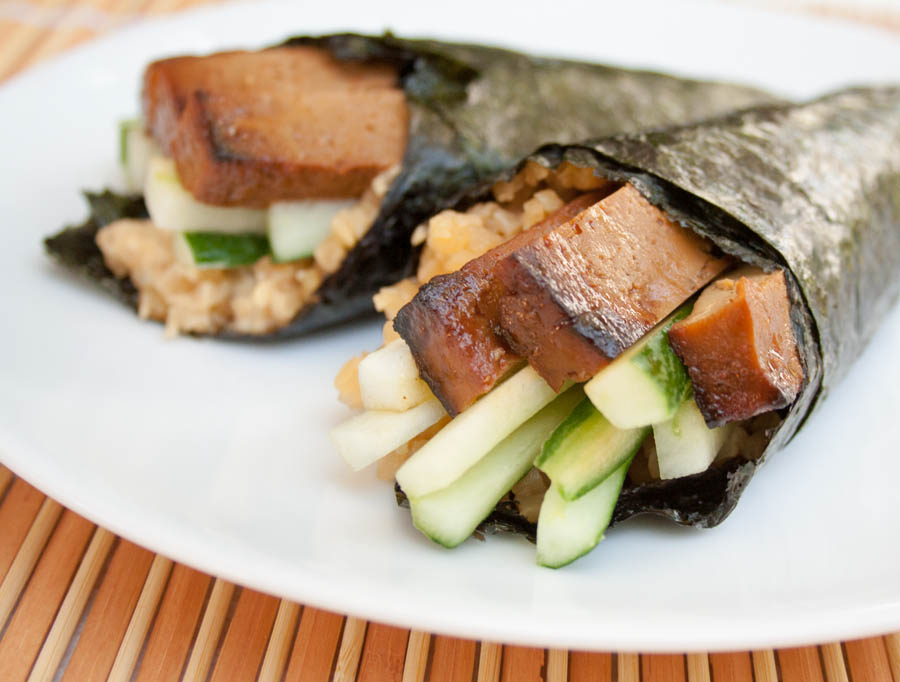 Other Asian Inspired Dishes You Might Like
This Baked Tofu Temaki Sushi with Cauliflower Rice is sweet, savory, and spicy!
Click To Tweet
Baked Tofu Temaki Sushi with Cauliflower Rice
These healthy vegan sushi rolls make a great light lunch.
*Don't forget to come back and leave your feedback and star rating.
Affiliate links below. We are a participant in the Amazon Services LLC Associates Program, an affiliate advertising program designed to provide a means for us to earn fees by linking to Amazon.com and affiliated sites.
You May Need:
Print
Baked Tofu Temaki Sushi with Cauliflower Rice
These easy sweet, savory, and spicy Baked Tofu Temaki Sushi with Cauliflower Rice are a host's best friend. Each guest can customize their own!

Ingredients
Instructions
Preheat oven to 400°.

Baked tofu: Mix maple syrup, tamari, and paprika together. Pour in a zip lock bag or large shallow pan. Slice drained and pressed tofu into strips. Add to marinade. Let sit for at least an hour to overnight.

Place tofu (without marinade) into an oiled pan or on parchment paper with cooking spray. Bake at 400° for 20 minutes, flip and bake another 10-15 minutes.

Cauliflower rice: Process cauliflower in food processor until it looks like the consistency of rice (or use package of riced cauliflower).

In a small bowl mix brown rice vinegar, sugar, and tamari.

Add olive oil to a hot pan. Add cauliflower rice, brown rice vinegar, sugar, and tamari mixture. Cook on medium heat until cauliflower is slightly tender.

Temaki sushi: Slice nori sheets in half, and place in front of you rough side up horizontally. Spread ¼ cup cauliflower rice on left side of nori sheet, covering half the sheet. Squirt a little Dijon mustard on cauliflower rice. Place 5-6 cucumber slices diagonally on top of cauliflower rice. Place 3 slices of tofu on top. Fold the bottom left corner over and roll into cone shape. Secure the roll by wetting edge with water or marinade. Repeat with the rest of ingredients.
Nutrition
Calories:
104
kcal
|
Carbohydrates:
13
g
|
Protein:
6
g
|
Fat:
2
g
|
Saturated Fat:
0
g
|
Cholesterol:
0
mg
|
Sodium:
659
mg
|
Potassium:
274
mg
|
Fiber:
1
g
|
Sugar:
10
g
|
Vitamin A:
140
IU
|
Vitamin C:
20.3
mg
|
Calcium:
40
mg
|
Iron:
1.1
mg
Love Animals?
Support animals by reviewing vegan dishes or products on the abillion app. One review = $1 and takes 30 seconds! Use code WMOON to get started.
*Note: Nutrition information should be considered an estimate only. Different nutrition calculators give you different results.