This savory smoky eggplant bacon can be made 3 different ways and to different degrees of crispiness.
Vegan Bacon
This Eggplant Bacon is savory, smoky, and has a touch of sweet. Depending upon which way you make it, it can be crispy or slightly crispy on the edges.
It tastes great in sandwiches with some lettuce, tomato, and vegan mayo.
Even though I've already created Tofu Bacon and Almond Bacon for the blog, I had to try Eggplant Bacon to see how it compares. In all honesty, none of them tastes like bacon, so don't expect them to.
These vegan bacon recipes are meant to provide you with a savory smoky flavored bite.
In the almost 20 years of being vegan I haven't missed bacon once. But then I became vegan for the animals, and I can understand that if you're doing it for your health it can be harder.
There are many guilty pleasures that are vegan.
Vegan wine, anyone? How about some vegan cream cheese and rice crackers. Guilty on both fronts.
So I think the question shouldn't be, does it taste like bacon, but how am I going to use it. Personally, I love Tofu Bacon the best because of the taste and texture. It's a great source of protein - one that I eat all the time.
For crunch, the Almond Bacon wins for me. It is best suited in place of bacon bits, or eaten by themselves as a snack.
The Eggplant Bacon falls in between both of the vegan bacon recipes. It is crunchy, especially if you bake or dehydrate it. I however, prefer it fried.
It is slightly crunchy on the edges, while staying soft in the middle. It is perfect for getting more veggies into your diet.
Both the Eggplant Bacon and Tofu Bacon are perfect for sandwiches or as a side to a morning tofu or chickpea scramble.
If you really want something that tastes like bacon, you might want to check out the analogues (meat substitutes) out there, but FYI, most are highly processed, like the vegan cream cheese that I am guilty of eating now and then.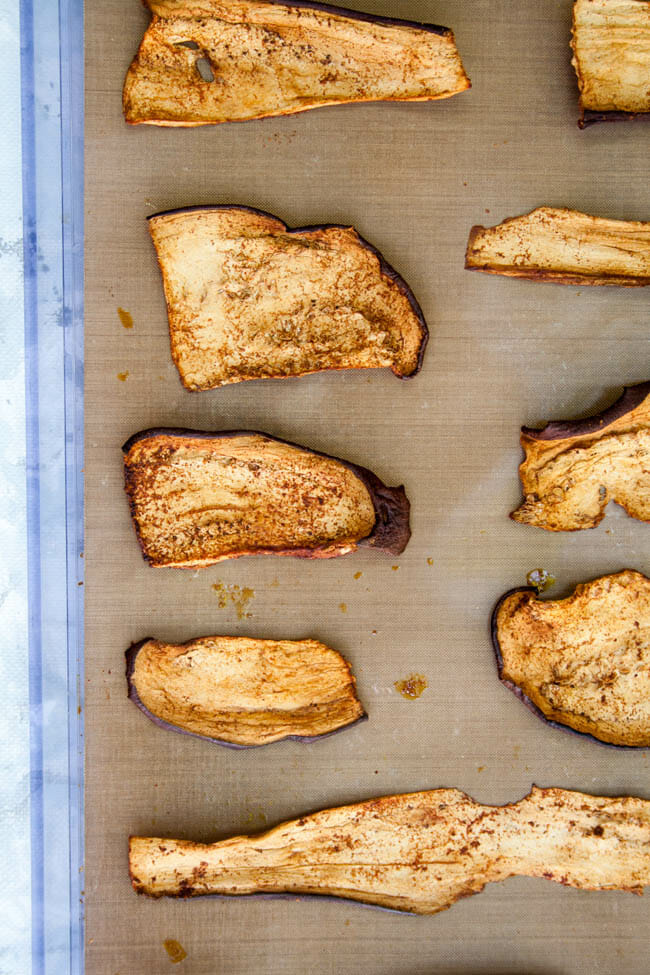 This savory smoky eggplant bacon can be made 3 different ways and to different degrees of crispiness.
Click To Tweet
Other Recipes You Might Like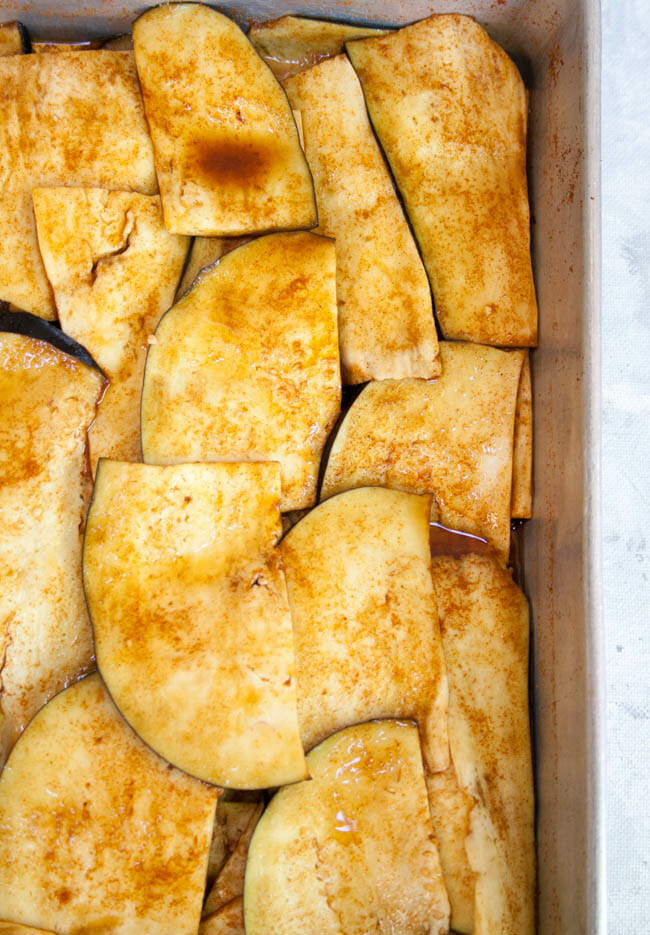 How to Make Eggplant Bacon
Marinate the eggplant for at least 30 minutes to let it soak up the flavors.
If you prefer a crispier texture, slice it ⅛" thick.
If you just want it crispy on the edges (my preference), slice it to ¼" thick.
If you're baking it, you have to watch it closely - it burns easily.
If you bake or dehydrate it, it will be crispy and last longer, like jerky. Store in an airtight container in the pantry.
If you bake or dehydrate it, peel it for the best texture. If you are frying it, there's no need to peel it.
Ways to Use Vegan Eggplant Bacon
Sandwiches
Pasta
Pizza
Salads
On veggie burgers
Any place you want to add a savory, smoky taste.

Eggplant Bacon Recipe
This eggplant bacon is perfect for a vegan BLT.
*Don't forget to come back and leave your feedback and star rating.
Affiliate links below. We are a participant in the Amazon Services LLC Associates Program, an affiliate advertising program designed to provide a means for us to earn fees by linking to Amazon.com and affiliated sites.
Here's the dehydrator that I have. It's perfect for making this eggplant bacon as well as other raw recipes.
Print
Eggplant Bacon 3 Ways
This savory smoky eggplant bacon can be made 3 different ways and to different degrees of crispiness.

Servings
4
(about 30 slices)
Ingredients
1

eggplant, sliced ⅛" - ¼" thick

¼

cup

maple syrup

¼

cup

apple cider vinegar

2

teaspoons

paprika

1

tablespoon + 1 teaspoon

liquid smoke

1

tablespoon

olive oil
Instructions
If baking, preheat oven to 300°.

Marinate sliced eggplant for at least 30 minutes in a large shallow dish.

Frying: Fry until browned on each side, about 5 minutes total. Baking: Bake at 300° for 25-35 minutes (depending upon thickness), or until crispy. Watch eggplant because it burns easily! Dehydrating: Place eggplant strips on a Teflon lined dehydrator sheet. Dehydrate at 110° for 3 hours, or until crispy.
Nutrition
Calories:
128
kcal
|
Carbohydrates:
21
g
|
Protein:
2
g
|
Fat:
3
g
|
Saturated Fat:
0
g
|
Cholesterol:
0
mg
|
Sodium:
826
mg
|
Potassium:
371
mg
|
Fiber:
3
g
|
Sugar:
16
g
|
Vitamin A:
520
IU
|
Vitamin C:
2.6
mg
|
Calcium:
35
mg
|
Iron:
0.8
mg
Love Animals?
Support animals by reviewing vegan dishes or products on the abillion app. One review = $1 and takes 30 seconds! Use code WMOON to get started.
*Note: Nutrition information should be considered an estimate only. Different nutrition calculators give you different results.