These rich Vegan Chilaquiles have all the flavors of enchiladas but with less work! Eat them for breakfast, lunch, or dinner.
Living in Arizona, I have seen Chilaquiles being made often. They are quite common here, and after making this Vegan Chilaquiles recipe with spinach, I understand why.
They are known as "Destroyed Enchiladas," because they have all the same ingredients as enchiladas, just not as pretty of a presentation. I love making them because it is an easy process, and they taste delicious.
Instead of rolling ingredients in a corn tortilla, you fry broken up tortillas until crispy and then add the same ingredients you would for enchiladas.
The versions I saw being made had chicken, Monterey Jack cheese, sour cream, spinach, corn tortillas, and enchilada sauce. They can be made with either red or green enchilada sauce (chilaquiles verdes).
The dish is served for breakfast, brunch or dinner.
My vegan version has soy curls, vegan cream cheese, spinach, and my own sauce.
Some recipes keep the tortillas crispy by pouring the sauce on top right before serving, while others simmer the tortilla pieces in the sauce. The way I make them, they absorb some of the sauce and have the same texture as enchiladas.
Another recipe using soy curls is my Vegan Jerky.
Jump to:
What Are Soy Curls?
If you have never had soy curls, they are made from dehydrating soybeans. They are 100% natural and contain the whole bean.
They have no additives or preservatives. They are great in soups, stir-fry, spaghetti sauce, chili, tacos, soy curl gyros, casseroles, and more.
The texture is kind of like chicken. They are really easy to prepare - just add them to warm water.
You can either use them after they have been soaked in water, or you can spice them up. In the past, I have used them in this recipe without adding spices, and that works too.
🧾 Ingredients
Soy curls: For texture and protein. You could also use your favorite store-bought vegan chicken product or other protein.
Tortillas: When I originally published this recipe I used corn tortillas, which is the classic way to make chilaquiles. Since then I found out I have a corn intolerance. Since I also have a gluten intolerance, I used some local gluten-free flour tortillas. You could also use tortilla chips.
Olive oil: To fry the soy curls and tortillas.
Tomato sauce: You could use tomato sauce and spices like I did, or you could use store-bought enchilada sauce. To switch things up you could use salsa verde.
Chili powder and cumin: Add warming spices that are in Mexican cooking.
Garlic powder and onion powder: Add a salty flavor.
Oregano: Adds a warm earthy flavor.
Salt and pepper: Enhances flavor and adds flavor.
Vegan cream cheese: Adds a creamy texture and sour flavor.
Spinach: I used baby spinach for a mild vegetal flavor.
This is an overview of the ingredients. To see the full list of ingredients with measurements and instructions, see the recipe card at the bottom of this post.
📖 Variations / Additions
Store-bought enchilada sauce or salsa verde
Vegan cheese
Mushrooms
Roasted vegetables
Corn
Sweet potato
Butternut squash
Pumpkin
Kale
Tofu
Black beans
Chipotle in adobo sauce
5 Secrets to Transforming Tofu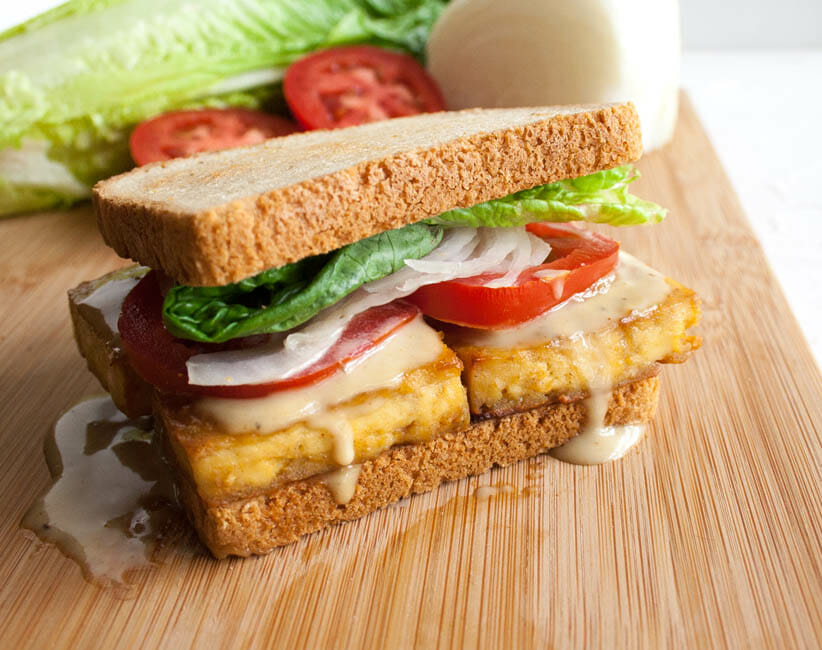 FREE 5 part email series to help you cook tofu like a pro.
We respect your privacy. Unsubscribe at any time.
🔪 Instructions
Step 1: Soak the soy curls in hot water for 10 minutes. Drain water. Set aside.
Step 2: Cut tortillas into ¼s (or ⅛s for gluten-free flour tortillas). Heat oil in a pan. Add tortillas.
Fry them on medium heat on both sides, until crispy. Set aside.
Step 3: Heat oil in the same pan (after removing fried tortillas). Add soy curls and spices. Cook for a few minutes.
Step 4: To the pan with soy curls, add tomato sauce and spices. Mix well.
Step 5: Add vegan cream cheese and stir it around so that it melts into the sauce.
Step 6: Add spinach and cook until the spinach is wilted. It seems like a lot of spinach, but it cooks down.
Step 7: Add fried tortilla pieces and toss in the sauce to coat. Cook a couple of minutes.
Ways To Use Soy Curls
Sandwiches
Soup
Tacos
Burrito
Nachos
Tostadas
Taquitos
Chili
❄️ Can I Freeze It?
Yes! You can also freeze them in a freezer-safe container and they'll last several months. Thaw overnight in the fridge and reheat in the microwave for 1-2 minutes.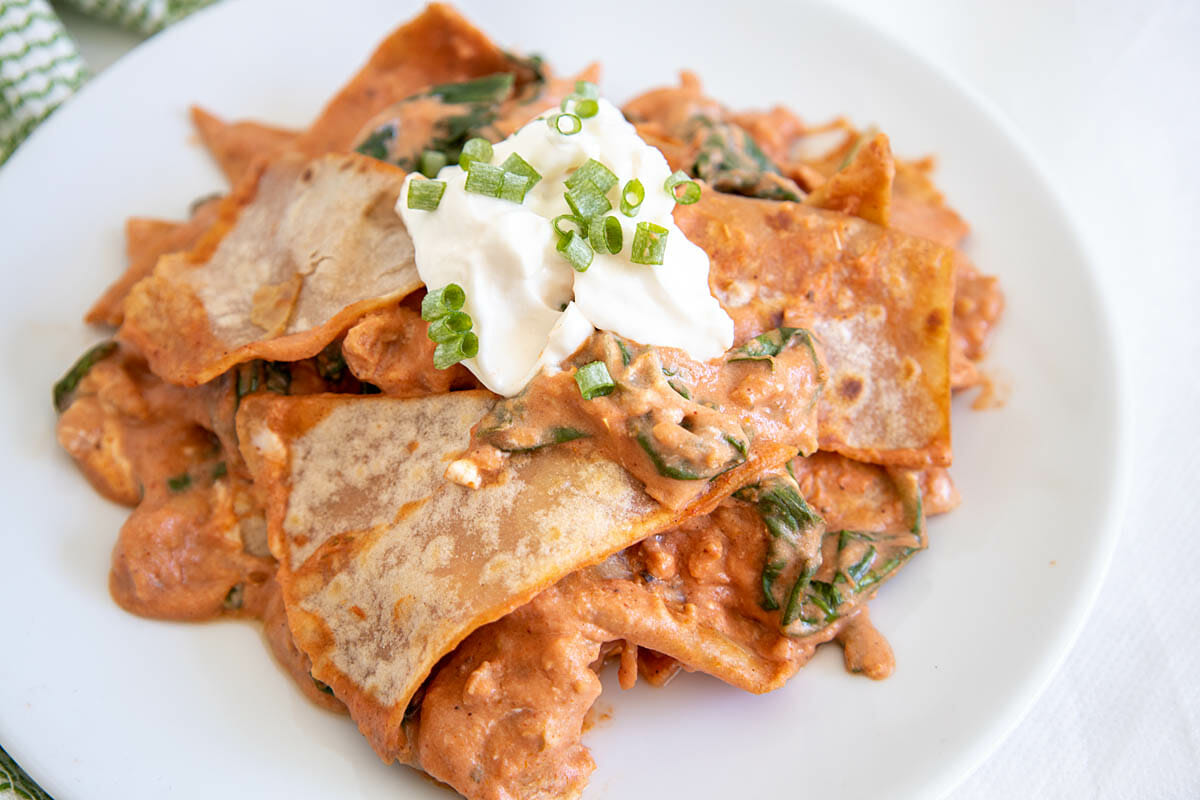 🍽 Serving
Vegan sour cream or vegan crema
Cilantro
Chopped green onion
Avocado slices
Lime wedges
🌮 Other Vegan Mexican Recipes
🎥 Video
If you tried this Vegan Chilaquiles with Spinach Recipe or any other recipe on my website, please leave a ⭐️ star rating and let me know how you like it in the 💬 comments below. I love hearing from you!
I originally posted this recipe on December 22, 2014. I added new photos, text, and a video when I republished it.
📋 Recipe
Vegan Chilaquiles with Spinach
These rich Vegan Chilaquiles have all the flavors of enchiladas, but with less work! Eat them for breakfast, lunch or dinner.
Instructions
Soak the soy curls in warm water for 10 minutes. Drain the water. Set aside.

While the soy curls are soaking, cut tortillas in ¼s (if using gluten free flour tortillas, cut into ⅛s). Fry tortillas in olive oil, turning so that they all get crispy. Take tortillas out of pan and set aside.

Heat olive oil in a frying pan and add the soy curls.

Add the spices and mix well. Cook for a few minutes - you don't want them crispy.

Add the tomato sauce and spices. Mix well.

Add vegan cream cheese. Cook until it is melted in the sauce, stirring to combine.

Add spinach, mixing it into the sauce. Cook until the spinach is wilted.

Add tortillas back into the pan. Cook 1-2 minutes, carefully flipping the tortillas to coat them in the sauce.
Notes
You will only need ⅓ of the soy curls, so you could divide this into ⅓s, or you could use them in other recipes - soups, sandwiches, etc.  They are great with BBQ sauce in a wrap.
A thicker tortilla, like the Food For Life sprouted corn tortillas or Trader Joe's works well because they crisp up when you fry them.
These chilaquiles will last up to 5 days in an airtight container in the fridge.
Sign Up For My Newsletter
Get a FREE ebook with my Top 10 Vegan Recipes as a welcome gift!
Nutrition
Calories:
351
kcal
|
Carbohydrates:
43
g
|
Protein:
9
g
|
Fat:
17
g
|
Saturated Fat:
3
g
|
Cholesterol:
0
mg
|
Sodium:
1291
mg
|
Potassium:
1020
mg
|
Fiber:
11
g
|
Sugar:
11
g
|
Vitamin A:
4040
IU
|
Vitamin C:
23.4
mg
|
Calcium:
150
mg
|
Iron:
6.1
mg
*Note: Nutrition information should be considered an estimate only. Different nutrition calculators give you different results.