These Fried Cucumber are crispy on the outside, and soft on the inside. They can be baked or fried. Perfect for entertaining!
I never thought that I would use these two words in the same sentence, but here they are: Fried Cucumber. There, I said it.
It sounds strange, right? Well, it actually does not taste strange at all; it is really good. It tastes a lot like Fried Squash.
I came up with this recipe after seeing fried pickle and fried cucumber recipes on the internet, but I wanted something different than those. As I was coming up with this recipe, I remembered Giada De Laurentiis saying on her show that a lot of people don't know what to do with tarragon.
I realized that I had only one recipe with tarragon, and that is my Tarragon Tofu Salad. So, I figured why not use the poor, underused tarragon.
I am sure that many of you have probably used it on numerous occasions, but for those of you who haven't used it in awhile (or ever), here is your chance to use the lovely tarragon!
Tarragon, in case you have never used it, has an anise flavor. Tarragon and mustard, in my experience go really well together (again see my Tarragon Tofu Salad). I knew that cucumber would love the combination also, so I gave it a go.
The only thing that I can say is wow!
Fried Cucumber, really? Yup, I am officially a new fan of cooking cucumber.
I did leave instructions for baking also, in case you want a slightly healthier version. Which reminds me, there are many Korean recipes that use stir-fried cucumbers, hmmm...
Affiliate Link
Other Vegan Appetizers You might Like
Fried Cucumber Recipe
Or baked cucumber if you prefer, either way these breaded cucumber are a fun treat!
*Don't forget to come back and leave your feedback and star rating.
Affiliate links below. We are a participant in the Amazon Services LLC Associates Program, an affiliate advertising program designed to provide a means for us to earn fees by linking to Amazon.com and affiliated sites.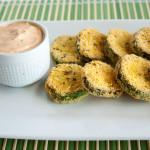 Print
Fried Cucumber
These Fried Cucumber are crispy on the outside, and soft on the inside. They can be baked or fried. Perfect for entertaining!

Ingredients
Fried Cucumber
1

large English cucumber

1/2

cup

cornmeal

1

tablespoon

mustard powder

2

teaspoon

tarragon flakes

2 

tablespoons

unsweetened plain almond or soy milk

canola oil

or other high heat oil
Mustard Dip
1/2

cup

vegan mayo

- I used Vegenaise

2

tablespoons

Provencal mustard
Instructions
If baking, preheat oven to 450°.

For Mustard Dip: mix vegan mayo and Provencal mustard until blended. Set aside.

Cucumber: Cut off the ends of cucumber and slice into 1/4" slices (or a little bigger).

Mix corn meal, mustard powder, and tarragon flakes in a bowl.

In a separate bowl, pour unsweetened plain almond or soy milk.

In assembly line fashion - dip cucumber into almond or soy milk, then corn meal mixture. Put dredged cucumber on a plate to wait for their execution (I mean frying).

Frying: Heat canola oil (you will need about a 1/4" or so covering the pan) to 350°. If you don't have a thermometer you can test the oil by dropping a couple of drops of water into oil. If it sizzles, it's ready. Place dredged cucumber pieces into oil. Cook on each side until golden brown and crispy. Baking: Cook cucumber at 450° for 20 minutes, then flip and cook for another 20 minutes, or until crispy on both sides.
Nutrition
Calories:
276
kcal
|
Carbohydrates:
20
g
|
Protein:
3
g
|
Fat:
19
g
|
Saturated Fat:
2
g
|
Cholesterol:
0
mg
|
Sodium:
257
mg
|
Potassium:
214
mg
|
Fiber:
2
g
|
Sugar:
1
g
|
Vitamin A:
120
IU
|
Vitamin C:
2.6
mg
|
Calcium:
37
mg
|
Iron:
1.2
mg
*Note: Nutrition information should be considered an estimate only. Different nutrition calculators give you different results.
Do You Prepear?
I have partnered with Prepear as one of their Meal Plan Pros to offer meal plans and recipes to users. It makes meal planning fast and easy! Plus it's FREE!