This easy Fried Squash with a Crispy Cornmeal Batter is crispy on the outside and soft on the inside. They make a perfect appetizer or meal.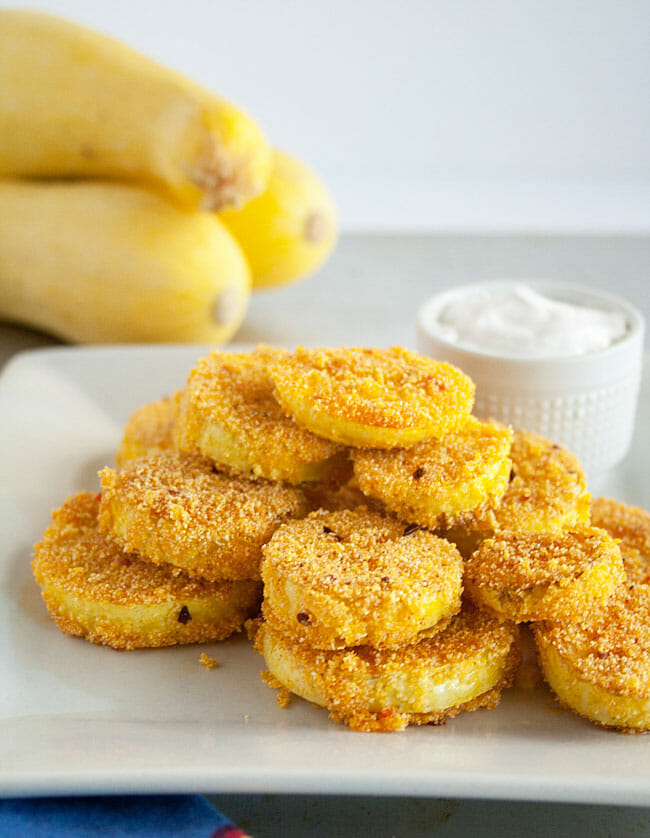 Normally, I create healthy recipes, with some being on the more indulgent side. Of course Fried Squash fall into the latter category.
Sometimes you just want something fried, you know! I also included directions for baked squash, if you prefer a healthier version.
Some recipes come from a necessity to use up what you have, and I just happen to have more than 40 yellow squash in my house at the moment. Remember Forrest Gump and all the lines with coconut shrimp, shrimp gumbo, fried shrimp...
That is me after I visit Market on the Move, a program where you get up to 60 lbs. of produce for $10. It has not only become a running joke, but I have been making up songs about my vegetables while I cook too.
That is actually nothing new. I have been singing to my food for years. You know what they say - food tastes better when love goes into it!
I have to say I have a love-hate relationship with the Market on the Move. I love getting such a good deal. I hate trying to use up that amount of produce before it goes bad. I love figuring out different ways to use the produce I get, but I hate eating the same vegetables over and over again.
I haven't got sick of eating Cornmeal Fried Squash though. I love how it is crispy on the outside and soft on the inside. I have spiced these up to add some pizzazz.
Did you know there is such a thing as sriracha powder? Well neither did I until the hubby came home with it from Costco.
Sriracha is one of my favorite condiments, so to find out that they make it in powder form was to good to be true! This is the very first recipe I have used it in and I am loving it so far.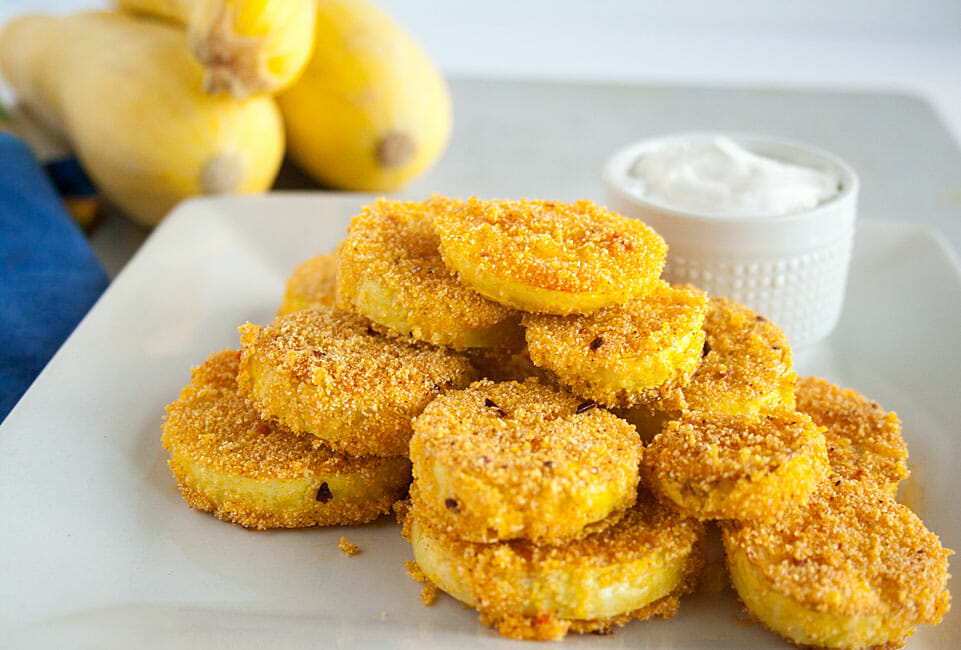 I have made these fried, baked, with gluten free flour, and with corn meal. To be honest, I don't think it really makes too much of a difference if you bake or fry the squash.
Yes, fried is a bit more indulgent, but I think baked works just as well, especially if you want to use less oil. As far as corn meal vs. gluten free flour, I like the corn meal better because it adds more crunch.
If you want a "cheesey" flavor, I have included nutritional yeast as an option. I like these both with or without the nutritional yeast.
I also have some Breaded Cucumber if you want to try something different.
Other Appetizers
Instructions
Slice yellow squash into disc shapes.
Mix dry ingredients and put in one bowl.
In another bowl pour almond milk.
In assembly line fashion, place squash in almond milk, then cornmeal or flour batter. Place on a plate to wait to be fried. If you're baking them, place on parchment lined baking sheet that's been sprayed or coated with oil.
To test the oil for frying sprinkle a few drops of water in the pan. If they sizzle, the oil is ready. You can also test the oil with a wooden spoon. Bubbles will form around the spoon when it's hot.
Fry on each side until golden brown. For baking you will bake the squash for 20 minutes on each side, or until golden brown and crispy.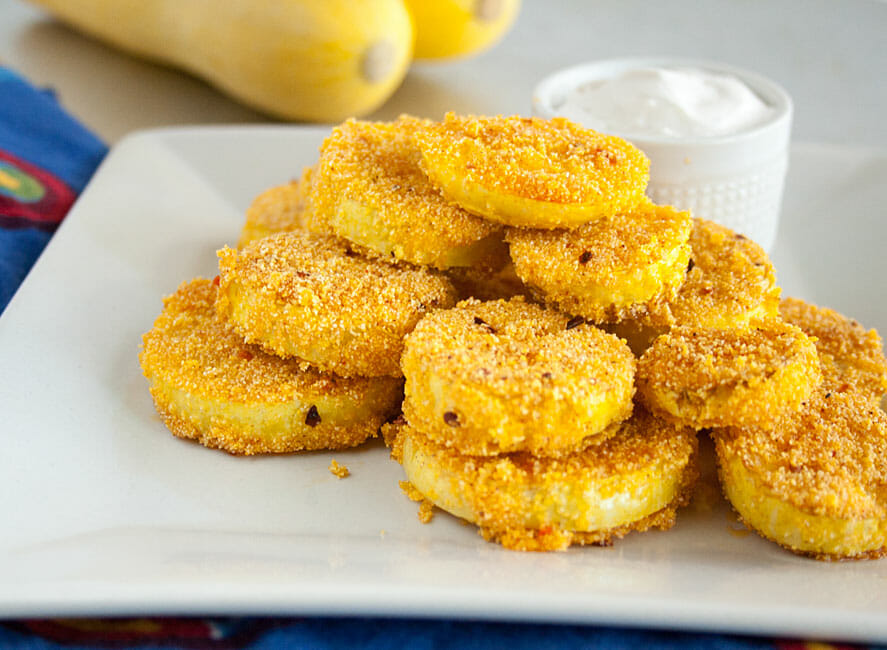 Recipe
These crispy fried yellow squash chips (or baked yellow squash chips, if you prefer) are a healthy snack or appetizer.
Affiliate links below. We are a participant in the Amazon Services LLC Associates Program, an affiliate advertising program designed to provide a means for us to earn fees by linking to Amazon.com and affiliated sites.
You May Need
📋 Recipe
Fried Squash
This easy Fried Squash with a Crispy Cornmeal Batter is crispy on the outside and soft on the inside. They make a perfect appetizer or meal.
Instructions
If baking, preheat oven to 450°F.

Cut off the ends of yellow squash and slice into ¼" slices (or a little bigger).

Mix cornmeal or gluten free flour, sriracha powder, nutritional yeast, salt, and pepper in a bowl.

In a separate bowl, pour unsweetened plain almond milk.

In assembly line fashion - dip yellow squash into almond milk, then corn meal or flour mixture. Put dredged squash on a plate to wait for their execution (I mean frying).

Frying:

Heat canola oil (you will need about a ¼" or so covering the pan) to 350°F. If you don't have a thermometer you can test the oil by dropping a couple of drops of water into oil. If it sizzles, it's ready. Place dredged squash pieces into oil. Cook on each side until golden brown and crispy.

Baking:

 Cook squash at 450°F for 20 minutes, then flip and cook for another 20 minutes, or until crispy on both sides.
Notes
Since corn meal is already crispy,  a good way to tell when the squash is done is the corn meal (or gluten flour, if you are using that) will turn a nice dark golden color. Also, the sriracha powder will darken from cooking.
Sign Up For My Newsletter
Get a FREE ebook with my Top 10 Vegan Recipes as a welcome gift!
Nutrition
Calories:
106
kcal
|
Carbohydrates:
19
g
|
Protein:
4
g
|
Fat:
1
g
|
Saturated Fat:
0
g
|
Cholesterol:
0
mg
|
Sodium:
158
mg
|
Potassium:
397
mg
|
Fiber:
3
g
|
Sugar:
2
g
|
Vitamin A:
610
IU
|
Vitamin C:
17.4
mg
|
Calcium:
24
mg
|
Iron:
1.2
mg
*Note: Nutrition information should be considered an estimate only. Different nutrition calculators give you different results.