These easy DIY polymer clay gifts are something that anyone can make. You need very few materials to get you started.
Today I am going to show you how to make personalized polymer clay gifts. Polymer clay is a durable, water resistant plastic after it bakes.
Polymer clay sells for around $3 for a small block, which goes a long way depending upon the size of your pieces. It comes in many different colors, but for starting out you may want to use white.
You can always paint it after it bakes to get the color you want. I like to use acrylic paint because it dries quicker than oil paint and it doesn't have as strong of an odor.
I started using polymer clay almost twenty years ago. Back then I made free handed sculpted ornaments and jewelry.
My first pieces were very intricate (photos ↑ above and below ↓), but today I am going to show you how to make some very basic pieces to get you started.
You do not need to buy a lot of materials for starting out. In fact, I would go with as little as you can get by with. That way, you can see if you like using this medium, and you can buy more tools later.
Affiliate links below. We are a participant in the Amazon Services LLC Associates Program, an affiliate advertising program designed to provide a means for us to earn fees by linking to Amazon.com and affiliated sites.
What You Will Need
polymer clay - I used Sculpey Premo and Sculpey Soufflé
work surface - ceramic tile, an acrylic board, pane of glass, an old cutting board - I used a cutting board with parchment on top  (Not a surface you care about because polymer can damage / stain surfaces.)
rolling tool: acrylic brayer, rolling pin, or glass bottle (anything that will help you roll the clay into a flat sheet)
ruler
letter or word stamps
beads, shells, toothbrush or other texturing tools
X-acto or other craft knife
cookie cutters or found objects of the shape you want
needle tool or toothpicks
clay shaper set (optional)
baking sheet
zip lock bags - to store leftover clay
oven or toaster oven
oven thermometer (optional)
acrylic paint
paint brush
old rag
cotton swabs
string, bead cord, stainless steel bead stringing wire, or wire
beads (optional)
Instructions
1. Preheat your oven to the temperature that the polymer clay manufacture recommends on the package.
2. Wash your hands well. The clay will pick up dirt, debris, and fiber, or anything else you may have on your hands.
3. Knead the clay in your hands to soften it up.
4. Flatten the clay on a work surface and roll it out to about ⅛ - ¼"*. I made mine ⅛". The thicker it is, the stronger it will be. I was not concerned with it being super sturdy, so I made mine thin.
5. Using letter stamps,  stamp the words you want in your clay.
6. Add a design with beads, shells or other texturing tools, if you wish.
7. Using a cookie cutter or found object, cut out your shape.
8. Pierce a hole for hanging with a needle tool or toothpick.
9. Bake according to manufacturer's directions*. Let cool completely.
10. Paint in the design area, making sure to get paint into the letters.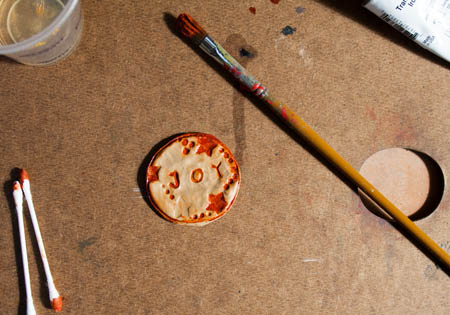 11. Using cotton swabs or a wet rag, wipe paint off the top surface, so that paint is left only in the design area. Let dry.
12. Add string or wire and beads, if desired.
Gift Ideas
jewelry
ornaments
gift tags
wine charms
book markers
garden markers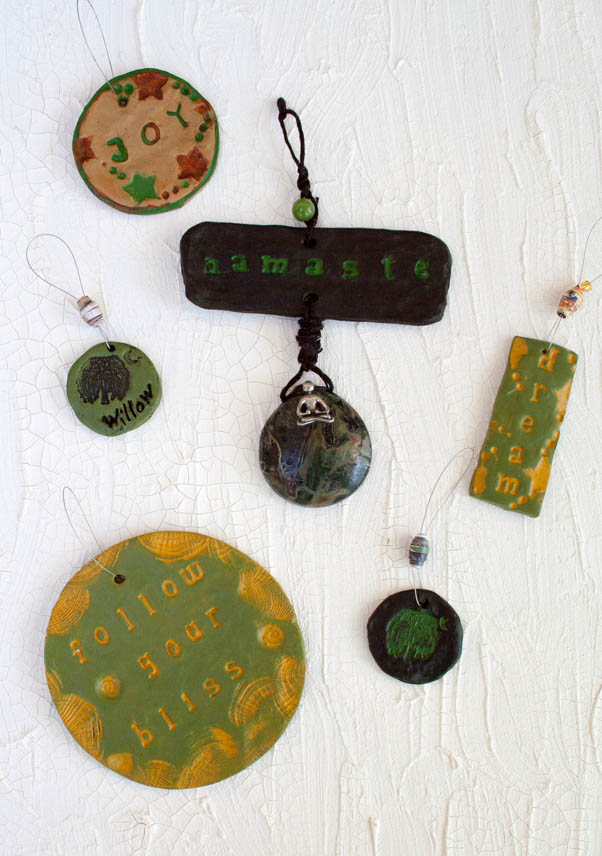 *Notes: Note that polymer clay is still flexible after baking and will not be totally stiff, especially thinner pieces.
Not all clay is created equal, so rolling it out to ⅛" may not be a good idea for some types of clay. Some brands are stronger than others, while some become brittle after baking. I have worked with Premo, Fimo, and Souffle and had no problems.
I would check out polymer clay websites for more information on which are the best. I tend to stick with the brands that I know, so I have not experimented with any brands other than the mentioned ones above.
I actually bake my projects longer than suggested. I find that the manufacturer's times are not long enough. I baked mine for an hour. If you research how long to bake polymer clay, you will find that many polymer clay artists bake theirs longer also.