These Sesame Crunch Bars are a healthy grain free snack. Made with maple syrup.

High in Nutrients
I have been sesame seed obsessed lately. Not only do I love the taste, but when I found out how much calcium and magnesium they have, I started to include them in my diet daily.
I started eating them more after I fractured my ankle. Mainly, I include them in my morning smoothie, but these Sesame Crunch Bars are another way that I like to have them.
Easy
I first tried sesame seed candy and sesame crunch bars many years ago, what feels like a lifetime ago, when I worked at a health food store. The bars were thin, and just like the name describes; crunchy.
Made with only a couple of ingredients, I was impressed at how good and how simple they were. I forgot about them until recently when I saw my 2 lb. bag of sesame seeds that I got from the bulk section of my local grocery store. It was such a big bag of sesame seeds that I figured I should include them in a recipe.
The most difficult thing about these sesame bars is waiting for them to cool off before diving into them.
Perfect for Travel
If you're like me and go on road trips during the Summer, this sesame brittle is the perfect snack to take along. It stays crunchy and it doesn't need to be packed in the cooler. If you're more of a travel by plane kind of person, it is great for that too!
These Sesame Crunch Bars are a healthy grain free snack. Made with maple syrup.
Click To Tweet
Other Easy Vegan Snack Recipes
Tips for Making Sesame Crunch Bars
If you're making your sesame crunch in the oven, I recommend a double layer of parchment paper or aluminum foil under first layer of parchment. Otherwise, the mixture leaks under it and leaves a sticky mess on your baking sheet.
If you do find yourself with a sticky baking sheet, or pan from the stovetop method for that matter, soak it for awhile and it will come clean easily. (It doesn't seem like it will when you first see the sticky mixture stuck on, but don't freak out.)
If you prefer the stovetop method, which comes together quite quickly, you'll need to watch over it. It literally takes only a few minutes.
Cut the mixture after it's set a little while, but still soft. That way you'll get nice straight edges.

Sesame Crunch Bars
These sesame bars are perfect for on the go!
*Don't forget to come back and leave your feedback and star rating.
Affiliate links below. We are a participant in the Amazon Services LLC Associates Program, an affiliate advertising program designed to provide a means for us to earn fees by linking to Amazon.com and affiliated sites.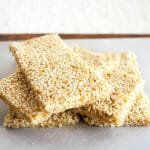 Print
Sesame Crunch Bars
These Sesame Crunch Bars are a healthy grain free snack. Made with maple syrup.

Servings
8
small bars (or 8 large)
Instructions
If doing oven method, preheat oven to 325°.

Toast sesame seeds about 5 minutes until golden and fragrant.

Stovetop method: Add maple syrup and salt. Cook down about 3-5 minutes until maple syrup cooks down, stirring constantly.

Pour mixture on a silpat baking mat or parchment paper that has been sprayed with cooking spray. Place a parchment paper on top (that has also been sprayed with cooking spray) and use a rolling pin to roll out evenly and flatten. Cut when mixture hardens slightly, but is still somewhat soft.

Oven method: Mix ingredients and pour on a baking sheet with double lined parchment paper, or aluminum foil with parchment paper over the top, making sure the bottom layer has a lip. Two layers are necessary because the mixture will leak under the first layer and this will protect your baking sheet. Bake at 325° for 30 minutes*. Cut when mixture hardens slightly, but is still somewhat soft.
Notes
*For the oven method: Cooking time will depend on thickness of bars. Mine were about ¼" thick.
Nutrition
Calories:
134
kcal
|
Carbohydrates:
16
g
|
Protein:
2
g
|
Fat:
6
g
|
Saturated Fat:
0
g
|
Cholesterol:
0
mg
|
Sodium:
3
mg
|
Potassium:
111
mg
|
Fiber:
1
g
|
Sugar:
12
g
|
Calcium:
159
mg
|
Iron:
2.1
mg
Love Animals?
Support animals by reviewing vegan dishes or products on the abillion app. One review = $1 and takes 30 seconds! Use code WMOON to get started.
*Note: Nutrition information should be considered an estimate only. Different nutrition calculators give you different results.