These rich crispy and creamy Vegan Cream Cheese Puffs are hard to put down! They are quick and easy to make - perfect for weeknights!
Comfort Food
Many moons ago, before I was a vegan and could eat gluten, I would load up on cream cheese wontons at the all you can eat buffet at a local Chinese restaurant. It was a treat because the brunch outing was reserved for special occasions.
Going vegan was a no-brainer for me, and I don't miss anything that I gave up. When I gave up gluten that was another story. It was not a choice, and there are textures that I miss that are hard to recreate.
Last night those yummy cream cheese puffs popped into my brain. I loved the contrasting textures from the crispiness of the wonton wrapper with the creaminess of the cream cheese.
After some experimenting in my kitchen, I came up with these Vegan Cream Cheese Puffs that are both vegan and gluten free. They will not only become your new go-to comfort food, they will also satisfy the mouthfeel you are searching for.
They are crispy on the outside, and creamy on the inside. The vegan cream cheese becomes ooey-gooey when cooked, and the brown rice paper wrappers get crispy in places.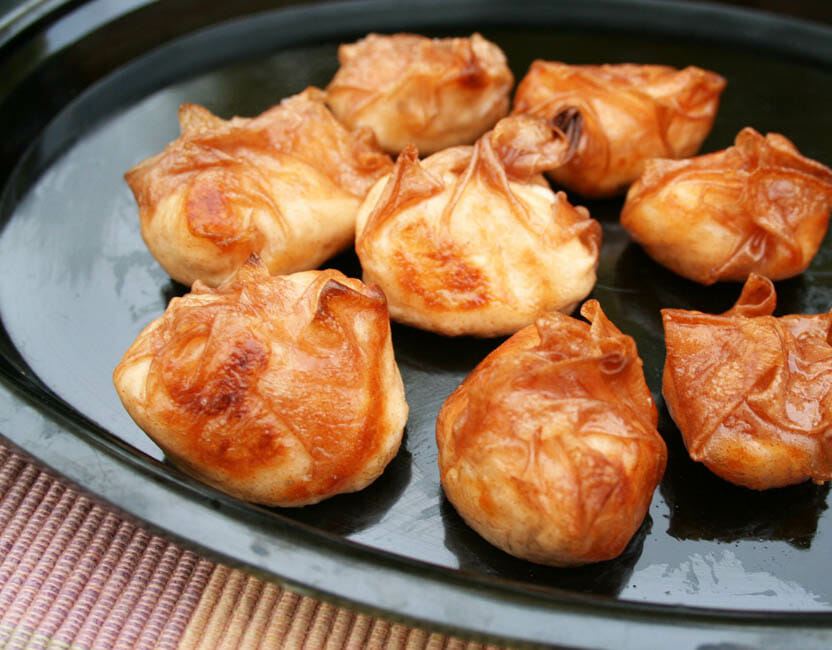 Only Two Ingredients
These rich vegan cream cheese wontons couldn't be any easier. They are made with only two ingredients and take minutes to make. It's waiting for them to cook that's the hard part!
I have made these many times when I am craving comfort food. They are extremely addictive. They are a perfect weeknight treat because they are so easy to make. Serve them as an appetizer and watch them disappear!
How to Make Vegan Cream Cheese Puffs
Heat water so that it's warm to the touch. Cut rice paper into ¼s. Dip one wrapper at a time into warm water to make it pliable.
Place a tablespoonful of vegan cream cheese in the middle of rice paper and fold over sides to seal.
Tips for Making Vegan Cream Cheese Puffs
Use cold cream cheese that's solid so that it's easier to work with. I prefer Tofutti cream cheese because of its solid consistency. Some vegan cream brands are downright liquidy.
If you are having problems with the rice paper sticking to itself, rewet it or wet your fingers to smooth it out.
Fold the edges of the rice paper onto itself so that the vegan cream cheese doesn't ooze out when you are baking or frying them.
Let cream cheese puffs sit for a few minutes after they are done so that you don't burn your tongue.
Other Easy Vegan Appetizers
These rich crispy and creamy Vegan Cream Cheese Puffs are really additive! They are quick and easy to make - perfect for weeknights!
Click To Tweet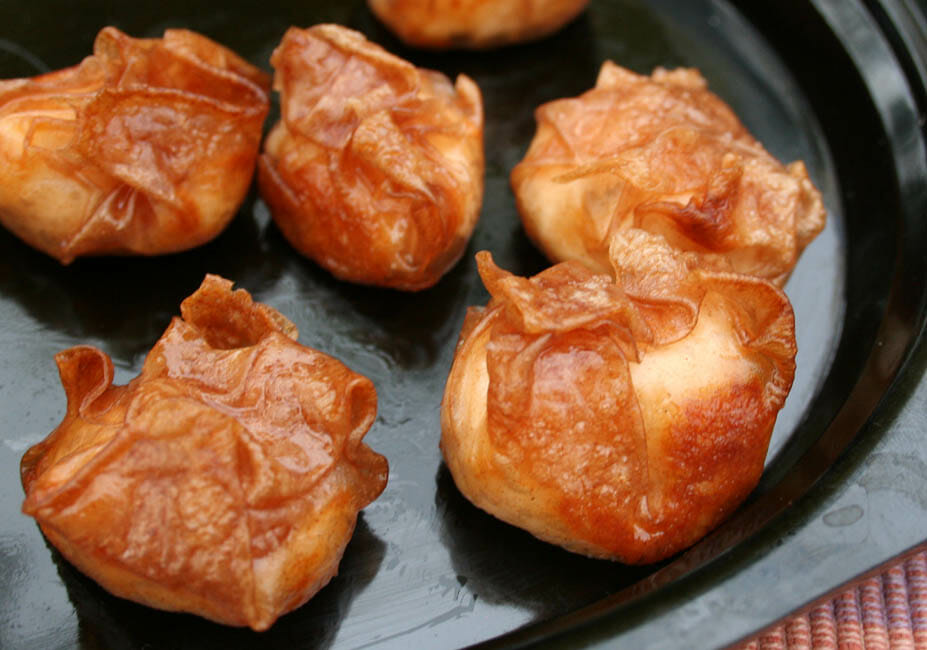 Vegan Cream Cheese Puff Recipe
These two ingredient appetizers will have you coming back for more. Just make sure you let them cool before diving in.
This Vegan Cream Cheese Puffs recipe was originally published on December 5, 2014. I've added photos, more text, and a video.
*Don't forget to come back and leave your feedback and star rating.
Affiliate links below. We are a participant in the Amazon Services LLC Associates Program, an affiliate advertising program designed to provide a means for us to earn fees by linking to Amazon.com and affiliated sites.
You May Need:
Print
Vegan Cream Cheese Puffs
These rich crispy and creamy Vegan Cream Cheese Puffs are hard to put down! They are quick and easy to make - perfect for weeknights!
Instructions
If baking, preheat oven to 400° .

Heat water on stovetop or in microwave until hot to the touch.

Carefully cut brown rice spring roll wrappers into fourths. If you have kitchen shears, this would be the time to get them out, as the wrappers crack easily.

Dip one spring roll wrapper into the water until pliable. Spread out on a plate.

Spoon 1 teaspoon of vegan cream cheese onto spring roll wrapper and fold so that all the vegan cream cheese is covered otherwise it will be a cheesy mess. Repeat with the rest of spring roll wrappers.

If Baking: Spray a parchment lined baking sheet with coconut oil spray. Bake at 400° for 10 minutes, then flip and bake the other side for 10 minutes, or until golden brown.* If Frying: Fry in sesame oil until golden brown, then flip and fry the other side.

Let sit a few minutes - they are extremely hot!
Notes
I personally prefer these baked and that is how I always make them, but they are good either way.
Nutrition
Calories:
28
kcal
|
Carbohydrates:
3
g
|
Protein:
0
g
|
Fat:
1
g
|
Saturated Fat:
0
g
|
Cholesterol:
0
mg
|
Sodium:
49
mg
|
Fiber:
0
g
|
Sugar:
0
g
|
Calcium:
7
mg
|
Iron:
0.2
mg
Love Animals?
Support animals by reviewing vegan dishes or products on the abillion app. One review = $1 and takes 30 seconds! Use code WMOON to get started.
*Note: Nutrition information should be considered an estimate only. Different nutrition calculators give you different results.