These addictive Baked Tofu Fries are crispy on the outside, and soft on the inside. Even tofu haters will love them!

These crispy Baked Tofu Fries are really addictive. These are good enough to eat by themselves, but I love to eat them with Raspberry Chipotle Ketchup, which is smoky and spicy.
If you have never had Baked Tofu Fries, you are in for a treat! When extra firm tofu is baked, it becomes crispy on the outside while staying soft on the inside. When you add spices, the tofu takes on those flavors.
I hear so many people say that they don't like tofu. I say that they haven't prepared it the right way.
I think that if more people tried it baked or fried with herbs and spices, and a great sauce, they would fall in love with it. When it is crispy on the outside and soft on the inside, it is irresistible!
It can even be made into Baked Tofu Nuggets and Tofu Bacon.
Of course, I love it other ways as well, like in a Tofu Scramble and Black Bean Breakfast Burrito, Tofu Ricotta, or Chocolate Pudding with Silken Tofu. It is incredibly versatile.
Tofu is like meat in that it takes on the flavors you add to it. There were many times before I was vegan, when I ate meat that I needed a good sauce to go with it. In fact, I remember the sauce being the best part of the meal. My grandmother's roast beef, for one, had to be drenched in ketchup!
I guarantee that even tofu haters in your life will love these!
Of course, these are a lot healthier than French fries, and I like them better too. I feel satiated longer since they are high in protein and low in carbs. Since they are baked they are a lot less greasy than French fries.
Not that I will be giving up French Fries forever, but these are a healthy alternative that I can eat as a meal. I ate these low carb Tofu Fries while on a vegan keto diet.
*Baked Tofu Fries pictured with my Raspberry Chipotle Ketchup.
Other Healthy Fries
Anything that I can make into fries, I am all in!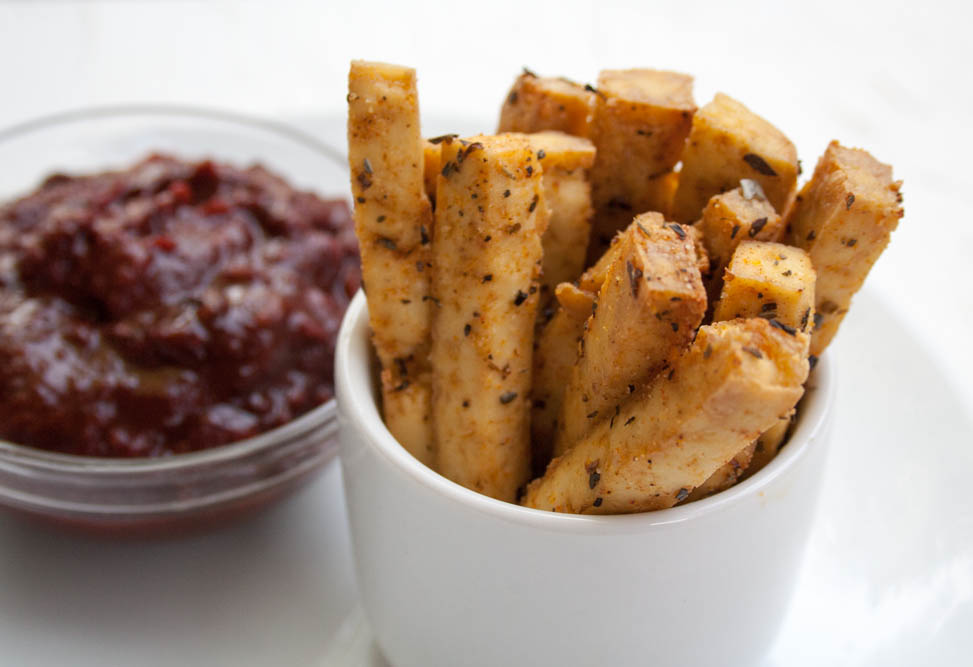 Recipe
These healthy tofu fries are truly addictive! Serve them as an appetizer or snack. If you love this recipe, please come back and leave your feedback and star rating.
Affiliate links below. We are a participant in the Amazon Services LLC Associates Program, an affiliate advertising program designed to provide a means for us to earn fees by linking to Amazon.com and affiliated sites.
I love a small baking sheet for these baked tofu fries. The one below is the one I own. It fits perfectly in a toaster oven.
📋 Recipe
Baked Tofu Fries
These addictive Baked Tofu Fries are crispy on the outside, and soft on the inside. Even tofu haters will love them!
Instructions
Mix olive oil and all the herbs and spices.

Slice tofu into long strips, about ¼ - ½" thick. Coat with marinade.

Place strips on a parchment lined baking sheet, and bake at 375°F for 20 minutes. Flip, and bake another 15-20 minutes, or until crispy on the outside.
Sign Up For My Newsletter
Get a FREE ebook with my Top 10 Vegan Recipes as a welcome gift!
Nutrition
Calories:
132
kcal
|
Carbohydrates:
3
g
|
Protein:
7
g
|
Fat:
10
g
|
Saturated Fat:
1
g
|
Cholesterol:
0
mg
|
Sodium:
40
mg
|
Potassium:
213
mg
|
Fiber:
0
g
|
Sugar:
1
g
|
Vitamin A:
115
IU
|
Calcium:
39
mg
|
Iron:
1.2
mg
*Note: Nutrition information should be considered an estimate only. Different nutrition calculators give you different results.