This easy Vegan Enchilada Tortilla Pizza has all the flavors of enchiladas without all the fuss! This recipe comes together in about 20 minutes, so it's perfect for a weeknight meal. 

If you're craving enchiladas, but don't want to spend time in the kitchen, than this Vegan Enchilada Tortilla Pizza is for you!
This Mexican tortilla pizza has all the flavors of enchiladas without all the fuss. No cooking the tortillas in oil. No stuffing and rolling the tortillas. No waiting 25 minutes for the enchiladas to bake.
Just make the filling and enchilada sauce (or use store-bought) and top your tortilla. Easy, right!
The enchilada sauce only takes about 5 minutes to make, and is cheaper than store-bought, so it's worth taking the extra few minutes to make it.
This vegan tortilla pizza takes about 20 minutes from start to finish, so it's perfect for a quick weeknight meal.
I used a brown rice tortilla for the pizza crust. If you really want to load up your pizza, like with vegan sour cream or guacamole, you may want to use a thicker pizza crust. A tortilla can only hold so much, after all.
In my experience I have found that a tortilla pizza is the best way to use brown rice tortillas, especially when you get a batch that is starting to crack like my latest batch.
Luckily, I had this recipe planned. If I would of had wraps or a burrito planned, I would of been swearing up a storm. You just never know when you'll get a bad batch. I try to only make the wrap and burrito recipes when I have some spinach amaranth tortillas from the Farmer's Market in my hands. Sometimes the maker of the tortillas runs out, so it's hard to plan those recipes.
If you've found some good vegan gluten free tortillas other than the ones I used here, please let me know. I'm always up to trying new brands.
If you don't like an ingredient, switch it out. There's many people who avoid red bell peppers because they are in the nightshade family, which cause immune reactions. You could replace the red pepper with zucchini or mushroom.
The same goes with tomatoes, which are also in the nightshade family. There are enchilada sauce recipes online using ingredients that aren't in the nightshade family, like a cilantro based or vegetable based sauce.
Don't like corn? Add more beans or some tofu. Adjust the ingredients to your liking. Play around with the recipe and have fun!
Other Mexican Inspired Recipes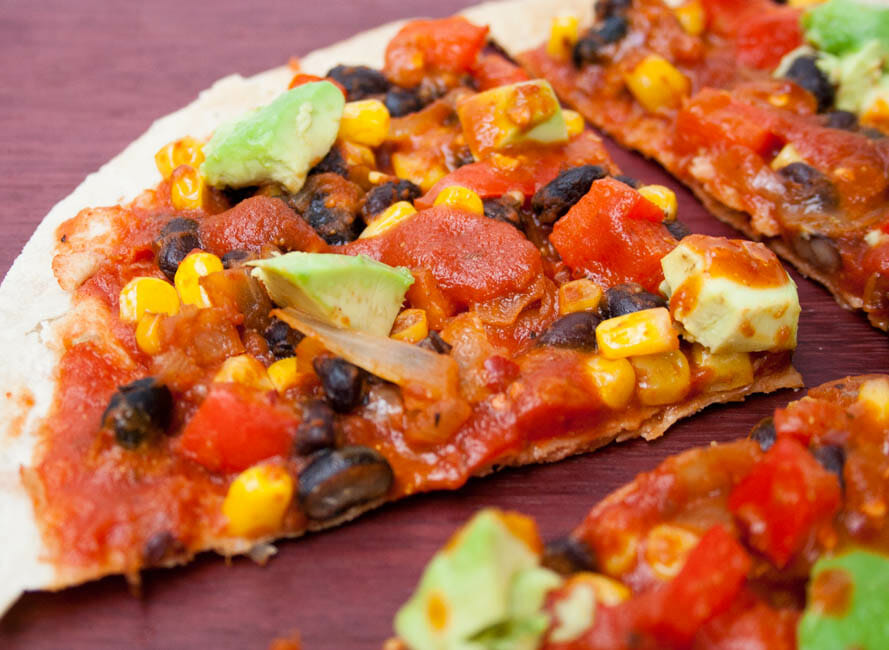 Recipe
This vegan pizza has black beans, corn, red pepper, onion, and enchilada sauce. It's a great way to combine pizza and taco night into one!
*If you love this recipe, please come back and leave your feedback and star rating.
Affiliate links below. We are a participant in the Amazon Services LLC Associates Program, an affiliate advertising program designed to provide a means for us to earn fees by linking to Amazon.com and affiliated sites.
You May Need
📋 Recipe
Vegan Enchilada Tortilla Pizza
This easy Vegan Enchilada Tortilla Pizza has all the flavors of enchiladas without all the fuss! This recipe comes together in about 20 minutes, so it's perfect for a weeknight meal. 
Ingredients
Instructions
Enchilada Sauce
Combine all ingredients in a pan. Bring to a boil, then reduce to a simmer and cook for about 5 minutes.
Enchilada Tortilla Pizzas
Pour olive oil in a hot pan and add chopped onion. Cook until translucent.

Add chopped red bell pepper and cook until slightly tender.

Add corn, black beans and 4 tablespoons of enchilada sauce. Cook for several minutes so that flavors combine and sauce cooks down slightly.

While black mixture is cooking, bake tortilla for 2-3 minutes until slightly crispy.

Top tortilla with about 4 tablespoons of enchilada sauce. Spread black bean mixture and vegan cheddar cheese, if using, on top. Bake another 3-4 minutes, until tortilla is crispy and making sure it doesn't burn.

Add chopped avocado and hot sauce, if desired. Repeat with the other two tortillas or have them another day.
Nutrition
Calories:
271
kcal
|
Carbohydrates:
43
g
|
Protein:
9
g
|
Fat:
7
g
|
Saturated Fat:
1
g
|
Cholesterol:
0
mg
|
Sodium:
614
mg
|
Potassium:
599
mg
|
Fiber:
8
g
|
Sugar:
7
g
|
Vitamin A:
1250
IU
|
Vitamin C:
39.4
mg
|
Calcium:
67
mg
|
Iron:
3.4
mg
Vegan Made Easy
Discover vegan products and dishes on the abillion app. Use code WMOON to get started.
Sign Up For My Newsletter
Get a FREE ebook with my Top 10 Vegan Recipes as a welcome gift!
*Note: Nutrition information should be considered an estimate only. Different nutrition calculators give you different results.