Pizza is easy with a brown rice tortilla! This Vegan Mexican Tortilla Pizza is perfect as an appetizer for game day or pizza for one. Topped with refried beans, avocado, black olives, and fresh pico de gallo.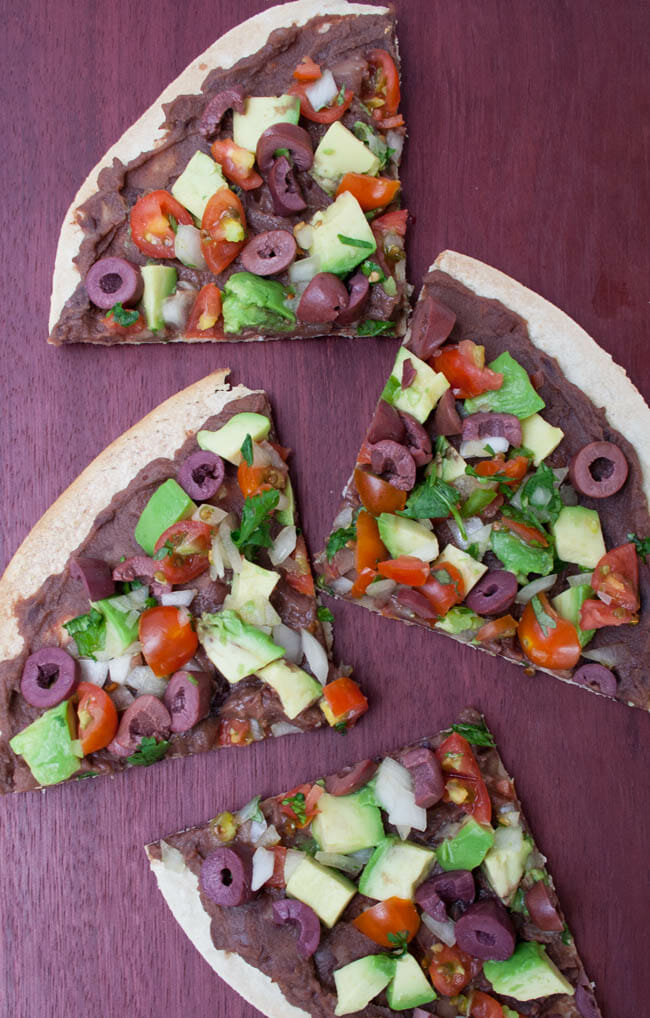 Who doesn't love an easy recipe, right! Well this Vegan Mexican Tortilla Pizza is just about one of the easiest recipes that you can make.
It is basically a large tostada, but pizza sounds more fun, don't you think? Not to mention, technically a tostada has a corn tortilla, not a brown rice one.
Mexican cuisine is one of my favorites, which works out nicely living in Tucson, Arizona. There's great tasting authentic Mexican cuisine everywhere. It constantly inspires me with my own cooking. There's no shortage of Mexican inspiration here.
It took me awhile, but I finally figured out that the best way to use brown rice tortillas is to use them for a pizza crust. Used any other way and I'm swearing up a storm in the kitchen.
Since I am so stubborn, I will probably still try using them for a burrito or vegan quesadilla, but I have a feeling that will be pointless. They love to fall apart or crack.
I used to think they fell apart because they came frozen. That was until I found out Trader Joe's sells them on the shelves next to the rest of the gluten free bread. No, that wasn't it.
Then, I thought maybe the batch I bought wasn't fresh enough. Nope, not that either. They just want to fall apart and make me mad.
I have found that for a vegan burrito, when I heat them on the stovetop, they are more pliable, and don't crack when I roll them. They're actually usable then. The only problem is when I get halfway through the burrito. Then it starts to crack.
Vegan quesadillas like to curl up on the edges which isn't good for photographing.
Maybe I'll just have to save the burrito and quesadilla recipes for my favorite Farmer's Market find: some spinach amaranth tortillas that cost a little more than the brown rice tortillas.
When I was on a vegan keto diet, I came up with a recipe for gluten free tortillas that don't crack, but I have to make them again and reshoot them.
If you like a thicker crust on your pizza, I recently created a recipe for a Vegan Gluten Free Pizza Crust with Coconut Yogurt that's not only quick and easy, but it doesn't require time to rise. Plus, it also has only a few ingredients.
Instructions
Bake tortilla until crispy.
Spread refried black beans on top.
Place chopped avocados, Kalamata olives, and pico de gallo, on top.
How Long Do Refried Beans Last in The Fridge?
They will last about 4 days. If you don't think you'll eat them up in that time, you can freeze them in a freezer bag for 1-2 months.
Variations / Additions
guacamole
salsa
vegan cheddar
vegan sour cream
hot sauce
chopped lettuce
Other Mexican Inspired Recipes
Recipe
This healthy tortilla pizza with Mexican flavors is an easy weeknight meal. Serve hot or cold.
*Don't forget to come back and leave your feedback and star rating.
Affiliate links below. We are a participant in the Amazon Services LLC Associates Program, an affiliate advertising program designed to provide a means for us to earn fees by linking to Amazon.com and affiliated sites.
You May Need
📋 Recipe
Vegan Mexican Tortilla Pizza
Pizza is easy with a brown rice tortilla! This Vegan Mexican Tortilla Pizza is perfect as an appetizer for game day or pizza for one. Topped with refried beans, avocado, black olives, and fresh pico de gallo.
Instructions
Preheat oven to 400°.

Bake tortilla at 400° for 2-3 minutes until crispy.

Spread refried beans on tortilla. Place avocados, pico de gallo, and olives on top of refried beans. Serve*.
Notes
If you prefer a hot pizza, bake for a few minutes after putting toppings on.
Nutrition
Calories:
358
kcal
|
Carbohydrates:
39
g
|
Protein:
7
g
|
Fat:
21
g
|
Saturated Fat:
3
g
|
Cholesterol:
0
mg
|
Sodium:
1392
mg
|
Potassium:
533
mg
|
Fiber:
10
g
|
Sugar:
8
g
|
Vitamin A:
520
IU
|
Vitamin C:
13.3
mg
|
Calcium:
78
mg
|
Iron:
2.1
mg
Vegan Made Easy
Discover vegan products and dishes on the abillion app. Use code WMOON to get started.
Sign Up For My Newsletter
Get a FREE ebook with my Top 10 Vegan Recipes as a welcome gift!
*Note: Nutrition information should be considered an estimate only. Different nutrition calculators give you different results.