This luxurious vegan Cher Micro handbag is the perfect size for your essentials. It can be worn with dressy or casual outfits. 
*Affiliate links below. If you purchase through my links, I will receive a commission. This is at no extra cost to you.
Angela Roi is a luxury vegan handbag company founded by married couple Angela and Roi Lee. I first spotted the luxury vegan handbag brand back in November when I realized I needed a new purse.
When you sign up for a free membership you can earn points towards future purchases. You earn points on your birthday, every time you make a purchase, write a review, or refer friends.
You will also get first access to product launches and sales.
After my first purchase, I became addicted and now own quite a few of their handbags.
Angela Roi has added a new micro collection to their list of gorgeous handbags. This cute little bag is a smaller version of the Cher Mini and Cher Tote.
The Cher Micro is one of two handbags in the new micro collection. The other is the Grace Micro Crossbody.
Don't let the name fool you, this beauty holds a good amount for a purse with the name micro. I can fit my wallet, iPhone 8, a small zippered pouch, and sunglasses.
The Cher Micro has a fun, playful look to it. So far I have only worn it with casual outfits, but it could easily be worn with a formal outfit as well.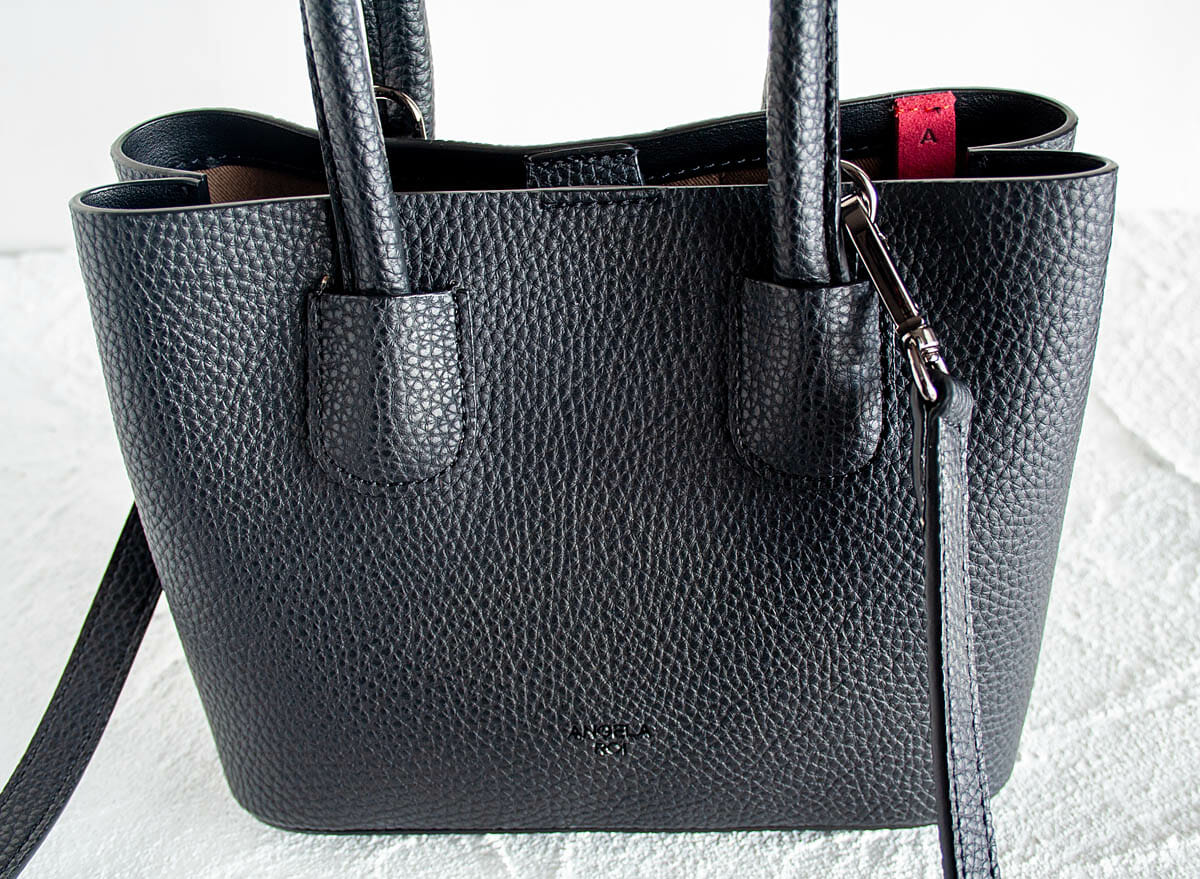 It measures 8" wide by 6" tall. The depth is 4.25". It comes with a detachable adjustable strap which measures 20" - 23". You can wear it as a crossbody or on your shoulder.
The top handles have a 4.5" drop length, which you can wear on your arm or carry it in your hand. It weighs 1 lb.
Angela Roi sells a long chain strap as well as webbing straps by themselves. Both are nice to change up the look of your bag.
The Cher Micro comes in black, coral pink, olive, light mud gray, and light gray.
It has a magnetic snap closure, and one middle zippered compartment. It is made out of EPUL (exquisite polyurethane leather), which has a pebbled texture that feels a lot like real leather.
It has four studs at the bottom of the purse, which I found out are called purse feet. They are great for durability.
To see a full review of Angela Roi, check out My Angela Roi Handbag Collection.  The post also showcases four of my other Angela Roi handbags.
More Angela Roi Vegan Handbag Reviews