Use this easy Roasted Garlic Focaccia recipe in a sandwich, as a side dish, or as an appetizer at a party. Made with gluten-free pizza dough, it couldn't be any easier!
If you love freshly baked focaccia, but aren't into baking, this recipe is for you. It's made using a package of pizza mix that's been jazzed up with some roasted garlic and Italian seasoning.
It could not be any easier than this!
Roasted garlic is a flavorful addition to focaccia bread. It adds a sweet, mild garlic flavor.
Other recipes to try are my Vegan BBQ Mushroom Sandwich, Vegan Buffalo Tofu Sandwich, and Tofu Sloppy Joes.
Jump to:
❤️ Why You'll Love It
It's an easy way to add flavor to a store-bought mix.
It's full of flavor.
It is simple and easy to make.
What is Focaccia Bread?
Focaccia is an oven-baked flatbread that originated in Italy. It is an olive oil-flavored yeast bread sometimes topped with herbs or other toppings.
It can be eaten by itself, or sliced and made into a sandwich. For serving by itself, it can be cut into a variety of shapes, including long rectangles, triangles, or squares.
For this recipe, I roasted the garlic, then mixed it in with the pizza dough. If you prefer, you could place it on top in the holes after it rises instead.
Can I Make It Using Pizza Dough?
You sure can, that's what I did here!
I used Pamela's pizza mix to make the focaccia, which makes it super easy. You just need to let the dough rise, which you can start the day before, and let it sit in the fridge.
I'm all about making a recipe in steps to make things easier.
🧾 Ingredients
Garlic: You will need a whole head of garlic for this recipe. By roasting the garlic, it becomes milder and tastes sweet.
Bread or pizza mix: I used a gluten-free pizza mix because I love the taste. Use your favorite.
Warm water
Olive oil: For roasting the garlic and mixing with the pizza dough.
Italian seasoning: Adds flavor. You could also use your own blend of basil, oregano, rosemary, or whatever seasonings you like.
This is an overview of the ingredients. To see the full list of ingredients with measurements and instructions, see the recipe card at the bottom of this post.
5 Secrets to Vegan Cooking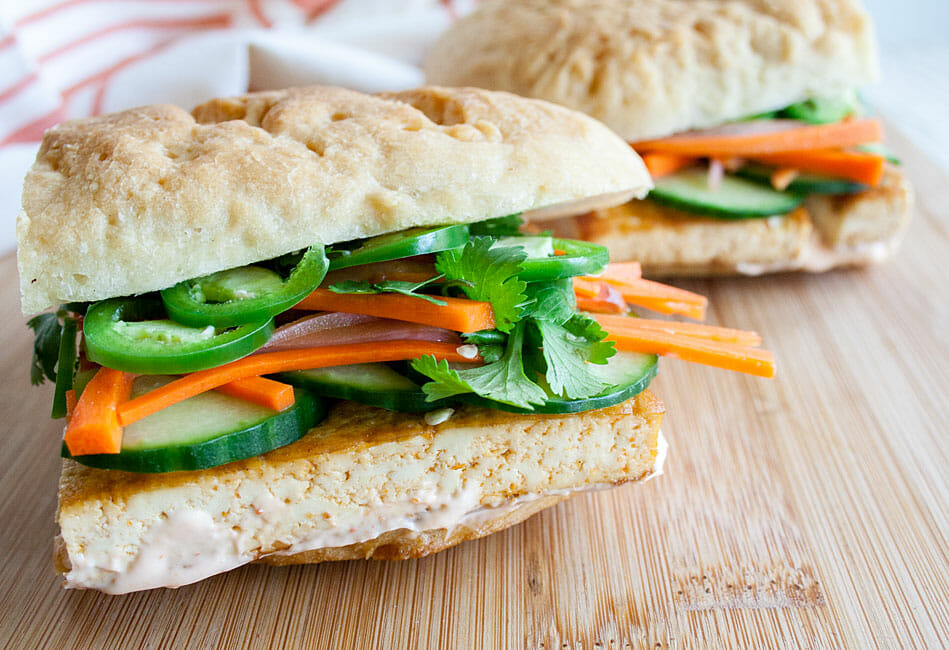 Free 5 Part Email Series to Elevate Your Vegan Cooking
We respect your privacy. Unsubscribe at any time.
🔪 Instructions
Step 1: Slice off the top of the garlic. Place garlic in some tin foil. Drizzle olive on top and bake in the oven. Set aside.
Step 2: Blend pizza mix, warm water, olive oil, yeast, and Italian seasoning in a food processor. The warm water helps the dough rise. Italian seasoning adds another layer of flavor.
Step 3: Squeeze garlic cloves into the food processor with the pizza dough and pulse until combined.
Step 4: Oil a 7 ½" x 9 ½" baking dish (or similar size) with olive oil.
Step 5: Form dough into a ball, and with oiled hands (the dough is very sticky), spread it into a baking dish.
Cover with plastic wrap. Let rise for 1-2 hours.
Step 6: Poke dimples into the dough (deep holes). Brush olive oil on top.
If you prefer smaller dimples and fluffier bread, you can let the dough rise for 1 ½ hours, poke the holes, then let it rise for another 30 minutes. That's what I did for this bread.
You can also let it rise for 2 hours, poke the holes, then bake it right away. To see what larger dimples look like, check out my Sun-Dried Tomato and Black Olive Focaccia.
Step 7: Bake for 25-30 minutes, or until golden brown. Use a spatula to lift the bread out. Since you oiled the baking dish, it should come out easily.
Drizzle olive on top and serve.
Can I Make It Ahead of Time?
After you mix the dough, you can refrigerate it overnight if you're not ready to bake it yet. You can even make the roasted garlic the day before.
🍽 Serving
Some sandwiches to make using focaccia bread are my Vegan Pesto Caprese Sandwich, Vegan BLT Focaccia Sandwich, and Vegan Red Pepper and Onion Focaccia Sandwich.
👩🏻‍🍳 Recipe FAQs
How do you serve focaccia bread?
Focaccia can be sliced and served with a meal or used in sandwiches.
Is focaccia bread eaten hot or cold?
Focaccia can be eaten warm, at room temperature, or cold.
Other Vegan Italian-Inspired Recipes
If you tried this Roasted Garlic Focaccia Recipe or any other recipe on my website, please leave a ⭐️ star rating and let me know how you like it in the 💬 comments below. I love hearing from you!
📋 Recipe
Roasted Garlic Focaccia
Use this Roasted Garlic Focaccia in a sandwich, as a side dish, or appetizer. Made with gluten free pizza dough, it couldn't be any easier!
Instructions
Roasted Garlic
Slice about ½" off a head of garlic (the pointy end), exposing the cloves, and leaving the skin on. Put the garlic in aluminum foil and drizzle olive oil on top. Cover the garlic with aluminum foil. Roast at 425° for 40-45 minutes, or until tender.
Focaccia
In a food processor or stand mixer with paddle attachment mix pizza mix, warm water, yeast, 2 tablespoons olive oil, and Italian seasoning for 15-30 seconds.

Squeeze garlic cloves out and add to the mixture. Pulse until mixed.

Oil a 7 ½" x 9 ½" baking dish (or 8" x 8"). With oiled hands spread dough in baking dish. Cover with plastic wrap. Let rise 1 ½ hours.

With oiled fingers make dimples in dough (deep holes)*. Brush 2 tablespoons olive oil on top. Let rise another 30 minutes.

Bake at 425° for 20-25 minutes or until golden brown.
Notes
This bread will keep for a few days. I had mine for as long as six days and it still tasted good. Just warm it up and you're good to go.
Sign Up For My Newsletter
Get a FREE ebook with my Top 10 Vegan Recipes as a welcome gift!
Nutrition
Calories:
277
kcal
|
Carbohydrates:
44
g
|
Protein:
1
g
|
Fat:
10
g
|
Saturated Fat:
1
g
|
Cholesterol:
0
mg
|
Sodium:
481
mg
|
Potassium:
27
mg
|
Fiber:
3
g
|
Sugar:
2
g
|
Vitamin A:
10
IU
|
Vitamin C:
1.5
mg
|
Calcium:
19
mg
|
Iron:
0.9
mg
*Note: Nutrition information should be considered an estimate only. Different nutrition calculators give you different results.