These Smothered Vegan Burritos are filled with spicy black beans and rice, then smothered in a homemade enchilada sauce.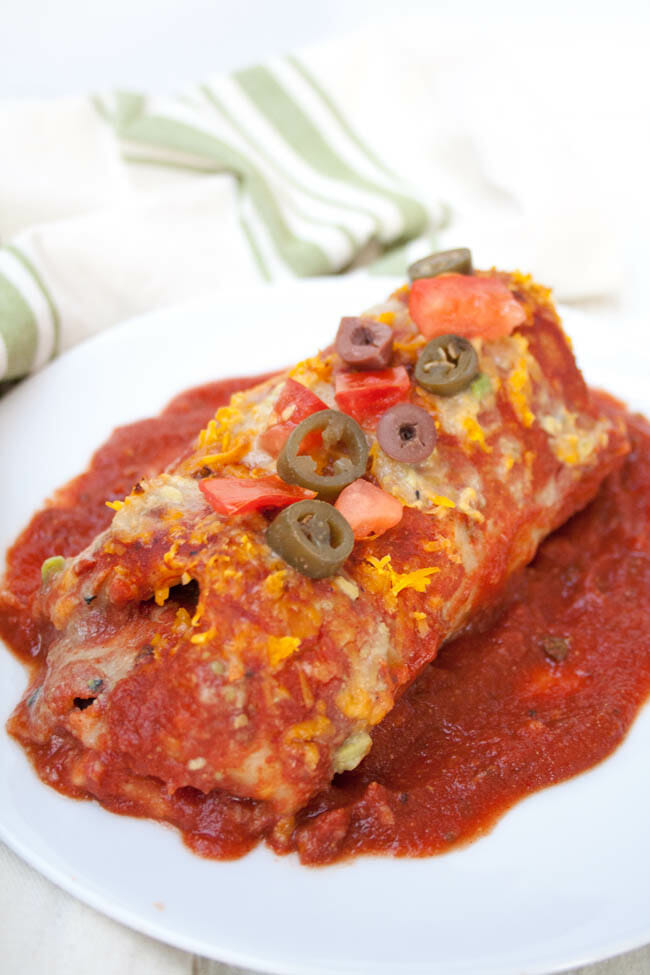 What is a smothered burrito? A smothered burrito, wet burrito, or enchilada style burrito is a burrito covered in sauce. So no eating with your hands or taking it on the go.
I was inspired to make these Smothered Vegan Burritos after making my Vegan Enchilada Tortilla Pizza and another recipe using enchilada sauce. What can I say, I was on an enchilada kick.
Instead of buying corn tortillas for enchiladas, I thought some wet burritos using brown rice tortillas were in order. I already had the brown rice tortillas and I had just made rice for another recipe.
Anytime I can do batch working, I am all over it.
Normally I don't fill my burritos with rice since there are plenty of carbs with the tortilla, but since I had made some for another recipe, I figured why not.
Many people eat burritos with beans and rice, especially in the U.S.
In Mexico they eat burritos with meat and beans, whereas burritos in the U.S. are usually loaded with a bunch of ingredients. Instead of loading these vegan burritos up, I added a few ingredients as garnish.
Tips
Heat tortillas on the stovetop to make them more pliable.
Don't overfill the tortillas - it makes them hard to roll and they won't stay together.
To roll a burrito, place the filling just below the center of tortilla, leaving room on the sides. Fold sides over, then the bottom. Pull filling in towards you as you roll to get a tight burrito.
These Smothered Vegan Burritos are pretty mild. To add more spice you could add pickled peppers and onions to the filling in addition to the garnish, or add more spice to the enchilada sauce.
Many vegan cheeses don't melt very easily. After baking the burritos, broil for a few minutes to melt the vegan cheese.
Other Mexican Inspired Recipes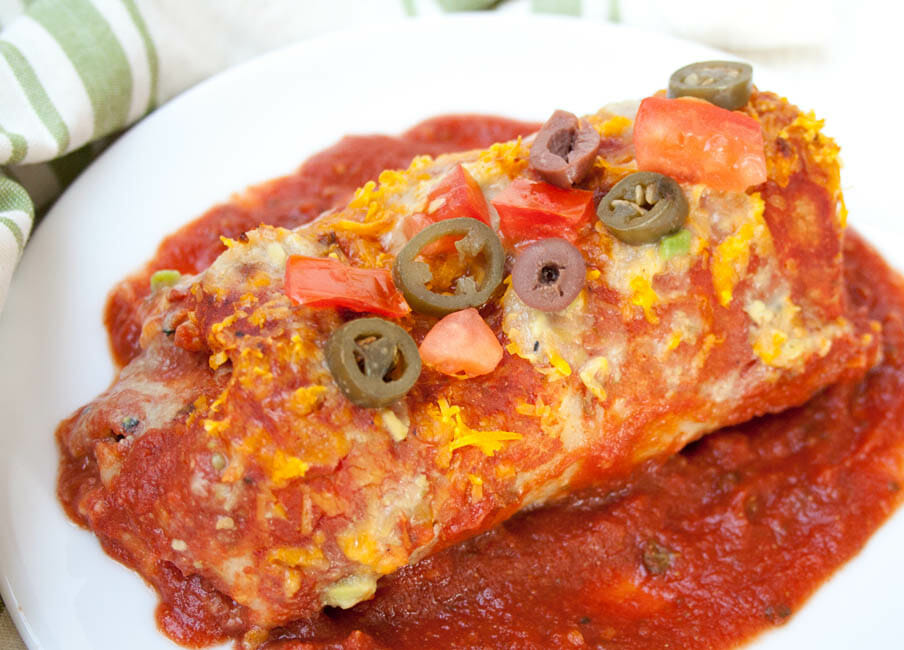 Recipe
These wet burritos are loaded with flavor. Make them with one sauce or two.
*Don't forget to come back and leave your feedback and star rating.
Affiliate links below. We are a participant in the Amazon Services LLC Associates Program, an affiliate advertising program designed to provide a means for us to earn fees by linking to Amazon.com and affiliated sites.
I love these Pyrex baking dishes! I used a 7 ½" x 9 ½" baking dish for this recipe. It's great because it comes with a cover, so I can put it in the fridge without having to switch out the container first.
📋 Recipe
Smothered Vegan Burritos
These Smothered Vegan Burritos are filled with spicy black beans and rice, then smothered in a homemade enchilada sauce. 
Ingredients
Instructions
Enchilada Sauce
Combine all ingredients in a pan. Bring to a boil, then reduce to a simmer and cook for about 5 minutes.
Burritos
Mix rice, black beans, and red pepper. Add salt and pepper as needed.

Place ⅓ of rice and bean mixture on a tortilla. Fold over sides of tortillas and roll away from you making a tight burrito. If you fill the tortillas with too much mixture, they will be harder to roll. Repeat with the other two tortillas.

Pour about ½ cup of enchilada sauce into a baking dish. My dish was 9 ½" x 7 ½". Place burritos in dish. Pour the rest of the sauce over the top. Sprinkle grated vegan cheddar over the top. Bake at 350° for 10 minutes, and broil for a few minutes at 450° if vegan cheese isn't melted yet.

Garnish with chopped tomatoes, kalamata olives, and pickled peppers and onions.
Nutrition
Calories:
345
kcal
|
Carbohydrates:
59
g
|
Protein:
11
g
|
Fat:
7
g
|
Saturated Fat:
2
g
|
Cholesterol:
0
mg
|
Sodium:
1206
mg
|
Potassium:
762
mg
|
Fiber:
9
g
|
Sugar:
8
g
|
Vitamin A:
1590
IU
|
Vitamin C:
40.3
mg
|
Calcium:
99
mg
|
Iron:
4.7
mg
Vegan Made Easy
Discover vegan products and dishes on the abillion app. Use code WMOON to get started.
Sign Up For My Newsletter
Get a FREE ebook with my Top 10 Vegan Recipes as a welcome gift!
*Note: Nutrition information should be considered an estimate only. Different nutrition calculators give you different results.