This easy Thai Coffee Overnight Oats made with cold brew or regular coffee is a sweet treat. Perfect for on the go!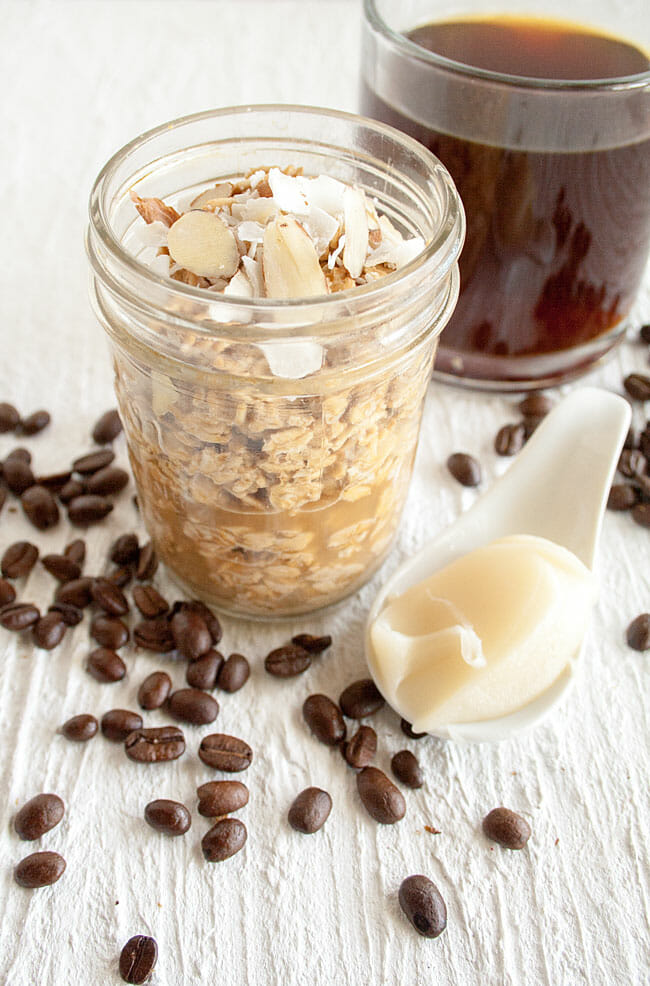 I remember the first time I tried Vietnamese coffee many years ago. It was at a local restaurant where I lived at the time.
The waiter brought a Vietnamese coffee maker which consisted of a drip filter sitting on top of a glass mug filled with sweetened condensed milk. The coffee was made in front of me while I watched with anticipation.
Upon tasting the delightful beverage, I was in heaven. It tasted a lot like Bailey's, which I have always been a big fan of.
Thai coffee is slightly similar, but with additional ingredients of grains and seeds. In America, many of the Thai restaurants make a simplified version.
My Mint Hot Chocolate Overnight Oats inspired this Vegan Thai Overnight Oats recipe. They are both sweet breakfasts.
If you've never made overnight oats, there's no time like the present! Overnight oats have been a game changer for me.
If I have somewhere to be early in the morning I make overnight oats the night before to save me time in the morning.
They're also perfect for traveling. I bring gluten free rolled oats, cacao powder, and a packet of almond butter in my luggage. Then, I add hot coffee for a hearty vegan oatmeal breakfast.
I love having my coffee and overnight oats all in one meal.
Jump to:
🧾 Ingredients
Gluten free rolled oats: Old fashioned rolled oats work best for overnight oats. They get soft enough while not being too mushy.
Strong coffee: I like cold brew coffee because it is less acidic.
Sweetened condensed coconut milk: Adds a sweet rich flavor.
Cardamom: Adds a warm spice flavor.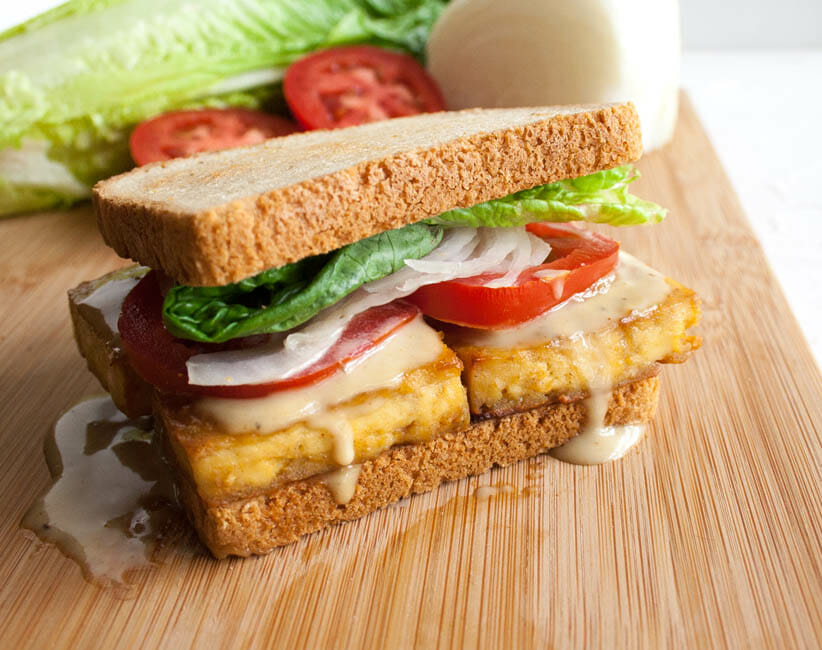 5 Secrets to Transforming Tofu
FREE 5 part email series to help you cook tofu like a pro.
We respect your privacy. Unsubscribe at any time.
🔪 Instructions
If you're using cold brew coffee, heat it up and mix with the sweetened condensed coconut milk.
Mix coffee, sweetened condensed coconut milk, rolled oats, and cardamom in a mason jar. If you like it hot, let it sit for a few minutes and enjoy or let it sit overnight in the fridge.
How Long Do They Need to Soak?
Place the oats in the fridge for a minimum of 3-4 hours up to 72 hours.
💭 Tips
Mix the sweetened condensed coconut milk with freshly brewed coffee so that it will melt.
If you are using cold brew coffee, warm up the coffee with the sweetened condensed coconut milk before adding it to the oats.
Add chia seeds for an extra boost of nutrients.
🥡 Storage
These Thai overnight oats will last up to 3 days in the fridge.
📖 Variations / Additions
Nut butter
Coconut milk yogurt or another vegan yogurt
Chia seeds
Nuts: pecans, walnuts, almonds
Chocolate chips
Cacao powder or cocoa powder
Vanilla extract
Protein powder
Granola
Flax seeds
Spices: cinnamon, nutmeg
🥣 Other Overnight Oats

🎥 Video
With this sweet oatmeal you get your breakfast and coffee all in one!
*Don't forget to come back and leave your feedback and star rating.
Affiliate links below. We are a participant in the Amazon Services LLC Associates Program, an affiliate advertising program designed to provide a means for us to earn fees by linking to Amazon.com and affiliated sites.
🧂 You May Need
📋 Recipe
Thai Coffee Overnight Oats
This easy Thai Coffee Overnight Oats made with cold brew or regular coffee is a sweet treat. Perfect for on the go!  
Ingredients
Toppings (optional)
Coconut chips or flakes

Chocolate chips

Nuts
Instructions
If using cold brew coffee, warm up the coffee and add sweetened condensed coconut milk. That way it mixes into coffee. If using freshly brewed coffee, add sweetened condensed coconut milk and mix well. Pour into a mason jar.

Add rolled oats and cardamom. Let sit a few minutes and enjoy (since it's hot), or let cool and place in the fridge and let sit overnight.

Top with coconut chips or flakes, chocolate chips, or nuts.
Nutrition
Calories:
267
kcal
|
Carbohydrates:
47
g
|
Protein:
5
g
|
Fat:
6
g
|
Saturated Fat:
4
g
|
Cholesterol:
0
mg
|
Sodium:
27
mg
|
Potassium:
234
mg
|
Fiber:
4
g
|
Sugar:
18
g
|
Calcium:
21
mg
|
Iron:
1.7
mg
Vegan Made Easy
Discover vegan products and dishes on the abillion app. Use code WMOON to get started.
Sign Up For My Newsletter
Get a FREE ebook with my Top 10 Vegan Recipes as a welcome gift!
*Note: Nutrition information should be considered an estimate only. Different nutrition calculators give you different results.
**Important!
If you are gluten free you may want to avoid coffee altogether. I personally have never had a problem drinking it, and I have a gluten intolerance. It is probably because I use whole bean organic coffee, and grind it myself.
I learned after posting my Vegan Bulletproof Coffee from some readers on Facebook that it can be problematic for people who don't tolerate gluten. So I did some research and one article mentioned to try organic whole bean coffee because it isn't highly processed causing cross-reactivity issues.
So please do the research yourself, and test it out. I try to only post recipes that are 100% gluten free since I have a gluten intolerance. I am really careful about avoiding gluten in my daily life, so this was all news to me.