Whether you are on a vegan keto plan, or want to add more coconut oil into you diet, this Vegan Bulletproof Coffee is for you!

For those of you who have been following me for awhile know that I have been on a low carb diet, or vegan keto diet. A vegan keto diet consists of low carb, high fat, and moderate protein foods.
It puts your body into a state of ketosis, which means you are being fueled by almost completely fat. Since being on it, I have had no seasonal allergy symptoms, which is a game changer for me.
Many people on a keto diet drink bulletproof coffee first thing in the morning, because they want to continue their fast. It keeps hunger at bay, is said to improve mental function, jump-starts your digestion, and stabilizes coffee's effect on blood sugar.
Even though having bulletproof coffee first thing in the morning has all those benefits, I prefer to have my cup of coffee after my morning smoothie, around mid-morning, after I have some protein in my system. I still get the effects of the coffee, and the caffeine lasts for a long time because it has coconut oil in it.
The original recipe for bulletproof coffee calls for non-toxic coffee, free of herbicides and pesticides. It also contains MCT fats. One ingredient that bulletproof coffee normally has in it is grass fed butter or ghee. Since I am vegan, I'll share with you a dairy-free Bulletproof Coffee.
Jump to:
Can You Make It with Coconut Oil?
Yes! That's what this vegan bulletproof coffee recipe calls for.
You can also use coconut butter or MCT oil. Bulletproof coffee is not only a great way to add coconut oil to your diet, but it also helps the caffeine to last longer and digest at a slower rate. Just the fact that the caffeine lasts longer than regular coffee is a bonus for me!
I admit that it takes a little getting used to having coconut oil in your coffee, but I find that it helps to add a little almond milk or full fat coconut milk for an even better consistency. I especially like the coconut milk because it has the consistency of whipped cream, so it feels more indulgent.
When you blend the mixture, it creates a creamy texture. Unlike if you were to put a dollop of coconut oil into your coffee, which has a consistency just like you would think: oily.
There have been times that I have done that too, out of sheer laziness. I really don't mind it as long as I add some almond or coconut milk too.
🧾 Ingredients
This is an overview of the ingredients. To see the full list of ingredients with measurements and instructions, see the recipe card at the bottom of this post.
Coffee: I used organic coffee beans to make my coffee. I prefer to cold brew coffee because it is less acidic. You could use whatever your favorite coffee is.
Coconut oil or coconut butter: I preferred coconut oil over coconut butter, but you could use either one. You could also use MCT oil.
Almond milk or coconut milk: I like either unsweetened almond milk or full fat coconut milk. The coconut milk will help you get in more fat to meet your macro nutrient goals.
Stevia: Adds sweetness. You could use your favorite sugar free sweetener.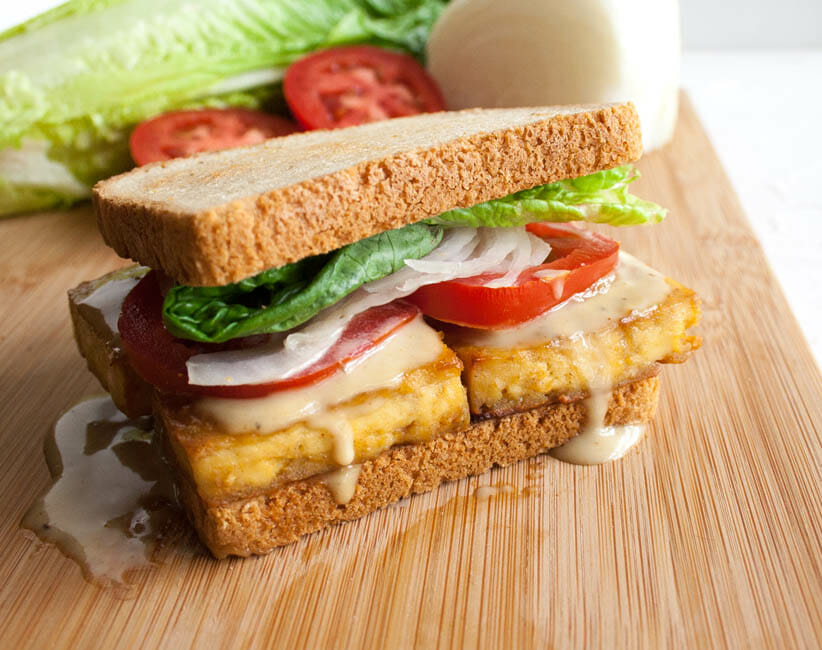 5 Secrets to Transforming Tofu
FREE 5 part email series to help you cook tofu like a pro.
We respect your privacy. Unsubscribe at any time.
🔪 Instructions
Blend freshly brewed coffee with coconut oil or coconut butter, and unsweetened almond milk or full fat coconut milk for some creaminess in a high speed blender. If you have a milk frother, you could use that.
Pour into your favorite mug.
💭 Tips
Do not blend hot coffee in a Nutribullet! It doesn't do well with hot liquids. If you need to use it, blend room temperature coffee in it and warm it up in the microwave.
📖 Variations / Additions
Spices: Pinch of cinnamon, nutmeg or other spices
Powders: Mushroom powder or cacao powder (both will add a couple of grams of carbohydrates depending on how much you add)
Extract: Vanilla extract, peppermint extract or orange extract for some flavor
Creamer: Vegan Keto Mint Chocolate Coffee Creamer
MCT oil in place of coconut oil
Nut butter: Almond butter or macadamia nut butter to make it extra creamy
What Can I Drink Instead?
You could have a vegan matcha latte, vegan bulletproof tea or cacao tea instead.
👩🏻‍🍳 FAQs
Does Bulletproof Coffee work without butter?
Yes! You can use MCT oil, coconut oil, or coconut butter instead.
Can vegans have MCT oil?
Most MCT oil is made with coconut oil or a combination of coconut oil and palm kernel oil, which is suitable for vegans.
Other Vegan Keto Recipes

This keto coffee will get you going for the day! If you love this recipe, please come back and leave your feedback and star rating.
Affiliate links below. We are a participant in the Amazon Services LLC Associates Program, an affiliate advertising program designed to provide a means for us to earn fees by linking to Amazon.com and affiliated sites.
🧂 You May Need
📋 Recipe
Vegan Bulletproof Coffee
Whether you are on a vegan keto plan, or want to add more coconut oil into you diet, this Vegan Bulletproof Coffee is for you! 
Ingredients
1

cup

organic coffee**

1

tablespoon

coconut oil

or coconut butter*

2

tablespoons

- ¼ cup unsweetened almond milk or full fat coconut milk

optional

5

drops stevia

optional
Instructions
Blend freshly brewed coffee with the rest of ingredients in a blender. Coconut oil blends better with hot coffee.
Notes
I prefer coconut oil over coconut butter. I liked the consistency and taste better, but I include coconut butter because it is also a good way to include coconut into your diet.
Nutrition
Calories:
123
kcal
|
Carbohydrates:
0
g
|
Protein:
0
g
|
Fat:
14
g
|
Saturated Fat:
12
g
|
Cholesterol:
0
mg
|
Sodium:
4
mg
|
Potassium:
116
mg
|
Sugar:
0
g
Vegan Made Easy
Discover vegan products and dishes on the abillion app. Use code WMOON to get started.
Sign Up For My Newsletter
Get a FREE ebook with my Top 10 Vegan Recipes as a welcome gift!
*Note: Nutrition information should be considered an estimate only. Different nutrition calculators give you different results.
**Important! If you are gluten free you may want to avoid coffee altogether. I personally have never had a problem drinking it, and I have a gluten intolerance. It is probably because I drink whole bean organic coffee, and grind it myself. I learned that it can be problematic for people who don't tolerate gluten. So I did some research and one article mentioned to try organic whole bean coffee because it isn't highly processed causing cross-reactivity issues. So please do the research yourself, and test it out. I try to only post recipes that are 100% gluten free since I have a gluten intolerance. I am really careful about avoiding gluten in my daily life.