This Mocha Almond Overnight Oats is perfect for traveling or on the go. You get coffee and breakfast all in one!

Perfect For Travel
I make overnight oats a lot. It is my go-to meal for when I am in a hurry. This Mocha Almond Overnight Oats was inspired by my other overnight oats recipes, but this is the first time that I used coffee in it.
I fell in love with overnight oats when I was away for a weekend on a road trip. Being vegan and gluten free can be hard while traveling, depending upon which city you are in. Breakfast is usually the most challenging.
A typical breakfast is usually a fruit bowl, hash browns or home fries. It is a good day when the fruit is actually ripe and in season. It is also a good day when the home fries don't have gluten. You'd be surprised at how many restaurants include a wheat coating on their fries.
Sadly, I don't like to fill up on fruit and potato products. They just don't keep me full for very long. I am usually hungry an hour later, and ready for a nap. I need some protein to start my day.
At home, that looks like a Chocolate Banana Smoothie with protein powder, Peanut Butter and Jelly Chia Pudding, or Spicy Chickpea Scramble. Now those are great breakfasts!
I need to have some food in my belly before my morning cup of coffee, so mixing it into my breakfast is a good solution for busy mornings.
Coffee and Breakfast All in One
By including coffee in my overnight oats, I have created a game changer. I thought my other overnight oats recipes were perfect for traveling or on the go, but this adds a whole new meaning to the concept of a quick and easy portable breakfast.
Overnight oats are one of the easiest breakfasts that you can make. If you are busy and in a hurry in the morning, this is a great way to start your day off right. It has everything you need: whole grains, protein, fiber, and caffeine to jump start your day.
Chocolate, in my opinion, makes everything better, so anytime I can sneak it into my breakfast, I am all over it.
Serve Hot or Cold
Even though I have labeled this as overnight oats, you could really eat this right after making the coffee, and eat it hot. I like it hot or cold. After brewing the coffee, the oats just need to sit for a little while to soak up the coffee goodness.
Cold brewed coffee would also work great in this. I make it often because it is less acidic than regular brewed coffee.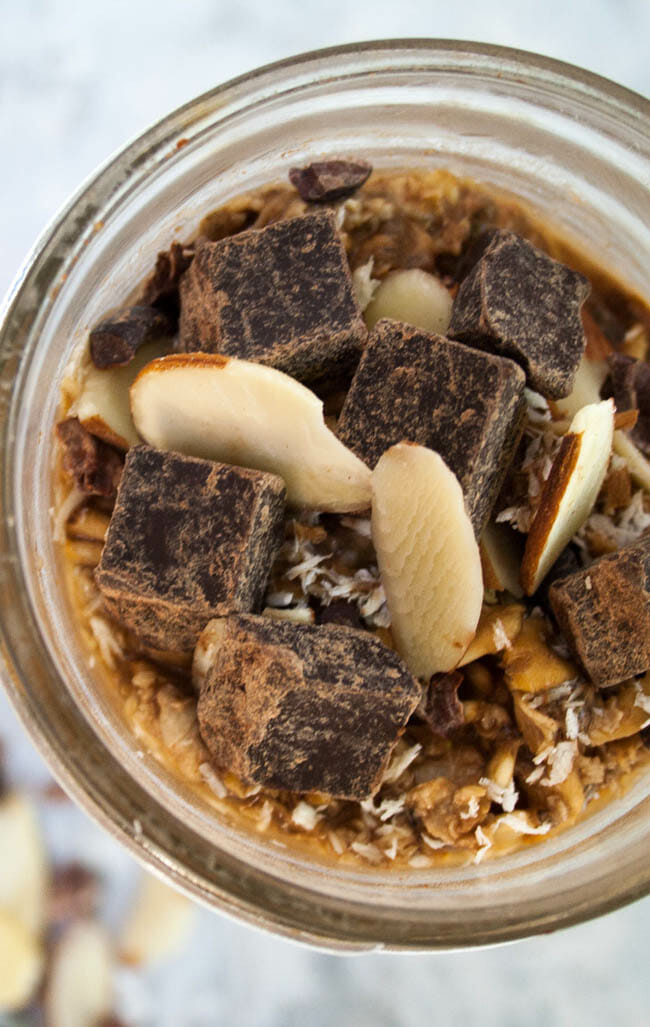 This Mocha Almond Overnight Oats is perfect for on the go!
Click To Tweet
Other Easy Breakfast Ideas
How to Make This Recipe
Mix cacao powder, chia seeds, agave syrup, almond butter, and rolled oats in a mason jar. Add coffee and eat right away or let cool and place in the fridge overnight.
Top with chocolate chips, chocolate chunks, or cacao nibs.
How Long Do Overnight Oats Need to Soak?
Place them in the fridge for a minimum of 3-4 hours up to 72 hours.
How to Store
These vegan overnight oats will last up to 3 days in the fridge.
Variations
another nut butter
vegan yogurt
coconut milk
nuts: almonds, pecans, walnuts
shredded coconut
vanilla extract
protein powder
granola
flax seeds
spices: cinnamon, nutmeg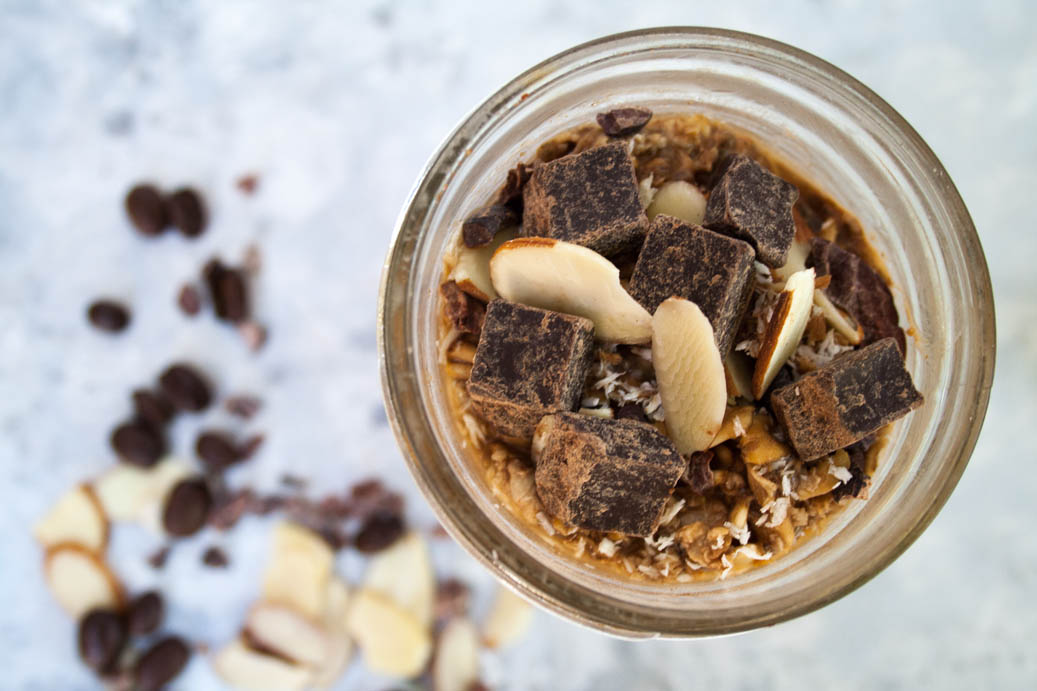 Recipe
This vegan overnight oats with chocolate, almond, and coffee is the perfect breakfast for on the go or traveling. Wake up while getting sustenance all at the same time.
*Don't forget to come back and leave your feedback and star rating.
Affiliate links below. We are a participant in the Amazon Services LLC Associates Program, an affiliate advertising program designed to provide a means for us to earn fees by linking to Amazon.com and affiliated sites.
You may need:
Print
Mocha Almond Overnight Oats
This Mocha Almond Overnight Oats is perfect for traveling or on the go. You get coffee and breakfast all in one!
Ingredients
½

cup

gluten free rolled oats

1

tablespoon

cacao powder or cocoa powder

1

tablespoon

chia seeds

optional

2

teaspoons

agave syrup

1-2

tablespoons

almond butter

½ 

cup

brewed coffee

cacao nibs

dark chocolate chips, or dark chocolate chunks for topping
Instructions
Place oats, cacao powder, chia seeds, agave syrup, and almond butter in a 12 ounce mason jar. Stir ingredients together.

Add brewed coffee. Let cool, then put in the fridge overnight.

To serve, stir again, and add cacao nibs, dark chocolate chips, or dark chocolate chunks.
Nutrition
Calories:
384
kcal
|
Carbohydrates:
53
g
|
Protein:
11
g
|
Fat:
16
g
|
Saturated Fat:
1
g
|
Cholesterol:
0
mg
|
Sodium:
9
mg
|
Potassium:
449
mg
|
Fiber:
11
g
|
Sugar:
14
g
|
Calcium:
152
mg
|
Iron:
3.9
mg
Love Animals?
Support animals by reviewing vegan dishes or products on the abillion app. One review = $1 and takes 30 seconds! Use code WMOON to get started.
*Note: Nutrition information should be considered an estimate only. Different nutrition calculators give you different results.
**Important!
If you are gluten free you may want to avoid coffee altogether. I personally have never had a problem drinking it, and I have a gluten intolerance. It is probably because I drink whole bean organic coffee, and grind it myself.
I learned after posting my Vegan Bulletproof Coffee from some readers on Facebook that it can be problematic for people who don't tolerate gluten. So I did some research and one article mentioned to try organic whole bean coffee because it isn't highly processed causing cross-reactivity issues.
So please do the research yourself, and test it out. I try to only post recipes that are 100% gluten free since I have a gluten intolerance. I am really careful about avoiding gluten in my daily life, so this was all news to me.