This Mocha Almond Overnight Oats is perfect for traveling or on the go. You get coffee and breakfast all in one!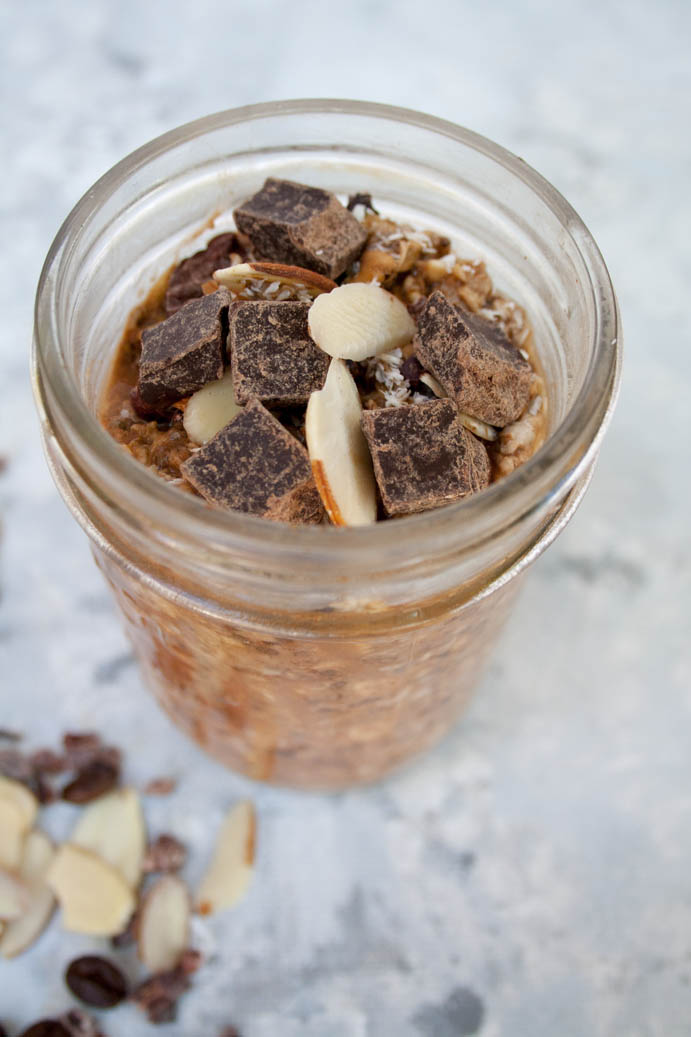 If you have a busy morning, this Mocha Almond Overnight Oats is a great way to start your day off right. It has everything you need: whole grains, protein, fiber, and caffeine to jump-start your day.
Since it's made the night before, you'll be ready to head out the door in no time.
My Vegan Thai Coffee Chia Pudding with Condensed Milk and my Thai Coffee Overnight Oats are two other recipes with coffee. They are perfect for on-the-go!
If you love almonds, try some Creamy Almond Butter Cups or Vegan Mexican Chocolate Covered Almonds.
Another recipe to try is my Vegan Homemade Chocolate recipe.
Jump to:
Serve Hot or Cold
Even though this is an overnight oats recipe, you could really eat this right after making the coffee, and eat it hot. I like it hot or cold. After brewing the coffee, the oats just need to sit for a little while to soak up the coffee's goodness.
Cold brewed coffee would also work great in this. I make it often because it is less acidic than regular brewed coffee.
🧾 Ingredients
Gluten-free rolled oats: Old-fashioned rolled oats work best for overnight oats. They get soft enough while not being too mushy.
Cacao powder: Adds a rich chocolaty flavor. You could also use cocoa powder.
Agave syrup: I used agave syrup because it is one of my favorite sweeteners. You could also use maple syrup, dates, brown sugar, white sugar, or a sugar-free sweetener
Coffee: I like cold brew coffee because it is less acidic.
Chia seeds: For protein and fiber. You could leave them out.
Almond butter: Adds a nutty flavor and protein.
Chocolate chips or chunks: For some dark rich chocolaty goodness. For a healthier version, you could use cacao nibs.
5 Secrets to Transforming Tofu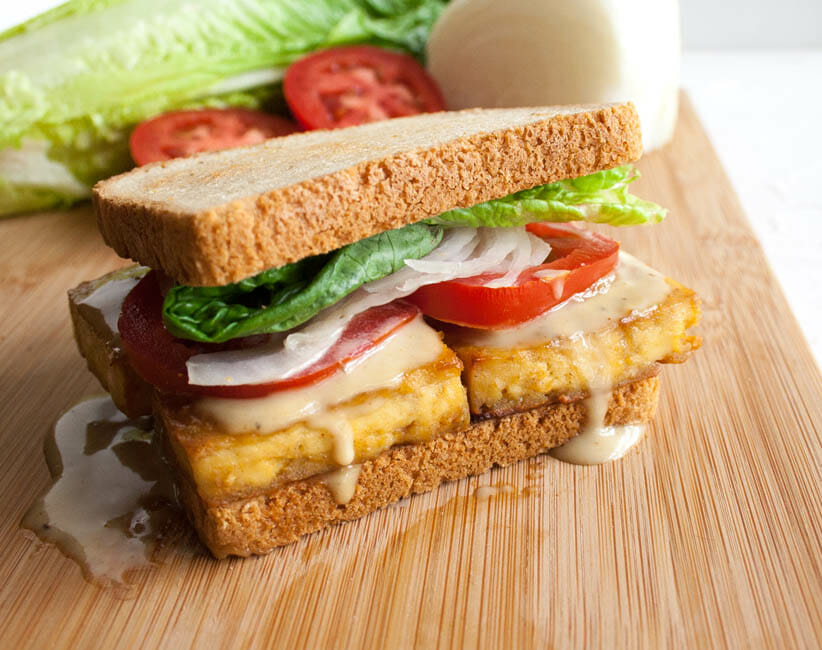 FREE 5 part email series to help you cook tofu like a pro.
We respect your privacy. Unsubscribe at any time.
🔪 Instructions
Mix cacao powder, chia seeds, agave syrup, almond butter, and rolled oats in a mason jar. Add coffee and eat right away or let cool and place in the fridge overnight.
Top with chocolate chips, chocolate chunks, or cacao nibs.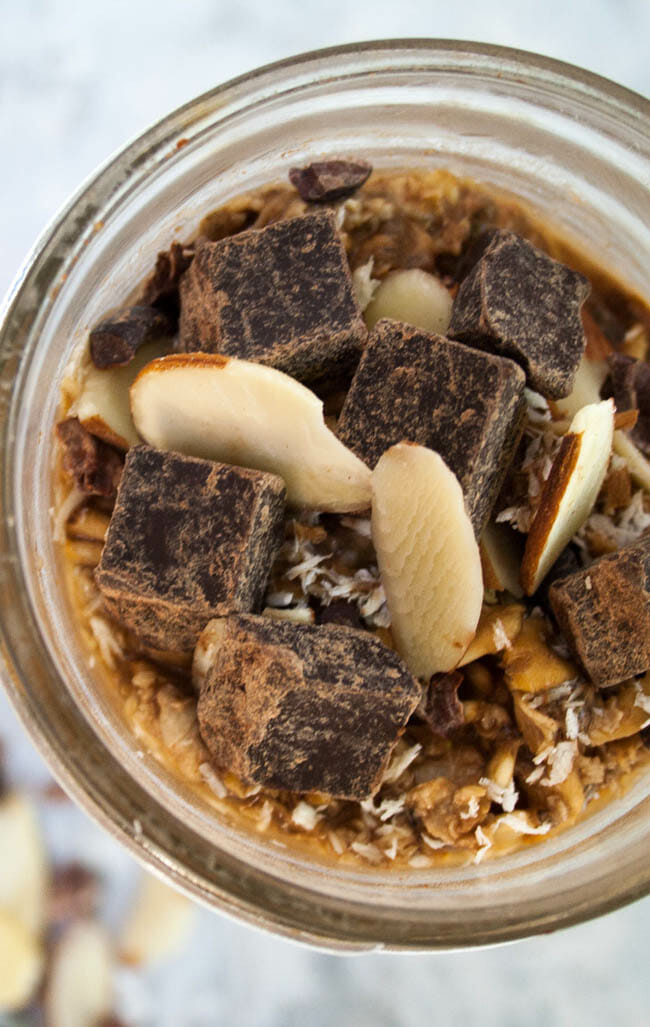 How Long Do They Need to Soak?
Place the oats in the fridge for a minimum of 3-4 hours up to 72 hours.
🥡 Storage
These vegan overnight oats will last up to 3 days in the fridge.
📖 Variations / Additions
Another nut butter
Vegan yogurt
Coconut milk
Nuts: almonds, pecans, walnuts
Shredded coconut
Vanilla extract
Protein powder
Granola
Flax seeds
Spices: cinnamon, nutmeg
🎥 Video
This vegan overnight oats with vegan chocolate, almond, and coffee is the perfect breakfast for on-the-go or traveling. Wake up while getting sustenance all at the same time.
*Don't forget to come back and leave your feedback and star rating.
📋 Recipe
Mocha Almond Overnight Oats
This Mocha Almond Overnight Oats is perfect for traveling or on the go. You get coffee and breakfast all in one!
Instructions
Place oats, cacao powder, chia seeds, agave syrup, and almond butter in a 12 ounce mason jar. Stir ingredients together.

Add brewed coffee. Let cool, then put in the fridge overnight.

To serve, stir again, and add cacao nibs, dark chocolate chips, or dark chocolate chunks.
Sign Up For My Newsletter
Get a FREE ebook with my Top 10 Vegan Recipes as a welcome gift!
Nutrition
Calories:
384
kcal
|
Carbohydrates:
53
g
|
Protein:
11
g
|
Fat:
16
g
|
Saturated Fat:
1
g
|
Cholesterol:
0
mg
|
Sodium:
9
mg
|
Potassium:
449
mg
|
Fiber:
11
g
|
Sugar:
14
g
|
Calcium:
152
mg
|
Iron:
3.9
mg
*Note: Nutrition information should be considered an estimate only. Different nutrition calculators give you different results.
**Important!
If you are gluten free you may want to avoid coffee altogether. I personally have never had a problem drinking it, and I have a gluten intolerance. It is probably because I drink whole bean organic coffee, and grind it myself.
I learned after posting my Vegan Bulletproof Coffee from some readers on Facebook that it can be problematic for people who don't tolerate gluten. So I did some research and one article mentioned to try organic whole bean coffee because it isn't highly processed causing cross-reactivity issues.
So please do the research yourself, and test it out. I try to only post recipes that are 100% gluten free since I have a gluten intolerance. I am really careful about avoiding gluten in my daily life, so this was all news to me.