This homemade Carrot Ginger Juice is a great way to start your morning! Use in conjunction with a detox program or cleanse.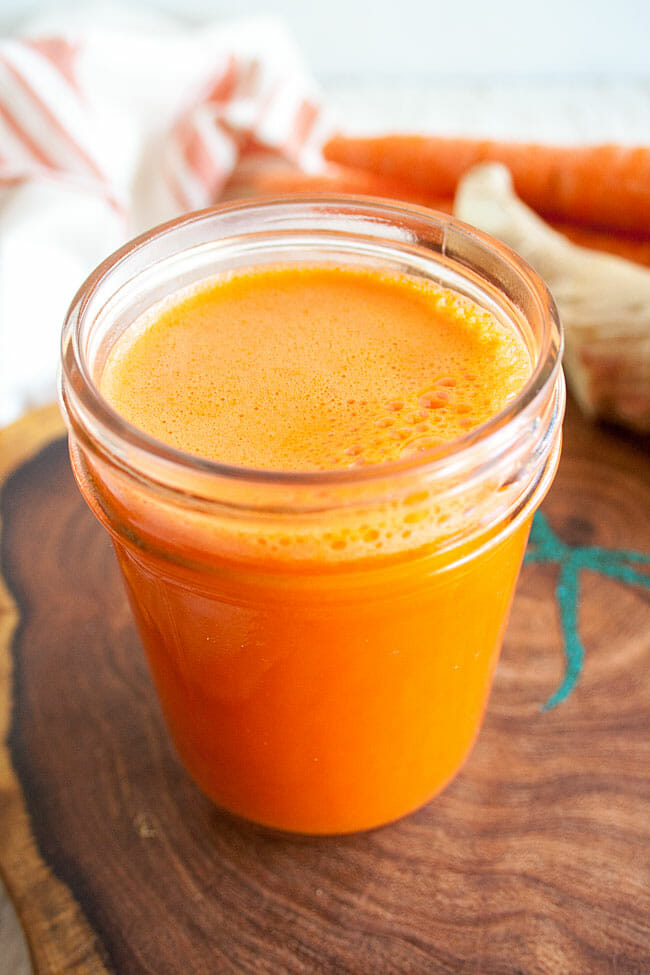 This Carrot Ginger Juice has been my morning drink of choice lately. I usually have one before my morning smoothie.
I think of it like my first and second breakfast, like the hobbits.
I love ginger for its anti-inflammatory properties. Another way that I've been enjoying ginger is in my morning tea.
To my tea I add a teaspoon of ground ginger along with a teaspoon of ceylon cinnamon (which is said to be better for you than the more popular cassia cinnamon).
I like both cinnamon and ginger for their health benefits.
Starting your day with freshly pressed juice is a great way to rev you up. I had a boss eons ago who replaced his morning coffee with fresh carrot juice.
He said it woke him up and energized him. While I don't have a daily cup of coffee, I do notice that I feel very energized after drinking fresh juice.
My other go-to fresh juice is my Green Detox Juice. It's sweet from green apple. You would never know you were drinking something healthy because it's so good.
My next endeavor is to come up with recipes using the pulp. I hate to see all that pulp go to waste.
Normally I throw it in the compost. At least the plants are getting the nutrients. When you drink one Carrot Ginger Juice a day, it adds up to a lot of pulp.
Today I added a little carrot pulp to my smoothie.
Tips
Use organic ginger and carrots. It defeats the purpose to drink toxins in your juice.
Drink on an empty stomach. This allows the juice to go straight into your system.
Drink within 15 minutes if possible. I've noticed fresh juice gives me more energy than older juice.
How Long Does Fresh Juice Last?
While it is best to drink freshly made juice right away, if it's stored properly it will last for up to two days. Store juice in a glass airtight container. Fill juice to the top of the container so that air doesn't get to it.
If you don't plan on drinking it up within two days you can freeze it. Freeze juice immediately after juicing. Thaw in the fridge.
When To Drink It?
Fresh juice should be consumed on an empty stomach at least 30 minutes before a meal. This allows your body to absorb all the nutrients.
If you drink fresh juice first thing in the morning on an empty stomach you'll get a nice energy boost, and you may not need that morning cup of coffee afterwards!
Other Vegan Drinks

Recipe
Start your day with some carrot juice with ginger. You may find yourself skipping that morning cup of coffee!
*Don't forget to come back and leave your feedback and star rating.
Affiliate links below. We are a participant in the Amazon Services LLC Associates Program, an affiliate advertising program designed to provide a means for us to earn fees by linking to Amazon.com and affiliated sites.
I currently use a BELLA 13694 High Power Juice Extractor (below), but I used to use a Champion juicer. If you plan on juicing a lot, I would recommend investing in a good quality juicer, like the Champion.
Since I don't juice as often as I used to, I bought the Bella, which costs less. The Bella still does what I need it to do. My Champion bit the dust since I didn't take as good of care of it as I could have.
One thing I really liked about the Champion, is it had a blank, which enabled me to make desserts like Vegan Banana Ice Cream, so it all depends on what you are going to use it for and how often.
📋 Recipe
Carrot Ginger Juice
This homemade Carrot Ginger Juice is a great way to start your morning! Use in conjunction with a detox program or cleanse. 
Ingredients
1" x 1.5"

piece

of ginger

(1.5" x 2" for more spice)

4

carrots
Instructions
Juice ginger, then carrots in a juicer.
Nutrition
Calories:
109
kcal
|
Carbohydrates:
25
g
|
Protein:
2
g
|
Fat:
0
g
|
Saturated Fat:
0
g
|
Cholesterol:
0
mg
|
Sodium:
169
mg
|
Potassium:
826
mg
|
Fiber:
7
g
|
Sugar:
11
g
|
Vitamin A:
40765
IU
|
Vitamin C:
15.2
mg
|
Calcium:
81
mg
|
Iron:
0.7
mg
Vegan Made Easy
Discover vegan products and dishes on the abillion app. Use code WMOON to get started.
Sign Up For My Newsletter
Get a FREE ebook with my Top 10 Vegan Recipes as a welcome gift!
*Note: Nutrition information should be considered an estimate only. Different nutrition calculators give you different results.