These sweet and savory Roasted Brussels Sprouts and Apples with Tahini Dressing are perfect for Thanksgiving! Even the pickiest eaters will love them!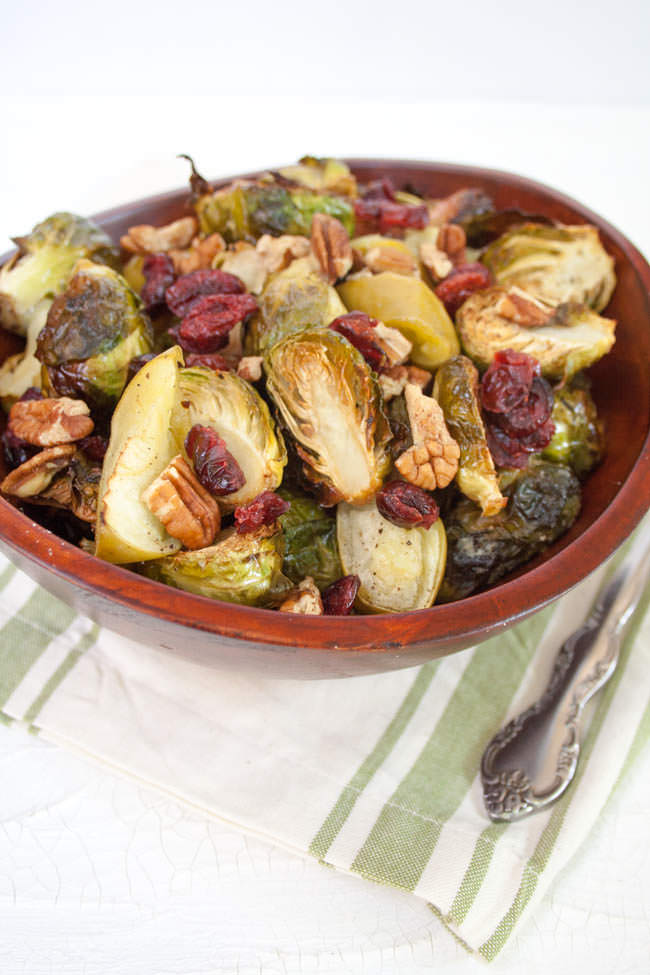 It's All About the Way They Are Cooked
As a kid, brussels sprouts were my least favorite vegetable, and they were served a lot at my house. Or maybe it just seemed like they were served a lot because I disliked them so much.
Fast forward to thirty years later at a Thanksgiving dinner and I found myself not only eating them, but loving them. What changed? The way the brussels sprouts were cooked. That's it.
They were roasted instead of steamed, which is what I was used to as a kid. They were served in a dish with dried cranberries or raisins, and perhaps other ingredients, but I don't recall what. Obviously, the ingredients in the dish don't stand out, only the fact that they were roasted does.
Sweet and Savory
Roasting brussels sprouts, and other vegetables for that matter, caramelizes their natural sugars and brings out their sweetness. Because I liked them so much, that is how I made them for this recipe.
Then I paired the brussels sprouts with tart Granny Smith apples, which I also roasted to bring out their sweetness. You could use your favorite apple instead. Granny Smith apples just happen to be my favorite. Keep in mind that if you get a softer apple to cook it for a shorter period of time.
Then, I added crunchy pecans and sweet tart dried cranberries. To add a savory flavor I made a tahini dressing to drizzle on top, which pairs nicely with sweet flavors. The roasted brussels sprouts and apples taste good on their own, but the tahini dressing ties everything together and takes the dish to a whole new level.
I also tried this dish with black cherry balsamic vinegar in addition to the tahini dressing because I love how it tastes with savory foods. It complimented these Roasted Brussels Sprouts and Apples nicely with another sweet note.
Try It A Different Way
The moral of the story is that if you try a food and you don't like it, you might just need to try it prepared a different way. In general, roasting vegetables is my favorite way to eat them, especially if they are served by themselves. So if you have kiddos that don't like a certain vegetable, maybe they will like it roasted. It's worth a shot!
As a vegan, I eat a fair amount of gluten free tempeh, but I am picky about how it is prepared. One of my favorite ways to eat it is in BBQ Tempeh Tacos with Grilled Pineapple Guacamole. Since tempeh has a strong flavor, I like to pair it with a strong sauce.
Tempeh tastes earthy, nutty, and a bit like mushrooms. It is not my favorite soy product, but I like to eat it occasionally. It's too bad that I don't like it as much as tofu. Since tempeh is minimally processed and fermented it is a healthy choice.
Then there are foods like tofu that I could eat anyway that they are prepared. I think it's all about trying foods cooked in different ways to find which way you like them the best.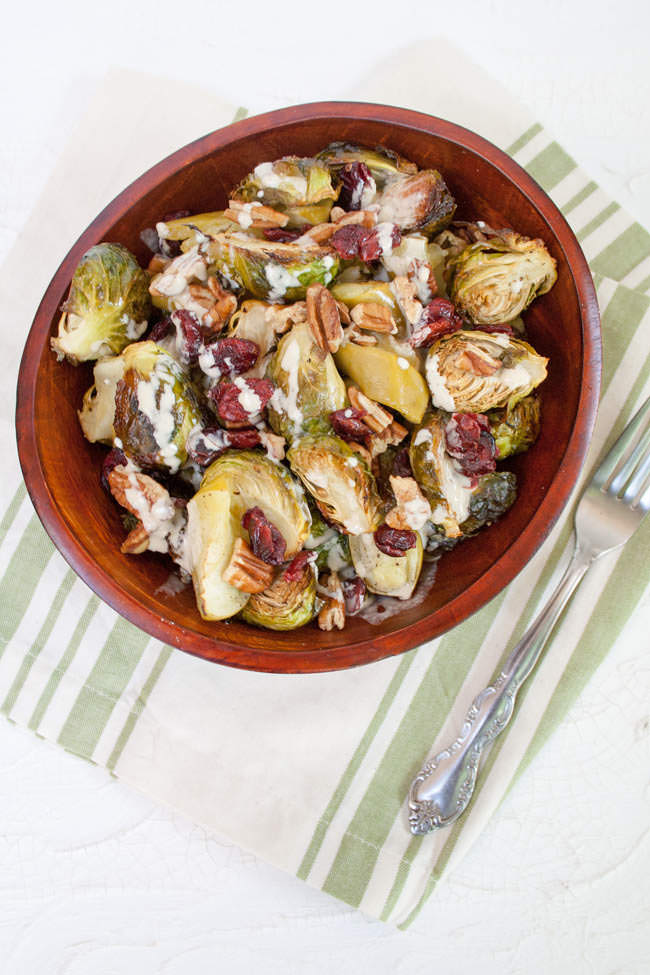 Other Roasted Vegetable Recipes You Might Like
These Roasted Brussels Sprouts and Apples with Tahini Dressing are sweet and savory!
Click To Tweet

Roasted Brussels Sprouts and Apples with Tahini Dressing
This vegan brussels sprouts recipe is a healthy side dish for the holidays.
*Don't forget to come back and leave your feedback and star rating.
Affiliate links below. We are a participant in the Amazon Services LLC Associates Program, an affiliate advertising program designed to provide a means for us to earn fees by linking to Amazon.com and affiliated sites.
You May Need:
Print
Roasted Brussels Sprouts and Apples with Tahini Dressing
These sweet and savory Roasted Brussels Sprouts and Apples with Tahini Dressing are perfect for Thanksgiving! Even the pickiest eaters will love them!

Ingredients
4

cups

brussels sprouts

halved lengthwise

2

Granny smith apples

sliced in large pieces (1 cup)

2

tablespoons

olive oil

Salt and pepper

¼

cup

pecans

chopped

¼

cup

dried cranberries
Tahini Dressing*
2

tablespoons

tahini

2

tablespoons

lemon juice

¼

cup

water

¼

teaspoon

garlic powder

Salt and pepper
Instructions
Preheat oven to 400°.

Place sliced brussels sprouts in a baking dish. Drizzle olive oil on top. Sprinkle salt and pepper on top. Bake at 400° for 20 minutes. Stir and add sliced apples and bake another 15-20 minutes, or until brussels sprouts are fork tender.

Tahini Dressing: While brussels sprouts and apples are cooking, make the dressing. Mix tahini, lemon juice, water, garlic powder, salt and pepper. Set aside.

Place brussels sprouts and apples in a bowl. Add pecans and dried cranberries. Serve with tahini dressing.
Notes
If you prefer a sweet dressing, this also tastes really good with black cherry balsamic vinegar or blackberry ginger balsamic vinegar. Or if you want sweet and savory, you could use a little of both.
Nutrition
Calories:
129
kcal
|
Carbohydrates:
14
g
|
Protein:
2
g
|
Fat:
7
g
|
Saturated Fat:
0
g
|
Cholesterol:
0
mg
|
Sodium:
13
mg
|
Potassium:
249
mg
|
Fiber:
3
g
|
Sugar:
8
g
|
Vitamin A:
355
IU
|
Vitamin C:
41.1
mg
|
Calcium:
29
mg
|
Iron:
0.9
mg
Love Animals?
Support animals by reviewing vegan dishes or products on the abillion app. One review = $1 and takes 30 seconds! Use code WMOON to get started.
*Note: Nutrition information should be considered an estimate only. Different nutrition calculators give you different results.