This extensive list shows how to stock your pantry with everything you need to make easy healthy vegan gluten free meals.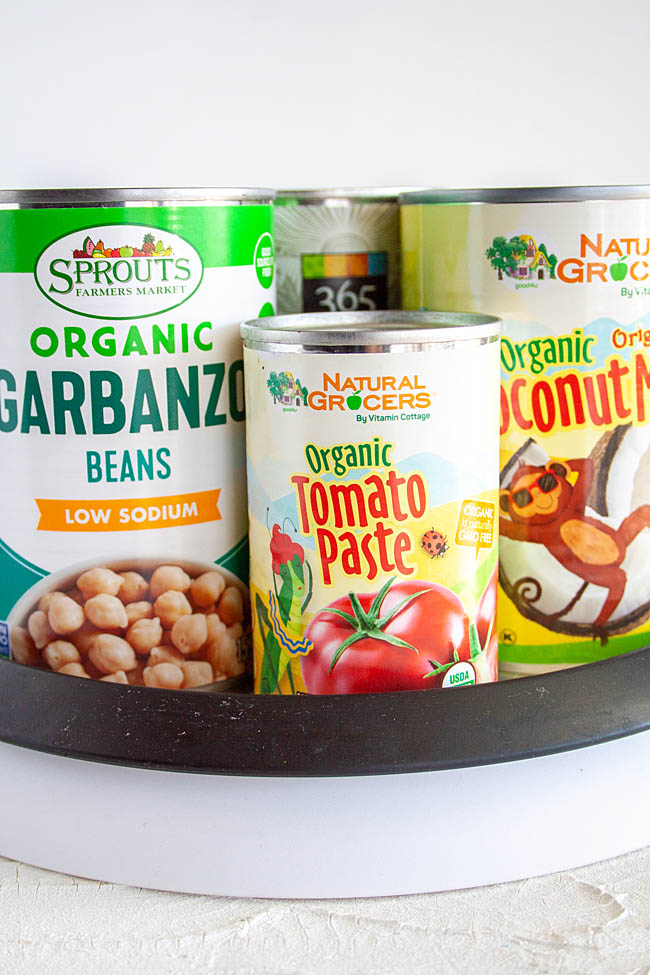 I have met many people who are curious about a vegan diet. They want to know what I eat and what I have in my kitchen.
When they find out that I am also gluten intolerant, they are even more curious about what is left for me to eat. I do not look at what I cannot eat, I look at all of the rest of the things that I can eat, and let me tell you, there is a huge variety of foods and even more left for me to explore!
Since using Instagram, I have come across a lot of newbie vegans in the vegan community, people cutting out gluten, and people cutting down on meat and dairy. I read one post where someone did not know that there was such a thing as vegan pizza. Another person wanted to know what gluten-free pizza crust I use.
I take it for granted that I am familiar with gluten-free vegan products. I worked for a few years at a natural health food store where I learned a wealth of information about supplements, vegan and gluten-free products, and health in general.
Many of my articles have new vegans in mind, and this one is no exception. Thinking back to when I became vegan, I would have found these articles helpful.
Jump to:
Protein
Beans and Legumes - Black beans, edamame, garbanzo (for hummus), pinto, lentil, white beans, and refried. I only listed a few here. There are more than 40,000 (yes 40,000!) according to the world's genebanks. Try different kinds - they all taste different. I use beans in beanadillas, soup, hummus, stuffed peppers, dips, salads, and more.
Tofu - I prefer the sprouted kind, which is in the refrigerated section. Tofu comes in silken, soft, firm, extra firm, and pre-cooked, seasoned, and marinated. There are refrigerated and shelf-stable packs. I use the soft and silken for dressings, sauces, and puddings. I use the firm tofu in a tofu scramble, frittata, stir fry, and curry dishes. Extra firm I like to use for grilling.
Tempeh - If you are gluten-free, read the labels, because some tempeh contains gluten. Tempeh works well in tacos, wraps, chili, curry, and more.
Nut and Seed Butters - Peanut butter, almond butter, cashew butter, tahini (for hummus), hazelnut butter, and chocolate hazelnut butter (for a delicious frozen dessert or smoothie).
Nuts and Seeds - Cashews (for sauces), walnuts, pecans, almonds, pumpkin seeds, flax seeds, chia seeds, and hemp seeds. I add nuts and seeds to trailmix, bars, desserts, and salads.
Soy Curls - Soy curls are made from whole soybeans. I have used them in gyros, chilaquiles, wraps with BBQ sauce, added to spaghetti, and on pizza.
Protein Powder - I included protein powder because it gives me a lot of vitamins, minerals, greens, antioxidants, probiotics, omega 3s, and protein all in one shake. I drink it daily. My favorite is Vega One, in chocolate flavor, but I like the coconut almond and the chai flavors too.
Veggie burgers and other analogues - These are great to have around when you do not have time to cook. My favorite veggie burger is Sunshine because they are gluten-free and taste great.
TVP - Textured vegetable protein is not always a staple in my house but is nice to have occasionally. It adds a ground beef-like texture to dishes. It is also inexpensive.
Fruits and Vegetables
I think this category is all about personal preference. I eat a large variety of produce, but I am only going to list the produce that I see as the most important for popular vegan recipes.
Bananas - Bananas are a must-have if you like vegan "ice cream" - also called nice cream, and smoothie bowls. Bananas add a creaminess that is necessary in a frozen dessert.
Avocado - Another creamy item to add to a dessert, guacamole, dip, smoothie, sandwich, or salad.
Greens - Collard (for burrito-style wraps), green leaf (for taco-style wraps), spinach - (put in smoothies), kale (to make into chips). Greens are not just for salads. Include them in soup, tofu frittata, pizza, and tofu scramble.
Lemons and Limes - For hummus, guacamole, sauces, and added to water.
Tomatoes - If you have a large amount of tomatoes, like I often do, a tomato sauce is a good way to use them up. Tomatoes are also good in soup, salsa, pizza, dip, and crackers.
Apples, Cucumbers, and Celery - For a detox juice. Of course, there are a ton of recipes I could list, but the green drink is at the top of my list.
Zucchini - To make zucchini noodles, crackers, and added to a soup.
Cauliflower - Cauliflower is excellent in a mashed cauliflower recipe, used as "rice", and roasted.
Onions and Garlic - Add them to soups, curry, sauces, you name it. I add them to most of my main dishes.
Non-Dairy Analogues
Need refrigerating. The non-dairy milk you find on shelves needs refrigeration after opening.
Almond, Soy, Oat, and Coconut Milk - There's rice, oat, and hemp milk too, as well as a mix, but these are the ones I use the most. Great in smoothies, dressings, sauces, and desserts.
Vegan Cheese - There are many varieties: cream cheese, cheddar, Mozzarella, Monterey Jack, and Havarti - you get the idea. I use these sparingly because many are highly processed.
Grain Products
Rice - Great for curries, Mexican dishes, and with steamed vegetables.
Quinoa - Use this as a substitute where recipes call for couscous or oats. Use in salads, curries, stuffed peppers, or a breakfast bowl. It cooks faster than rice. Make sure to rinse thoroughly first.
Oats - Check to make sure the oats are gluten-free. I make my own granola, and add it to trail mix, or topped with almond milk.
Gluten Free Pasta - spaghetti noodles, macaroni, lasagna, and rice noodles (for curry or with a peanut sauce).
Rice Paper Wraps - I prefer brown rice paper wraps instead of white. Make spring rolls, sandwich wraps, and Tofutti cream cheese puffs.
Brown Rice Tortillas - I like to keep these in my freezer and thaw one when I need it. They are perfect to use for a thin-crust pizza, vegan nachos (bake cut tortilla first), a wrap, and anytime you would use bread.
Brown Rice Bread - I keep this in the freezer as well and thaw out a few at a time. There are other gluten-free breads, but this is my favorite. I use it for sandwiches, with hummus, or mashed avocado, lime juice, and salt.
Corn Tortillas - I only use these occasionally for chilaquiles, tacos, or fajitas.
Oil and Vinegar
Coconut Oil - I use coconut oil for more than just cooking. I use it on my skin after a shower, in an exfoliating sugar scrub, and oil pulling*. It has a high heat point, is really good for you, and adds a wonderful flavor to dishes.
Coconut and Grape Seed Oil Spray - I use cooking sprays a lot of the time because you use less oil to cook with.
Olive Oil - I use olive oil when I cook at lower temperatures, and in salad dressings.
Sesame Oil - for Asian recipes and added to dressings.
Flax Oil - High in omega 3s, a good addition to smoothies and salad dressings.
Bragg's Apple Cider Vinegar - This is good for so many things! It is said to help with weight loss, maintain a healthy alkaline pH level, help heartburn, and help you detox. It tastes great with a little sweetener in water or included in dressings.
Brown Rice Vinegar - I use this all the time. I use it in a peanut sauce, added to stir-fries, and pickling vegetables for a vegan Bánh Mì.
Balsamic Vinegar and Red Wine Vinegar - I love both of these for making salad dressings.
Flavored Vinegar - My favorites are Blackberry Ginger, Black Cherry, Lemongrass Mint, and Orange Vanilla. They are only 10 calories per tablespoon and add a ton of flavor to a salad.
Herbs and Spices
The herbs and spices you use depend largely upon your style of cooking.  Here are the ones you'll find in my cupboard:
cumin, cumin seeds, curry powder, mustard powder, mustard seeds, oregano, sage, thyme, salt, pepper, turmeric, onion powder, garlic powder, chili powder, cayenne, basil, cinnamon, coriander, paprika, Italian seasoning, nutmeg, rosemary, bay leaves, pumpkin spice, Chinese five spice, ginger, adobo seasoning, garam masala, allspice, dill, cardamom, fennel, red pepper flakes, vanilla bean, and marjoram.
Condiments
Mustard, Ketchup, and Sweet Relish - I use these on vegan sandwiches and in dressings.
Vegan Mayonaise - I add vegan mayo to sandwiches, tofu salad, a vegan Bahn Mi, a Waldorf salad, and dips.
BBQ Sauce - I have gluten-free BBQ sauce around to add to soy curls in a wrap, or in a tempeh taco. It tastes good on pizza too. My favorite is Annie's Naturals Sweet & Spicy BBQ Sauce.
Sriracha and Hot Sauce -These spicy condiments add a touch of heat and flavor.
Sweet Chili Sauce - Perfect for dipping spring rolls in when you don't feel like making a sauce. It adds a spicy-sweet taste to sauces and dips.
Sweeteners
Brown Rice Syrup - Brown rice syrup has a deep, rich flavor. I use it a lot for desserts, granola, and salad dressings.
Agave Syrup - Use in syrups for French toast and pancakes, and desserts.
Dates - Dates sweeten smoothies, cranberry cashew bars, appetizers, pudding, and other desserts.
Maple Syrup - Maple syrup is not just for pancakes. Anywhere a recipe calls for honey, I use maple syrup or agave syrup.
Molasses - Molasses is one of my favorite sweeteners to put in a smoothie. It adds a rich flavor. Blackstrap molasses is high in iron, calcium, and other nutrients.
Stevia - I personally prefer the above sweeteners more than stevia, but it is definitely a sweetener to have around if you want to avoid sugar and want a sweetener with zero calories.
Other Essentials
Tamari - This is great to use in place of soy sauce, which contains gluten. I use low-sodium tamari because I get to control the amount of salt that goes in a dish. I have used tamari in a stir fry, a tofu scramble, frittata, and dressings.
Miso - If you are gluten-free look for sweet white miso. I make a simple soup out of miso, a miso cashew cream sauce, and add it to dips.
Mirin - Mirin is a type of rice wine. I love the sweet taste that mirin adds to vegetables and other dishes.
Coconut Milk - Always in my pantry to use in a curry, dip, dressing, soup, or smoothie.
Vegetable Broth - I prefer low sodium. It is nice to have on hand for soups, rice, quinoa, and for dishes that need to be thinned out.
Tomato Sauce, Canned Tomatoes, and Tomato Paste - These are essential for soup, pizza, calzones, and so many other things.
Curry Paste - I always have red and green curry paste on hand. My favorite is Thai Kitchen Red Curry Paste and Green Curry Paste. I could eat it daily, I love it so much. I have added curry paste to sauces, dips, tofu, and vegetables. I have made curry stuffed jalapeños and Thai grilled corn with roasted peanuts.
Nutritional Yeast - A definite staple! Talk to almost any vegan and this is probably at the top of their list of pantry items. Include it in sauces, dips, dressings, on pizza, popcorn, soup, and anywhere else you would use parmesan cheese. Nutritional yeast has a nutty flavor and has vitamins, minerals, and protein.
All Purpose Gluten Free Flour, Chickpea Flour, and Almond Flour - These are the three main flours that I use for things like Chickpea Omelets, Vegetable Fritters, pancakes, and cookies.
Earth Balance - Earth Balance comes in baking sticks and spreads and is used in place of butter.
Dried Fruit - Dried fruit goes well in bars, salads, cookies, and trail mix.
*Oil pulling - is where you swish oil (traditionally sesame oil) in your mouth for 15-20 minutes, then spit it out. It is said to pull out bacteria and toxins.  It has been used as an Ayurvedic practice for thousands of years.