Give yourself a boost of antioxidants with these sweet healthy Matcha Banana Pancakes. They have a mild matcha green tea flavor. Their green color makes them perfect for St. Patrick's Day!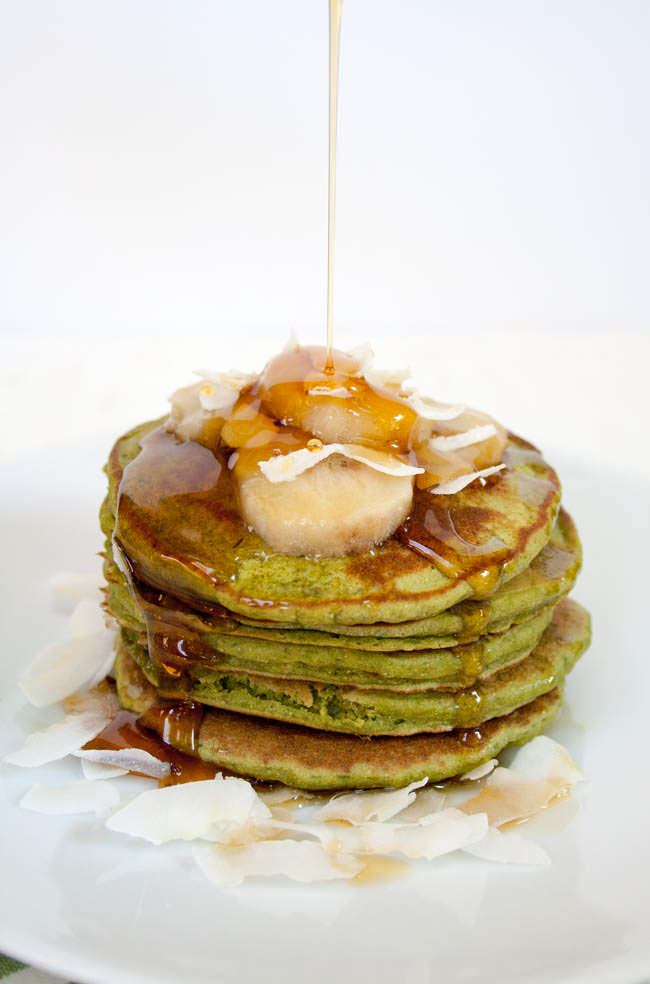 How Often Do You Rotate Through The Same Recipes?
I read the other day that most people rotate through six to nine of the same meals for dinner. The article said that the reason was because they didn't want to spend the time or money making something new.
I get that. When I had a teaching career, I would come home too tired to cook anything but simple recipes. Now my taste buds thank me for taking the chance on this blog.
Hopefully, you will take the chance on these vegan gluten free pancakes. Banana adds a wonderful sweetness to them. You may even want to eat them without maple syrup!
Matcha Green Tea
If you have never had matcha green tea before, you should be forewarned that it is an acquired taste. It has a sweet and savory taste, which happens to be very mild in these pancakes. I personally think it tastes a little like seaweed, which I happen to like.
Don't let that deter you from trying it though. This Matcha Pancake recipe is a great place to start if you're trying it for the first time.
When you bake with matcha green tea or include it in pancakes, it isn't the predominant flavor; especially if you use a small amount like I did here and include a sweet fruit like banana.
I have used it in a Matcha Mango Smoothie Bowl also. By including a strong sweet fruit like mango, the matcha green tea becomes part of the background flavor.
So now you have two safe recipes where you can try matcha green tea without feeling like you wasted money on something new. If you are feeling a little more adventurous, you could try a Vegan Matcha Latte. It will give you the full matcha experience.
If you want a green menu item for St. Patrick's Day, this recipe definitely fits the bill, as do the other matcha recipes. I will admit, I didn't plan this recipe to be in time for St. Patrick's Day. I mean, I haven't even made a recipe for Valentine's Day!
That's what happens when you break an ankle and get behind on planning and cooking. That's also my M.O., which I am trying to improve.
Antioxidants
Matcha green tea is grown differently than regular green tea. It is also made from the whole leaf, and has about ten times the amount of antioxidants as brewed green tea.
Even though it has caffeine, it also has L-Theanine, which has calming and relaxing properties, which helps you to focus. Because of the nutrients it contains, you will feel a sense of endurance that can last up to six hours. Matcha tea doesn't give you the jitters like some people feel after drinking coffee.
Other Breakfast Recipes You Might Like
Give yourself a boost of antioxidants with these sweet healthy Matcha Banana Pancakes. They have a mild matcha green tea flavor.
Click To Tweet
Matcha Banana Pancakes
These sweet matcha pancakes are an easy weekend meal. Eat them with or without maple syrup.
If you want some green pancakes shaped like a Christmas tree, check out my recipe for those. You can use matcha or spirulina for that recipe, but I prefer spirulina because the color is closer to the color of pine trees.
*Don't forget to come back and leave your feedback and star rating.
Affiliate links below. We are a participant in the Amazon Services LLC Associates Program, an affiliate advertising program designed to provide a means for us to earn fees by linking to Amazon.com and affiliated sites.
Here's one of the matcha green tea powders that I've tried that I really like. There are many to choose from with varying degrees of quality.
Print
Matcha Banana Pancakes
Give yourself a boost of antioxidants with these sweet healthy Matcha Banana Pancakes. They have a mild matcha green tea flavor.

Instructions
Mix all dry ingredients. Add wet ingredients, and mix thoroughly.

Heat a nonstick pan or cast iron griddle over medium heat. Spray cooking spray on the hot pan. Spoon about two to three tablespoons of batter onto pan per pancake. Depending upon the size of the pan, cook 3 or 4 pancakes at a time. Flip each pancake after bubbles form and turn golden brown on the underside. Cook the other side until golden brown.

Repeat with the rest of the batter. Top with sliced banana and coconut chips. Serve with maple syrup.
Nutrition
Calories:
76
kcal
|
Carbohydrates:
15
g
|
Protein:
2
g
|
Fat:
1
g
|
Saturated Fat:
0
g
|
Cholesterol:
0
mg
|
Sodium:
25
mg
|
Potassium:
67
mg
|
Fiber:
2
g
|
Sugar:
3
g
|
Vitamin A:
65
IU
|
Vitamin C:
0.8
mg
|
Calcium:
51
mg
|
Iron:
0.8
mg
Love Animals?
Support animals by reviewing vegan dishes or products on the abillion app. One review = $1 and takes 30 seconds! Use code WMOON to get started.
*Note: Nutrition information should be considered an estimate only. Different nutrition calculators give you different results.