This naturally sweetened Caramel Coffee Creamer will turn your coffee into a sweet rich caramel treat!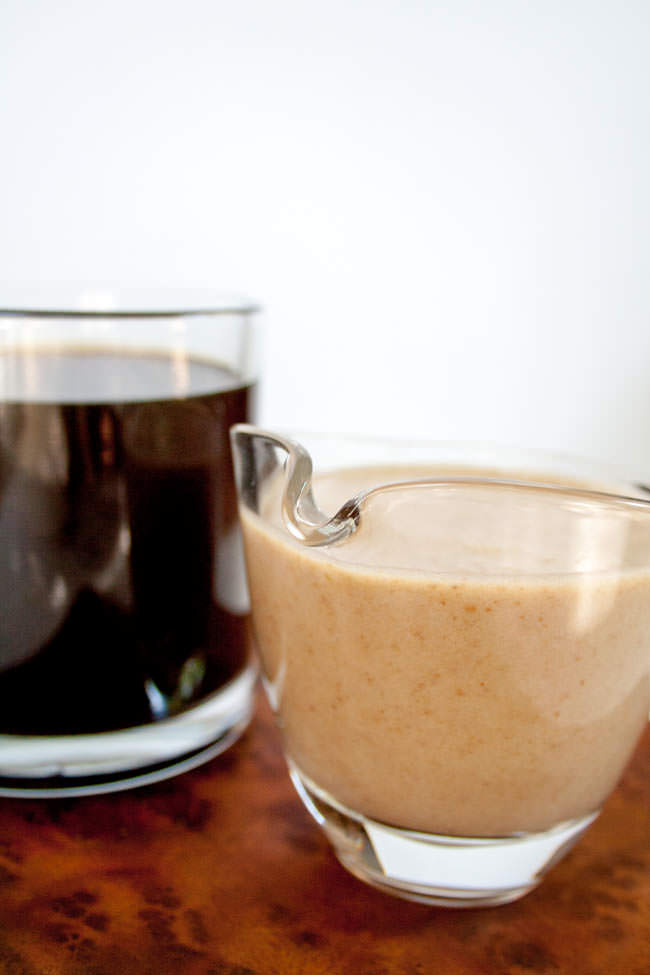 Ever since quitting my teaching career and starting this blog, I realized how much I love cooking. I created recipes before the blog, but nowhere near as many as I do now.
Leaving a career that was no longer satisfying was one of the best decisions that I have ever made. By doing so, I found something that I am truly passionate about.
When I was a teacher I would come home too tired to want to cook anything but quick and easy meals. So making a condiment like this Caramel Coffee Creamer would have been out of the question.
These days I make my own salad dressings, Gluten Free BBQ Sauce, hummus, and even Raspberry Chipotle Ketchup.
When I realized how quick and easy making your own condiments are, I was all over it. I love that I can control what goes in my food, so taking a few minutes out of my day to make my own was a no-brainer.
Not only do I ensure that they are vegan and gluten free, but I don't have any weird ingredients in my food that I can't pronounce.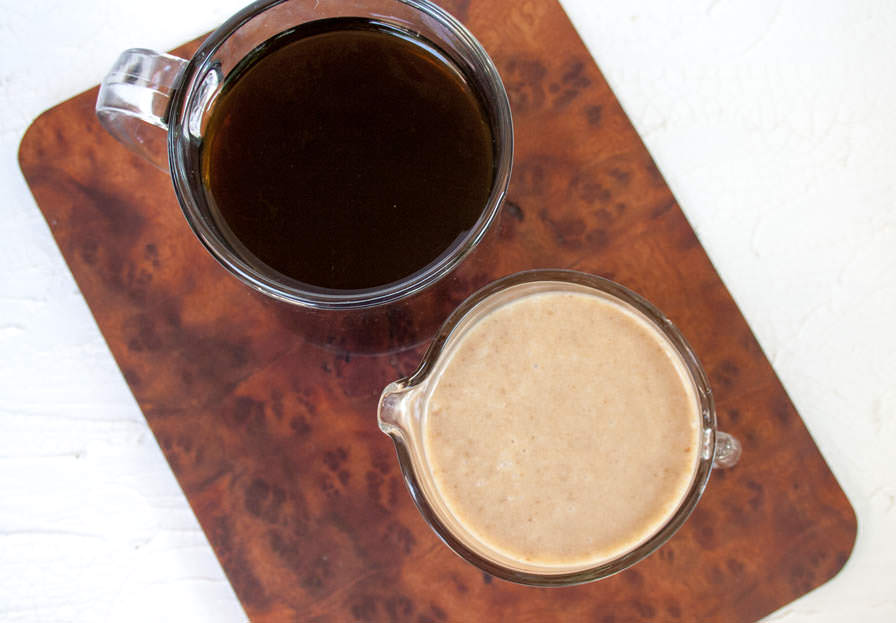 Naturally Sweetened With Dates
I don't remember the last time that I bought vegan coffee creamer. It's probably been at least ten years. Even though I love store-bought vegan coffee creamers, I don't love all the sugar that comes with them.
Normally I put unsweetened almond milk and stevia in my coffee, but sometimes I want something sweeter. Not only did I add this homemade coffee creamer to my coffee, but in my morning smoothie as well.
I happened to have a couple of batches of Caramel Creamer from recipe testing that I didn't want to go to waste.
I like to keep my sugar consumption to a minimum. Instead of sugar, I used a healthy alternative - dates. Even though dates contain sugar, they also contain vitamins, minerals, and fiber. Since they are so sweet, a little goes a long way.
This naturally sweetened Caramel Coffee Creamer will turn your coffee into a sweet rich caramel treat!
Click To Tweet
Other Sweet Treats Using Dates

Vegan Coffee Creamer Recipe
This vegan coffee creamer with dates is a great way to sweeten your coffee!
*If you love this vegan coffee creamer recipe, please come back and leave your feedback and star rating.
Affiliate links below. We are a participant in the Amazon Services LLC Associates Program, an affiliate advertising program designed to provide a means for us to earn fees by linking to Amazon.com and affiliated sites.
I've been asked several times where I got the little glass pitcher in the photos. I found it at a thrift store. It's fun when you find something cool at a thrift store, isn't it!
I looked on Amazon for something similar for all of you. While I couldn't find one like mine, I did find this cute double sided pitcher.
Print
Caramel Coffee Creamer
This naturally sweetened Caramel Coffee Creamer will turn your coffee into a sweet rich caramel treat!

Instructions
Soak dates in the hot water for about an hour, until softened. Drain.

Mix dates with almond milk, coconut milk, and vanilla extract in a Nutribullet or food processor until smooth and creamy. Refrigerate. Use within a few days*.
Notes
I don't know about you, but whenever I open a can of coconut milk, it goes bad pretty quickly, like within a few days. Many places on the internet state that you can keep an opened can of coconut milk for a week to ten days. I have never found that to be true. So if you don't think that you can use this creamer within a few days, I would make ½ the batch. I used mine up quickly, so I don't know if it could go past the several day mark.
Nutrition
Calories:
28
kcal
|
Carbohydrates:
3
g
|
Protein:
0
g
|
Fat:
1
g
|
Saturated Fat:
1
g
|
Cholesterol:
0
mg
|
Sodium:
11
mg
|
Potassium:
45
mg
|
Fiber:
0
g
|
Sugar:
2
g
|
Vitamin C:
0.1
mg
|
Calcium:
12
mg
|
Iron:
0.3
mg
Love Animals?
Support animals by reviewing vegan dishes or products on the abillion app. One review = $1 and takes 30 seconds! Use code WMOON to get started.
*Note: Nutrition information should be considered an estimate only. Different nutrition calculators give you different results.