This Chickpea Salad Sandwich is a quick healthy lunch. Eat it by itself or in a wrap. It can even be eaten as a dip with crackers.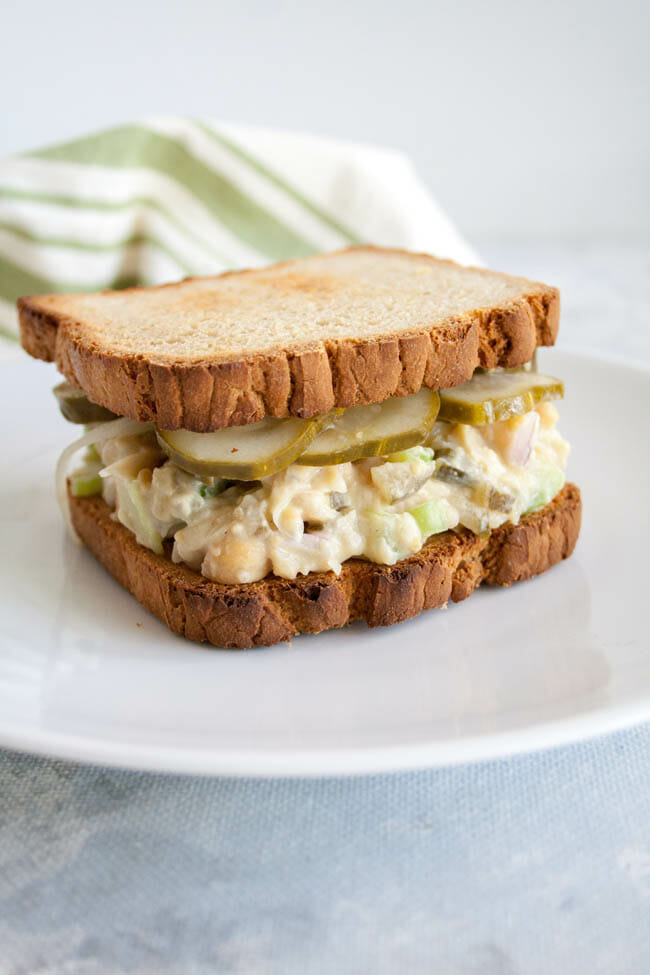 This Chickpea Salad Sandwich is the vegan version of a classic. It has the flavors of an egg salad sandwich, but with chickpeas instead.
I've used the same flavors with tofu in a Vegan Egg Salad, which is actually more the consistency of an egg salad.
If you want to mimic tuna salad, you could add some seaweed for an out of the ocean flavor.
Personally, I just see this vegan sandwich as it is - a vegan salad sandwich made with chickpeas. The reason I mention that it is a veganized version of a classic is because I know people who transition to a plant-based diet and want the flavors that they had before.
It can be hard giving up dishes that you enjoyed for years. But trust me, pretty much anything can be veganized.
Taste buds change and soon you find yourself enjoying new flavors.
I have been vegan for about 20 years and there have been so many new products that have come out since I became vegan. It makes it even easier to be vegan.
The other thing that helps is knowing your why.
Why are you switching to a plant-based diet? If you have a solid why, it's really easy to stick with it.
For me it was for the animals. Once I switched, I never looked back.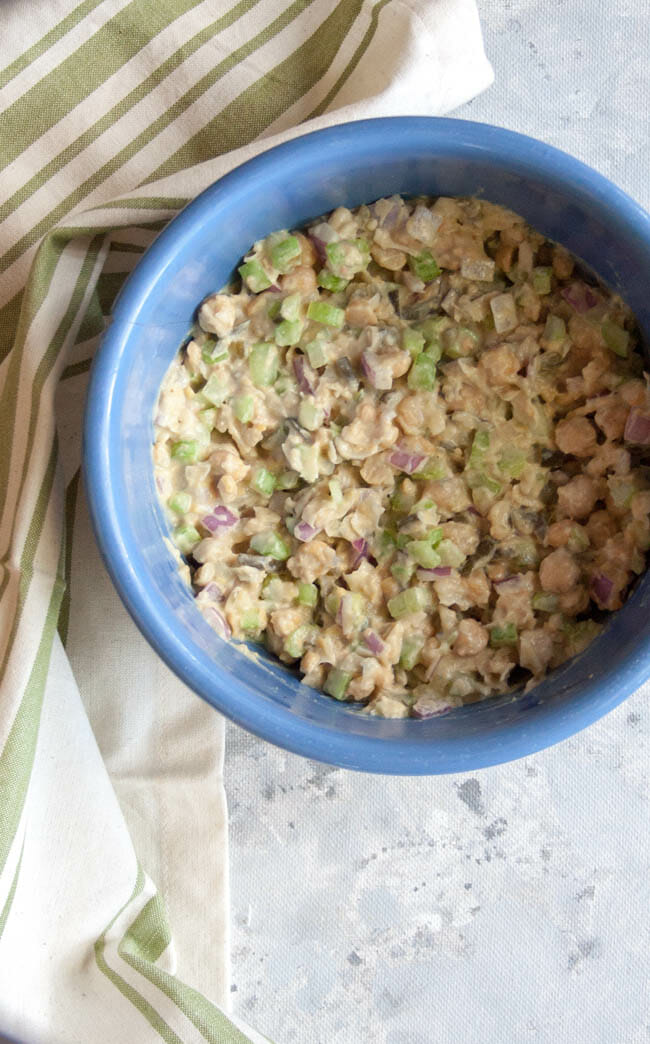 This Chickpea Salad Sandwich is well balanced, with sweet flavors of sweet pickle relish, and savory flavors of celery and red onion. Mustard and vegan mayo marry it all together.
The result is a sweet and savory salad with creamy and crunchy textures.
The flavors get stronger after sitting in the fridge overnight. It is the perfect salad sandwich for a quick and easy lunch.
Other Vegan Recipes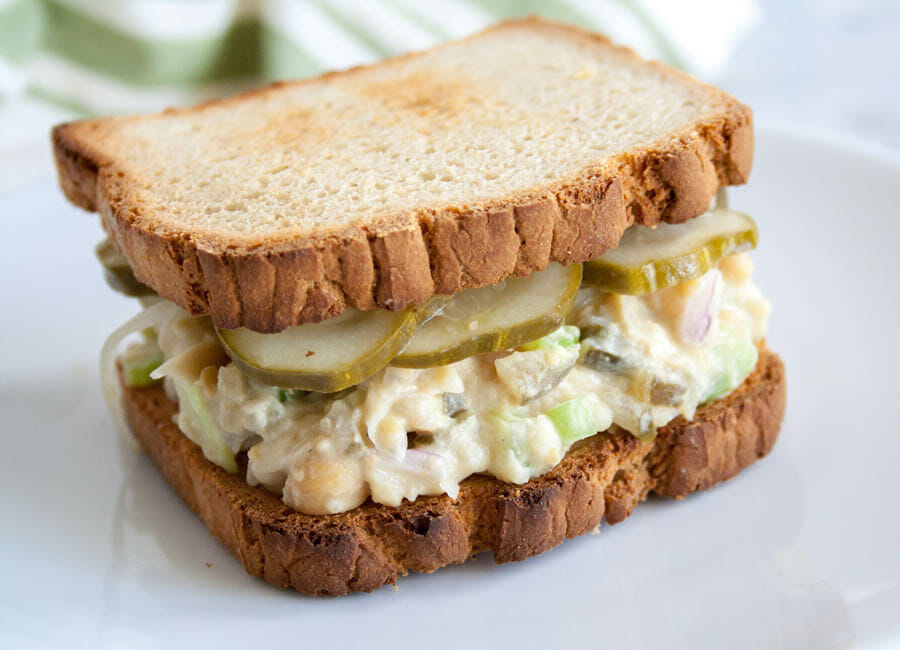 Recipe
This easy vegan sandwich is perfect for a quick lunch.
*Don't forget to come back and leave your feedback and star rating.
Affiliate links below. We are a participant in the Amazon Services LLC Associates Program, an affiliate advertising program designed to provide a means for us to earn fees by linking to Amazon.com and affiliated sites.
*Update since writing this: Thanks to a reader, the bread below is my new favorite bread. It is soft and fluffy like white bread.
It is Northern Bakehouse millet chia bread. I highly recommend it.
📋 Recipe
Chickpea Salad Sandwich
This Chickpea Salad Sandwich is a quick healthy lunch. Eat it by itself or in a wrap. It can even be eaten as a dip with crackers.
Servings
10
(makes 2 ½ cups)
Instructions
Mix vegan mayo, mustard, sweet pickle relish, and salt and pepper.

In a separate bowl mash chickpeas, then add to dressing. You could also put dressing and chickpeas in a food processor and pulse until you get the consistency you want.

Add diced celery and chopped red onion and mix well.

Spread on toast with your favorite toppings like lettuce, tomato, and pickles.
Nutrition
Calories:
212
kcal
|
Carbohydrates:
30
g
|
Protein:
5
g
|
Fat:
7
g
|
Saturated Fat:
0
g
|
Cholesterol:
6
mg
|
Sodium:
214
mg
|
Potassium:
159
mg
|
Fiber:
4
g
|
Sugar:
6
g
|
Vitamin A:
205
IU
|
Vitamin C:
1.2
mg
|
Calcium:
63
mg
|
Iron:
1.5
mg
Vegan Made Easy
Discover vegan products and dishes on the abillion app. Use code WMOON to get started.
Sign Up For My Newsletter
Get a FREE ebook with my Top 10 Vegan Recipes as a welcome gift!
*Note: Nutrition information should be considered an estimate only. Different nutrition calculators give you different results.