These healthy Chocolate Cherry Fat Bombs are sweet and rich. Perfect for a keto diet or anyone wanting to consume more coconut oil.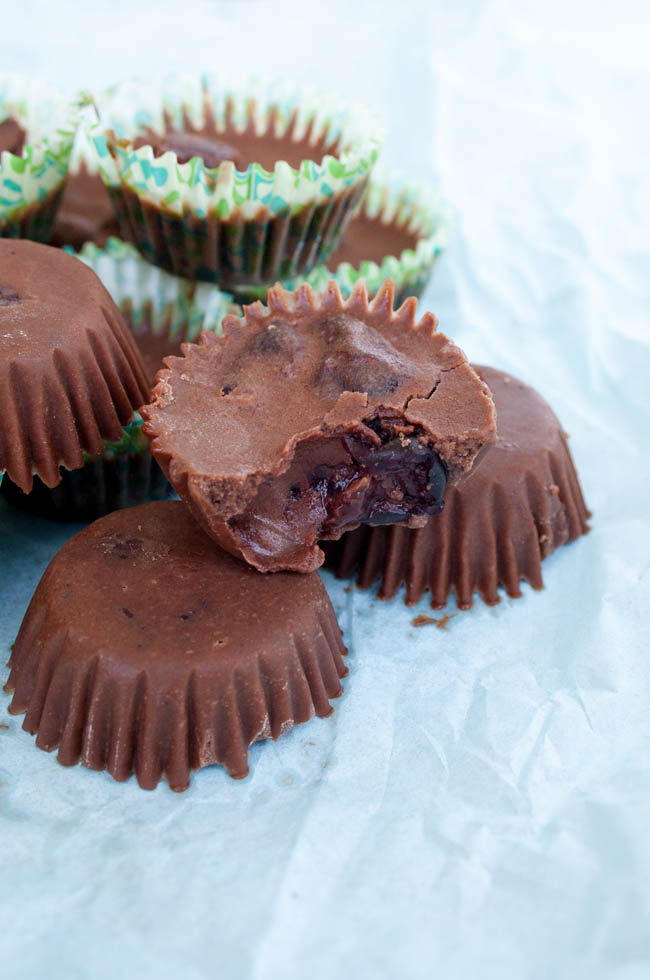 Sweet, Rich and Creamy
It's funny how recipes come together sometimes. These vegan Chocolate Cherry Fat Bombs were actually inspired by another recipe that I am working on.
It didn't turn out exactly how I wanted, so I am still working on that one.
Since I was in the mood for cherries and chocolate, I came up with these. These sweet, rich creamy treats are the bomb!
Of course, that's not where the name came from, but because they are made of healthy fat.
Sweet juicy cherries inside of dark rich chocolate, oh yeah! Since I mashed the cherries, the juice is mixed into the chocolate, making it even sweeter.
These healthy Chocolate Cherry Fat Bombs are sweet and rich! #veganketo #sugarfree
Click To Tweet

Sugar Free
These Chocolate Cherry Fat Bombs are sweetened with stevia, so they are sugar free. Although you would never know they were sugar free from tasting them.
Not only does the juice from the mashed cherries add sweetness, but adding almond extract adds sweetness as well.
These are low in carbs and high in fat - perfect for a keto diet.
Fat bombs are an easy, palatable way to get more coconut oil into your diet. I add coconut oil to my morning smoothie and Vegan Bulletproof Coffee as well.
I have also been known to eat it by the spoonful, but that isn't my first choice. Oil in my mouth, no thank you!
Ever since I started eating a vegan keto diet in September, I have fallen in love with fat bombs. They're easy to make and even more fun to eat. Plus, they come in such a cute little package!
Easy to Make
Fat bombs in general are really easy to make, and these are no exception. The hardest part, which isn't hard at all, is melting the coconut butter, which I have left instructions for.
Coconut oil is even easier. With it, you can just melt it in the microwave. I do not suggest that with coconut butter because it turns brown in spots and cooks unevenly.
Of course, with both coconut butter and coconut oil the time of year is everything. In cooler months coconut oil is solid and coconut butter is solid and downright hard.
After your coconut products are melted, just mix everything together and refrigerate. How simple, right!

The Recipe That Changed Everything
Growing up I never really liked cherries in chocolate cake, which was a dessert my family had occasionally. It just never appealed to me.
Maybe it was because the cherries were Maraschino cherries, or maybe it was because they were in cake.
Most maraschino cherries are chemically treated. They are soaked in corn syrup, and their color comes from food coloring.
Of course there are brands out there who do not use corn syrup or food coloring, but I have yet to try them.
One day, I made some Chocolate Cherry Overnight Oats and everything changed. I used sweet dark cherries, which have a different flavor than maraschino cherries.
I knew from the moment that I tasted my Chocolate Cherry Overnight Oats that cherries stuffed into chocolate desserts would become a repetitive theme.
Putting them into cake maybe another story...

Guaranteed Sweetness
I try to always have a bag of frozen cherries and other fruit in the freezer for occasions such as these. You're guaranteed the cherries will be sweet because they are picked and froze at their ripest.
A larger refrigerator and freezer are on my wishlist that I will eventually get around to fulfilling.
My fridge is shorter than me, and I am 5'3"! So, you can imagine how small the freezer is.
I love to stock up on pantry and freezer items, but can only stock up so much with a small freezer. Bananas are always in my freezer as well.
They are my go-to first choice for smoothies. I only use half a banana these days since eating low carb, which means I always have extra to freeze.
Now it's your turn to make some Chocolate Cherry Fat Bombs! Let me know in the comments below what you think.
Affiliate Link
How To Make This Recipe
Mix all the ingredients except the cherries.
Once cherries have thawed, mash them with a fork and combine them with the chocolate mixture.
Fill mini cupcake liners, an ice cube tray, or silicone molds with 2 tablespoonfuls each of mixture.
Freeze and store in the fridge.
Other Vegan Fat Bomb Recipes
You can see a bunch of my Keto Vegan Recipes in a round-up, or see all of the them on my Vegan Keto category page.
How to Melt Coconut Butter
Melt coconut butter by placing the jar in a saucepan filled with water over medium heat. Occasionally pull the jar out with oven mitts and stir it. If it's hard to stir, stick it back in the simmering water until it's ready.
Do NOT put the coconut butter in the microwave. It will cook unevenly and burn.
When it's easy to stir, spoon it into a measuring cup to measure out the amount you need.
Tips
The coconut oil CAN be heated in the microwave if it's solid, but the coconut butter will cook unevenly and burn.
Freeze the fat bombs and store in the fridge or freezer.
How Long Do They Last?
These vegan fat bombs will last about 1 week in the fridge, and several months in the freezer.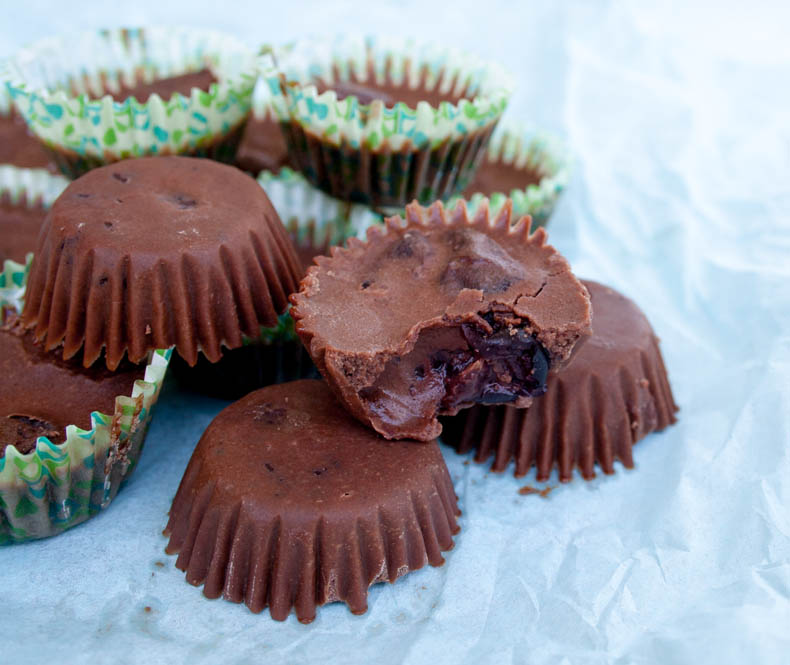 Recipe
These keto fat bombs are sure to satisfy your sweet tooth! Chocolate fat bombs with sweet cherries, what's not to love!
If you love this recipe, please come back and leave your feedback and star rating.
Affiliate links below. We are a participant in the Amazon Services LLC Associates Program, an affiliate advertising program designed to provide a means for us to earn fees by linking to Amazon.com and affiliated sites.
If you make fat bombs regularly, you may want to invest in some silicone muffin pans. They are oven, microwave and fridge safe.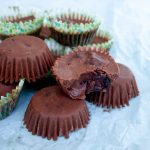 Print
Chocolate Cherry Fat Bombs
These healthy Chocolate Cherry Fat Bombs are sweet and rich. Perfect for a keto diet or anyone wanting to consume more coconut oil.

Instructions
Mix all ingredients except dark cherries.

After the dark cherries have thawed, mash them with a fork. Mix cherries and their juices in chocolate mixture.

With a tablespoon, spoon 2 tablespoonfuls each into mini cupcake liners or an ice cube tray. Freeze.

Store in the fridge.
Notes
I have found the easiest way to melt coconut butter is to boil some water. Then, reduce the heat to a simmer, and put the jar in the water. Keep an eye on it, stirring occasionally. Use an oven mitt or towel to lift out of the water and stir some more. Now you have melted coconut butter!
Nutrition
Calories:
67
kcal
|
Carbohydrates:
2
g
|
Protein:
0
g
|
Fat:
6
g
|
Saturated Fat:
4
g
|
Cholesterol:
0
mg
|
Sodium:
1
mg
|
Potassium:
38
mg
|
Fiber:
1
g
|
Sugar:
1
g
|
Vitamin A:
5
IU
|
Vitamin C:
0.6
mg
|
Calcium:
4
mg
|
Iron:
0.3
mg
Love Animals?
Support animals by reviewing vegan dishes or products on the abillion app. One review = $1 and takes 30 seconds! Use code WMOON to get started.
*Note: Nutrition information should be considered an estimate only. Different nutrition calculators give you different results.
Do You Prepear?
I have partnered with Prepear as one of their Meal Plan Pros to offer meal plans and recipes to users. It makes meal planning fast and easy! Plus it's FREE!