This easy Spinach Tofu Scramble is a perfect way to start your day. It is packed with protein and vegetables.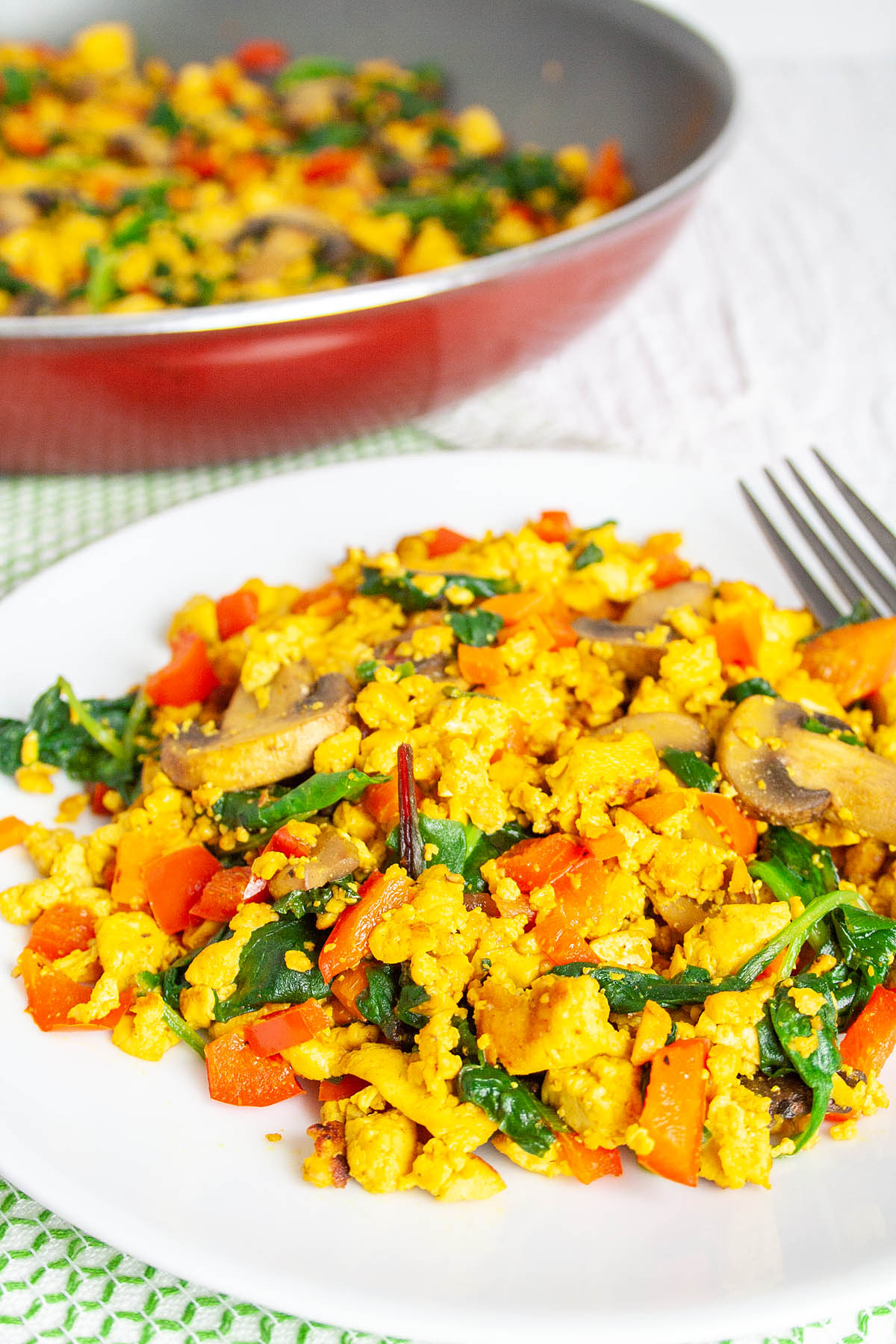 I love to have a smoothie for breakfast - it gives me vitamins, minerals, antioxidants, probiotics, greens, and protein. My favorite all-in-one shake is Vega One, which gives me everything I need.
When I want something hot and comforting, I turn to a Spinach Tofu Scramble. It fills me up with protein and veggies.
The vegetables I used were what I happened to have in my fridge, but there are so many possibilities of what to include. I have made this Tofu Scramble with tomatoes, broccoli, onion, hot chili peppers - the list goes on.
I have also made a Tofu Scramble and Black Bean Breakfast Burrito with black beans, serrano pepper, onion, spinach, bell pepper, tomatoes, and spices.
You could even make Stuffed Peppers with Tofu. Play around with your favorite veggies to see what you come up with!
Other recipes to try are my Vegan Tofu Frittata and my Chocolate Vegan Keto Porridge. If you are on a vegan keto diet, check out my Vegan Keto Breakfast Ideas.
Jump to:
❤️ Why You'll Love It
It is about one of the easiest vegan dishes you could make!
It's done in under 30 minutes.
It is a healthy and hearty savory breakfast, making it a perfect way to start your day.
🧾 Ingredients
Tofu: When crumbled, gives a texture similar to scrambled eggs. I used firm tofu packed in water found in the refrigerated section of the grocery store. Extra firm tofu will also work.
Turmeric: Adds a yellow color and flavor. You could leave it out.
Tamari: Adds a savory flavor. I used low-sodium gluten-free tamari because I like to control the amount of sodium. You could also use soy sauce.
Red bell pepper: You could also use green bell peppers or another vegetable.
Mushrooms: Use your favorite or another veggie.
Carrots: Adds sweetness and crunch.
Green onions: You could also use a yellow onion, red onion, or white onion.
Garlic: Adds a pungent taste.
Spinach: I like spinach because it is mild in flavor. You could also use kale or other greens.
Salt and pepper: Enhances flavors and adds flavor.
Olive oil: To cook the tofu spinach recipe.
This is an overview of the ingredients. To see the full list of ingredients with measurements and instructions, see the recipe card at the bottom of this post.
📖 Variations / Additions
Nutritional yeast for a cheesy flavor
Roasted vegetables
Kale
Potatoes
Sun-dried tomatoes
Asparagus
Broccoli
Tomatoes
Salsa
Guacamole or sliced avocado
Hot sauce
Spices: garlic powder, onion powder, Italian: basil, oregano, rosemary, sage, thyme, or Italian seasoning, Mexican: chili powder, cumin, paprika, cayenne pepper or chipotle pepper
Tahini
Mustard
5 Secrets to Transforming Tofu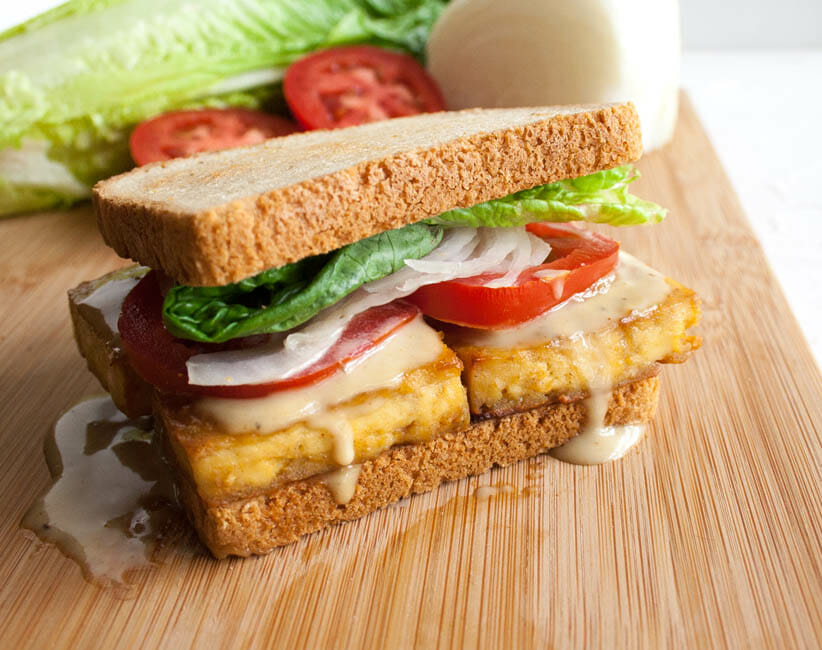 FREE 5 part email series to help you cook tofu like a pro.
We respect your privacy. Unsubscribe at any time.
🔪 Instructions
Step 1: Add tofu to a skillet with olive oil. Cook on medium-high heat for 5 minutes.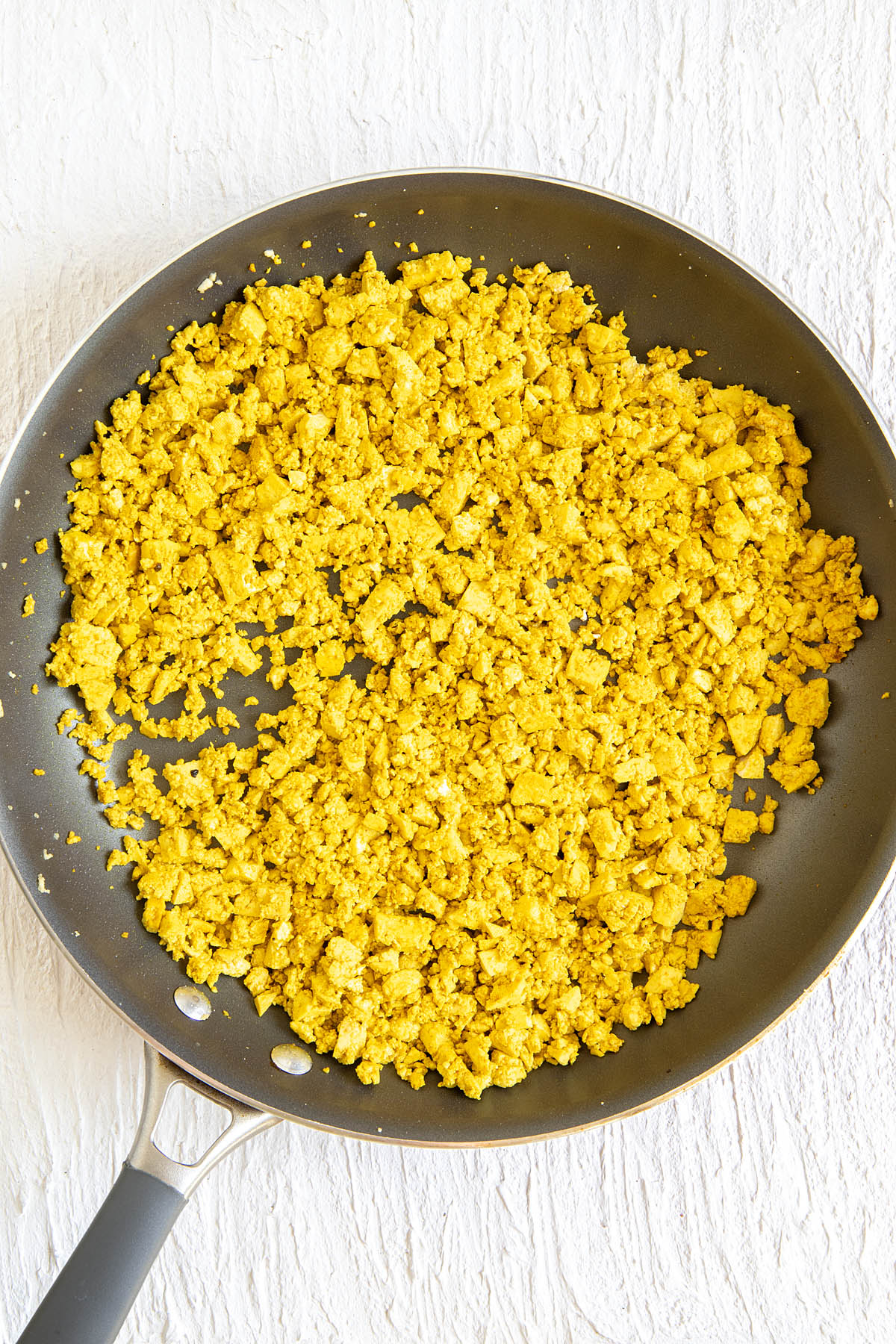 Step 2: Add turmeric, tamari, salt, and pepper. Stir and cook for a couple of minutes.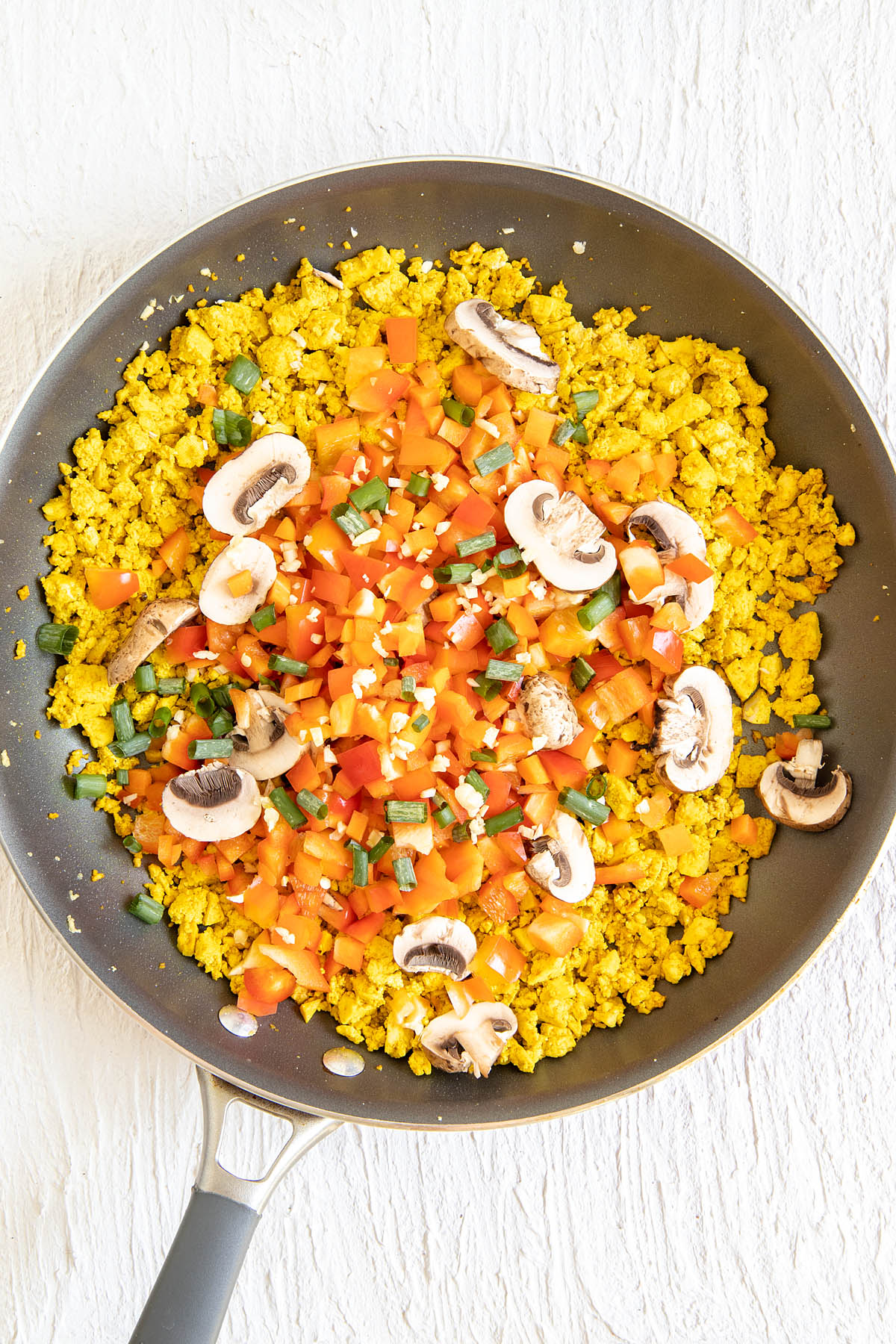 Step 3: Add chopped vegetables (except spinach), green onion, and minced garlic.
Step 4:Cook until crisp tender.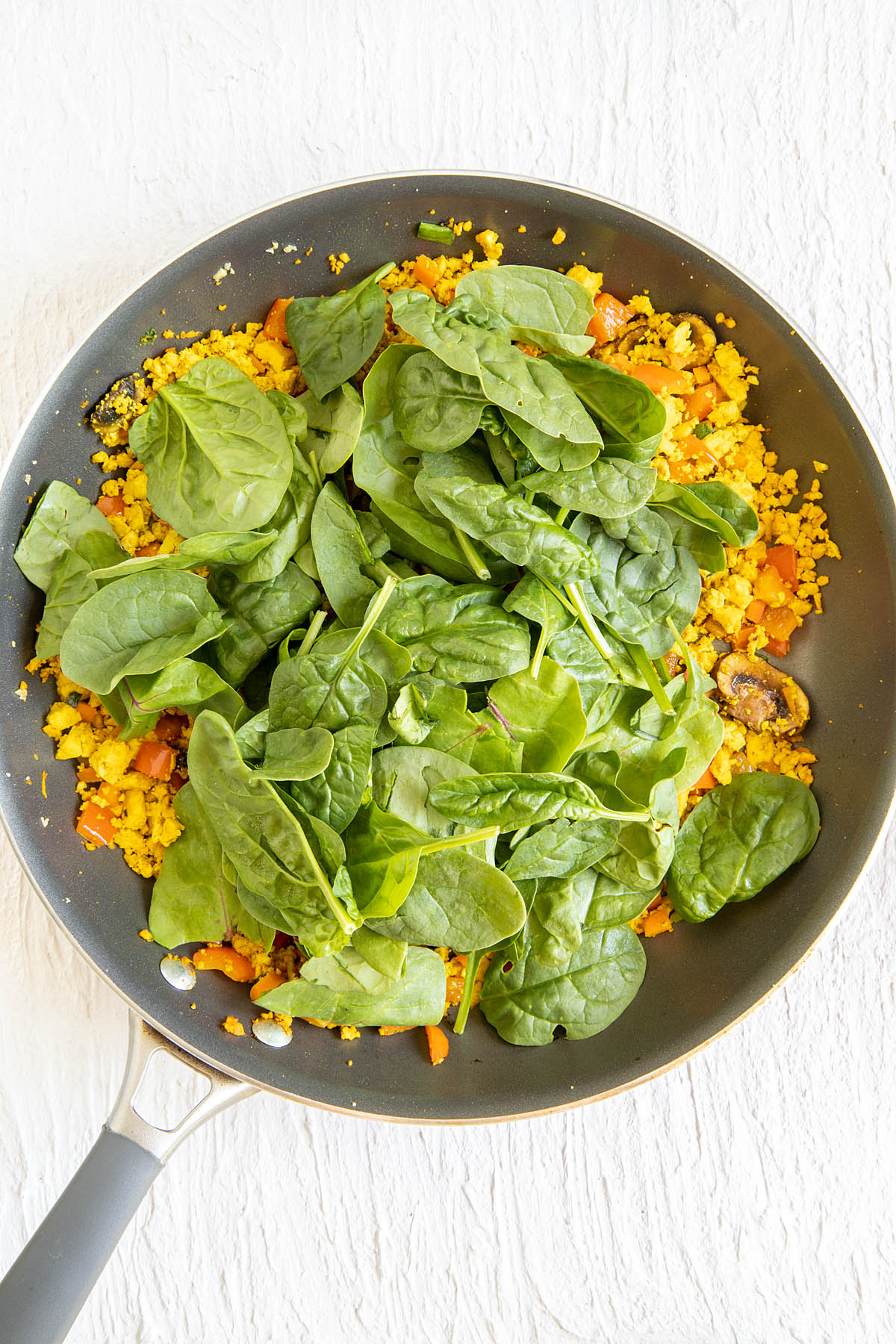 Step 5: Add spinach.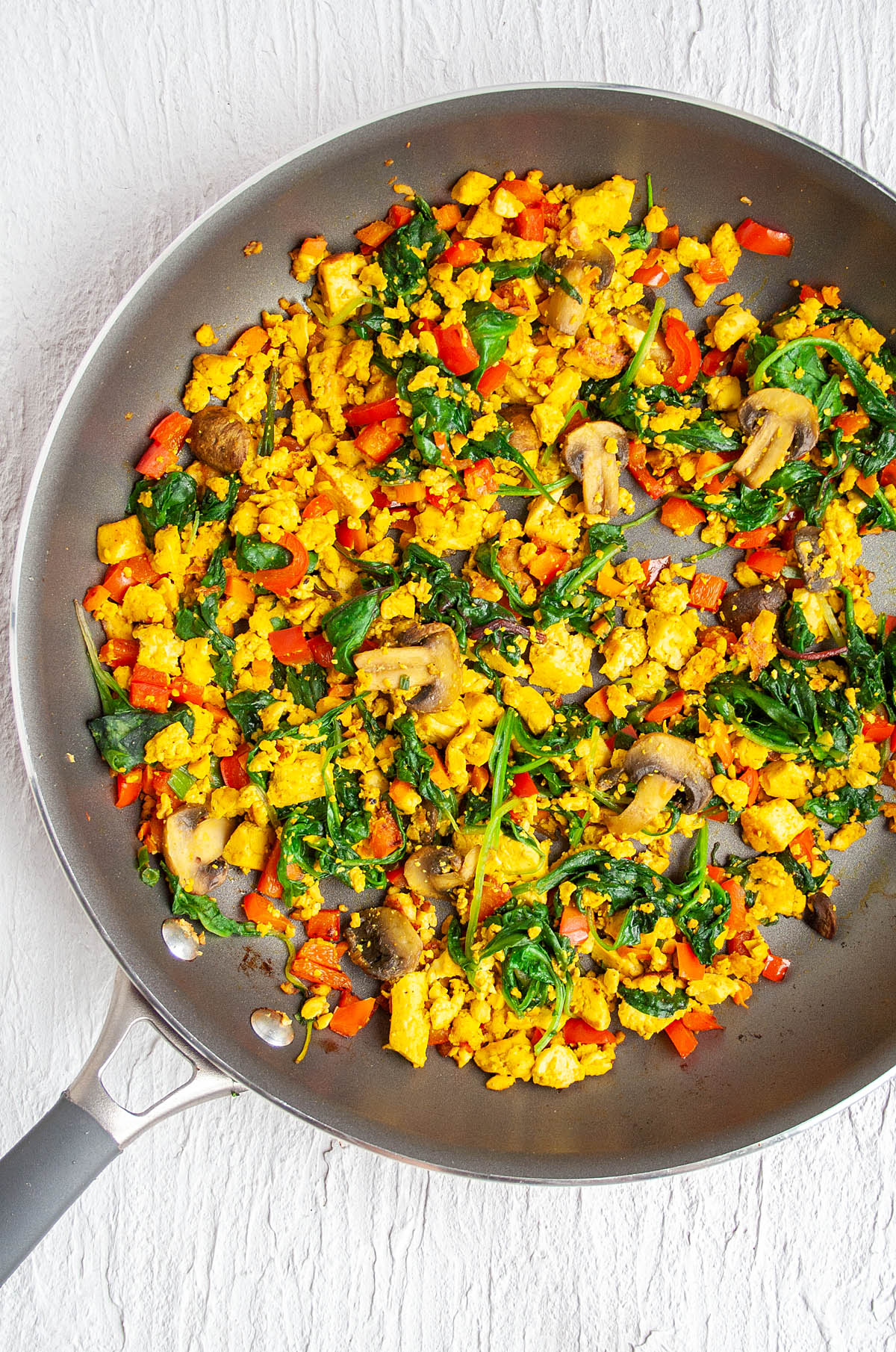 Step 6: Cook for 2-3 minutes or until wilted.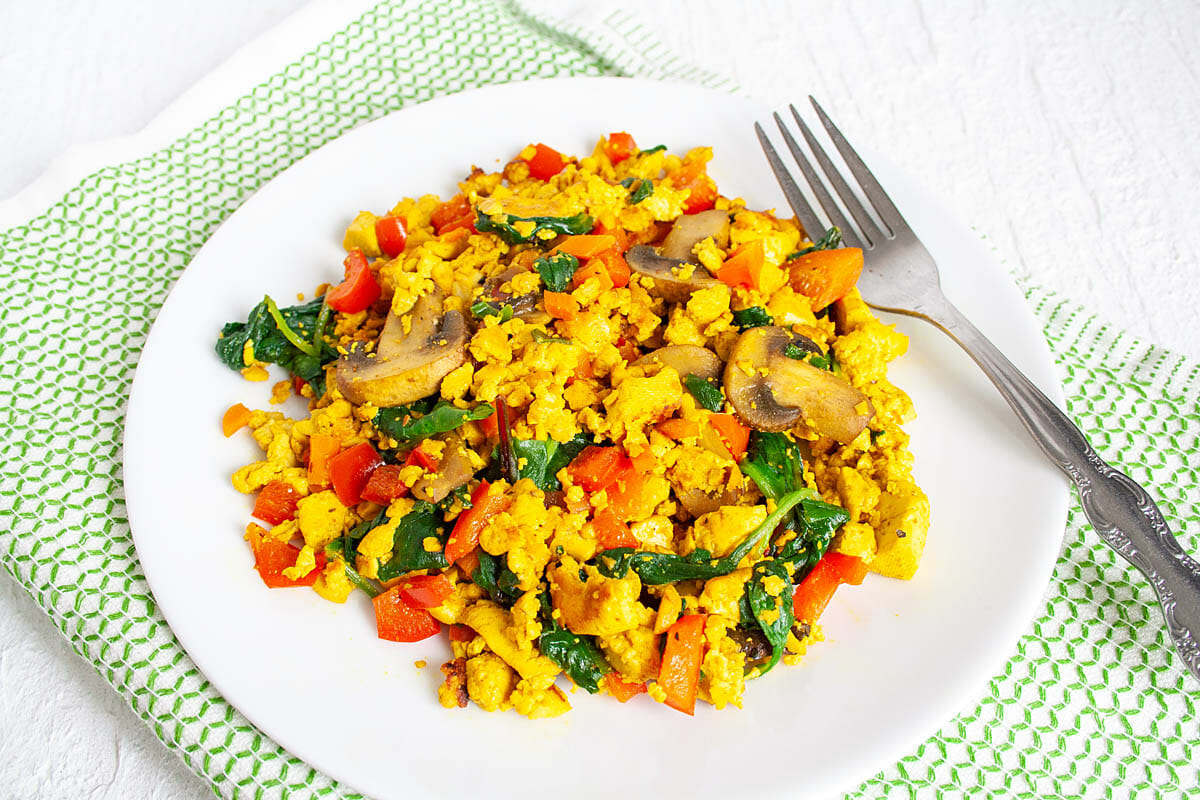 👩🏻‍🍳 Recipe FAQs
What kind of tofu is used for tofu scramble?
I think firm tofu is best for this recipe. You could also use extra firm tofu, but I prefer to use that for recipes where the tofu needs to hold together like grilling.
Do I need to press tofu for tofu scramble?
There's no need to press the tofu for this recipe. Make sure to drain the tofu first. any leftover water will cook down.
Do I need to use turmeric?
Turmeric adds a yellow color and a nice flavor in my opinion. You can omit it if you want.
Is it good the next day?
Tofu scramble is great for leftovers several days after it is made.
Other Vegan Breakfast Recipes
This is one of the first recipes that many vegans add to their repertoire when they become vegan. Once you make it, you'll see why. It is one of the easiest recipes you can make, and you can customize it to your liking.
If you tried this Spinach Tofu Scramble Recipe or any other recipe on my website, please leave a ⭐️ star rating and let me know how you like it in the 💬 comments below. I love hearing from you!
This recipe was originally published on December 20, 2014. I've added new photos and more text.
📋 Recipe
Spinach Tofu Scramble
This easy Spinach Tofu Scramble is a perfect way to start you day. It is packed with protein and vegetables. Make it in under 30 minutes!
Instructions
Add olive oil to a hot pan. Crumble the tofu and add it to the pan. Cook on medium high heat for 5 minutes.

Add turmeric, tamari, salt and pepper and cook for another 2 minutes.

Add vegetables (except spinach), garlic and green onion.

Cook 5 minutes or until the vegetables are crisp tender.

Add spinach in batches, if necessary, and cook 2-3 minutes until wilted.
Notes
Four cups of spinach may sound like a lot, but it does shrink down quite a bit. I put a variable amount of turmeric because I like a good amount. I would taste it after ½ teaspoon, and see how you like it.
This spinach tofu scramble recipe will last about 4-5 days in an airtight container in the fridge.
Sign Up For My Newsletter
Get a FREE ebook with my Top 10 Vegan Recipes as a welcome gift!
Nutrition
Calories:
145
kcal
|
Carbohydrates:
8
g
|
Protein:
11
g
|
Fat:
8
g
|
Saturated Fat:
1
g
|
Polyunsaturated Fat:
3
g
|
Monounsaturated Fat:
4
g
|
Sodium:
140
mg
|
Potassium:
353
mg
|
Fiber:
3
g
|
Sugar:
3
g
|
Vitamin A:
5376
IU
|
Vitamin C:
58
mg
|
Calcium:
167
mg
|
Iron:
3
mg
*Note: Nutrition information should be considered an estimate only. Different nutrition calculators give you different results.