This Vegan Pumpkin Spice Latte is a great way to sneak some veggies into your diet! It is perfect for cold days!
Pumpkin Spice
I will admit that I got on the pumpkin spice bandwagon a bit late. I think it was last year, to be exact. I've never been much of a pie lover, least of all pumpkin, which is where you also will find pumpkin spice.
Give me some key lime pie or Mississippi mud pie any day, and I am a happy camper. I'd rather have my pumpkin in a soup or smoothie.
So using pumpkin spice in a recipe wasn't on my radar, until I made Pumpkin Chia Pudding. I fell in love with pumpkin spice at first taste. There's a good reason why it is used with pumpkin! They are a marriage made in heaven.
Then, I used it in a Pumpkin Spice Exfoliating Face Mask and a Pumpkin Spice Sugar Scrub, because I really love the smell. Somewhere around that time I was experimenting with this Vegan Pumpkin Spice Latte. I am finally posting it now. I think by the time that I was ready to post it last year pumpkin season had came and went.
That happens to me quite a bit, where I am ready to post a recipe a little too late. The season has already come and gone, with me wondering where the time went. I am getting better at being organized with seasonal recipes, but I am still working on it.
I also wasn't happy with the photos I took. I didn't have a clear mug at the time so you couldn't see the beautiful brown hue from the coffee and pumpkin.
Getting on the pumpkin puree in my coffee bandwagon was pretty easy because I like to sneak veggies in where I can. Not to mention, pumpkin has such a mild flavor that it is not overwhelming.
This Vegan Pumpkin Spice Latte is a great way to sneak some veggies into your diet!
Click To Tweet
Accidents Happen
I have even made this Vegan Pumpkin Spice Latte with sweet potato puree by accident! It's happened to me a couple of times where I think that I am buying pumpkin puree, then come to find out when I get home, or by the time I open the can, that it is in fact sweet potato puree instead.
You'd think that after the first time that I would have learned. Maybe I could start a new trend - Sweet Potato Latte. To be honest, it tasted pretty similar to the pumpkin version. I actually didn't even notice that it was sweet potato puree until after I made it and was throwing the can in the recycling.
Other Winter Squash Recipes You Might Like

Vegan Pumpkin Spice Latte
This vegan latte will not only warm you up, but give you a recipe to use that little bit of pumpkin purée that's left in the can. If you're just opening the can, then see the links above for other recipes to use it in.
*Don't forget to come back and leave your feedback and star rating.
Affiliate links below. We are a participant in the Amazon Services LLC Associates Program, an affiliate advertising program designed to provide a means for us to earn fees by linking to Amazon.com and affiliated sites.
You May Need: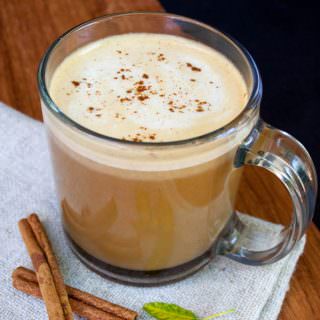 Print
Vegan Pumpkin Spice Latte
This Vegan Pumpkin Spice Latte is a great way to sneak some veggies into your diet! It is perfect for cold days!

Instructions
Mix about ⅓ of the coffee and the rest of the ingredients in a Nutribullet or blender. Add to the rest of the coffee.  Alternatively, you can heat all the ingredients in a pan on the stove, and mix thoroughly.
Nutrition
Calories:
261
kcal
|
Carbohydrates:
7
g
|
Protein:
3
g
|
Fat:
25
g
|
Saturated Fat:
21
g
|
Cholesterol:
0
mg
|
Sodium:
184
mg
|
Potassium:
426
mg
|
Fiber:
1
g
|
Sugar:
1
g
|
Vitamin A:
4670
IU
|
Vitamin C:
2.4
mg
|
Calcium:
170
mg
|
Iron:
4.3
mg
Love Animals?
Support animals by reviewing vegan dishes or products on the abillion app. One review = $1 and takes 30 seconds! Use code WMOON to get started.
*Note: Nutrition information should be considered an estimate only. Different nutrition calculators give you different results.
**Important!
If you are gluten free you may want to avoid coffee altogether. I personally have never had a problem drinking it, and I have a gluten intolerance. It is probably because I drink whole bean organic coffee, and grind it myself.
I learned after posting my Vegan Bulletproof Coffee from some readers on Facebook that it can be problematic for people who don't tolerate gluten. So I did some research and one article mentioned to try organic whole bean coffee because it isn't highly processed causing cross-reactivity issues.
So please do the research yourself, and test it out. I try to only post recipes that are 100% gluten free since I have a gluten intolerance. I am really careful about avoiding gluten in my daily life, so this was all news to me.