This Baked BBQ Tofu Sandwich is sweet and spicy. The baked BBQ tofu is crispy on the outside and soft on the inside. Add some pineapple and onion, and you have a match made in heaven! Made with a 4 Ingredient Sriracha BBQ Sauce, it couldn't be any easier!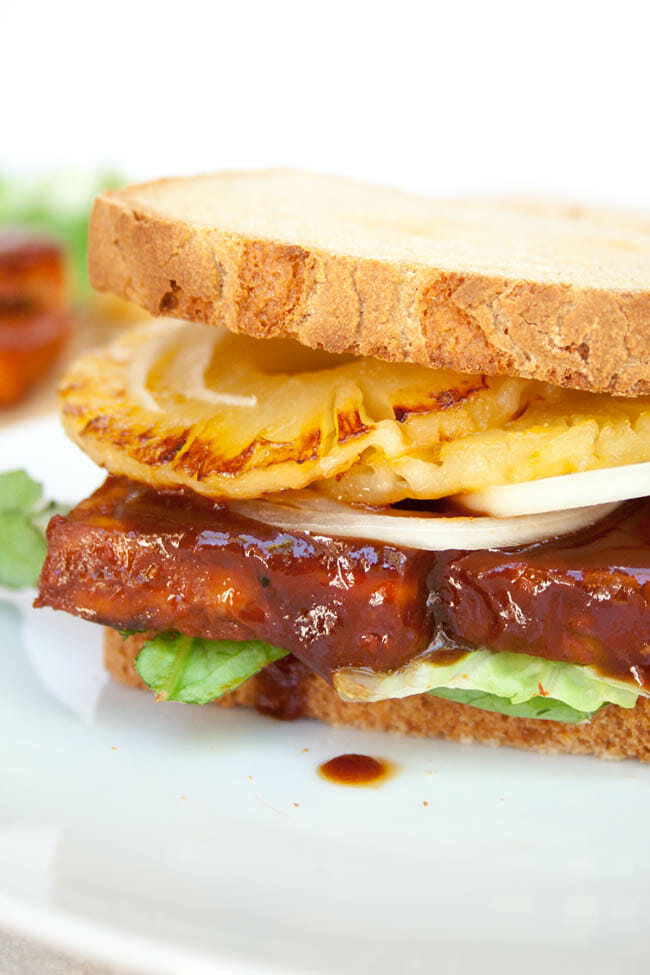 This Baked BBQ Tofu Sandwich has my favorite flavor combination, so I will be making this vegan sandwich over and over again. It has a sweet, savory, and slightly spicy flavor profile.
For this tofu BBQ sandwich, I sautéed pineapple in coconut oil until browned. I topped the pineapple over some savory onion and Baked BBQ Tofu that was baked in my 4 Ingredient BBQ Sriracha Sauce.
If you don't like raw onions on a sandwich, you could caramelize them instead. I wouldn't skip them altogether because I think they add a great flavor to the sandwich.
If you've had tofu and didn't like it, I say you just might not have had it prepared the right way. Baking tofu gives a crispy texture on the outside, while staying soft on the inside. By baking tofu in BBQ sauce, it takes on the flavor of the BBQ sauce.
If you've ever bought baked tofu, you'll love how much cheaper making your own is. It really is quite easy and doesn't take much prep time at all.
Many baked tofu products contain gluten, so for those of you avoiding it, making your own is a great solution.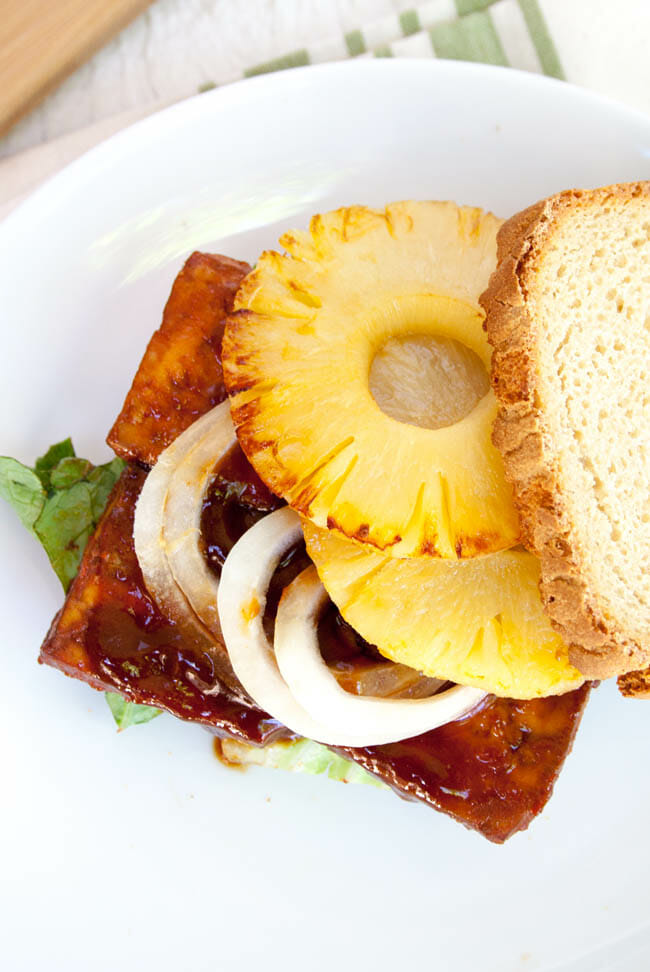 Tips
Use only a small amount of BBQ sauce on each slice of tofu while baking. That's what will give it a nice crispy outside while keeping a soft inside. You don't want your tofu swimming in sauce.
If you like to slather extra sauce on your sandwiches, then I would make a whole batch of the 4 Ingredient Sriracha BBQ Sauce (the Baked BBQ Tofu only calls for ½ of a batch).
If you aren't a raw onion fan on your sandwiches, caramelize them instead.
If you're using brown rice bread or another gluten free bread, I recommend toasting it. It tastes so much better than straight out of the fridge.
I recommend taking the few minutes it takes to sauté the pineapple. It brings out it's sweetness.
Serve this vegan tofu sandwich hot or cold, but I think hot is better.
If you're in a hurry , you could always use store bought BBQ sauce, but considering it only has 4 ingredients and doesn't have to be cooked, I think it's worth taking the couple of minutes it takes to make it.
Other Vegan Sandwiches

Recipe
This vegan tofu sandwich with baked BBQ tofu, pineapple, and onion is healthy and satisfying. Even the pickiest eaters will love this sandwich.
If you like BBQ, try my Vegan Hawaiian BBQ Pizza. It is out of this world!
*Don't forget to come back and leave your feedback and star rating.
Affiliate links below. We are a participant in the Amazon Services LLC Associates Program, an affiliate advertising program designed to provide a means for us to earn fees by linking to Amazon.com and affiliated sites.
*Update since writing this: Thanks to a reader, the bread below is my new favorite bread. It is soft and fluffy like white bread.
It is Northern Bakehouse millet chia bread. I highly recommend it.
Baked BBQ Tofu Sandwich
This Baked BBQ Tofu Sandwich is sweet and spicy. The baked BBQ tofu is crispy on the outside and soft on the inside. Made with a 4 Ingredient Sriracha BBQ Sauce, it couldn't be any easier!
Instructions
Add coconut oil to a hot pan and add pineapple slices. Cook each side on medium heat until browned.

Layer lettuce, Baked BBQ Tofu, onion, and pineapple on toasted bread. Drizzle BBQ sauce on top, if desired.*
Notes
If you like extra BBQ sauce on your sandwiches, use a whole batch BBQ sauce instead of the ½ batch the Bake BBQ tofu calls for.
For the sized bread I used, each sandwich got 4 pieces of tofu and 2 slices of pineapple, so that was how the nutritional info was calculated.
Nutrition
Calories:
406
kcal
|
Carbohydrates:
56
g
|
Protein:
11
g
|
Fat:
9
g
|
Saturated Fat:
0
g
|
Cholesterol:
12
mg
|
Sodium:
993
mg
|
Potassium:
572
mg
|
Fiber:
1
g
|
Sugar:
26
g
|
Vitamin A:
280
IU
|
Vitamin C:
15.8
mg
|
Calcium:
160
mg
|
Iron:
2.4
mg
Vegan Made Easy
Discover vegan products and dishes on the abillion app. Use code WMOON to get started.
Sign Up For My Newsletter
Get a FREE ebook with my Top 10 Vegan Recipes as a welcome gift!
*Note: Nutrition information should be considered an estimate only. Different nutrition calculators give you different results.