This healthy Dark Chocolate Hummus combines two great snacks into one. It can be used as a frosting or eaten by the spoonful!

Dark Chocolate Dessert Hummus
When I saw that hummus companies were making dark chocolate dessert hummus, I was intrigued. Hummus and chocolate are two of my favorite things, so putting them together sounded like my kind of healthy dessert.
I just had to make some of my own. And what a brilliant idea it turned out to be! This chocolate hummus tastes a lot like brownie batter.
I haven't tried any of the store-bought stuff yet, so I have no idea how this compares. I would rather keep making my own anyway. That way I can control the ingredients and the amount of sweetener.
Healthy Chocolate Hummus
This vegan Dark Chocolate Hummus is probably one of the healthiest, yet indulgent tasting desserts that I have made. Yes, it is sweetened with maple syrup, so it could be a bit healthier, but I have yet to make this with stevia, because it is so good as it is.
Since this is made with garbanzo beans, the protein and fiber slow down the sugar entering your body, making this vegan dessert dip a lot healthier than other desserts.
What To Eat Chocolate Hummus With?
Because this is a sweet dessert hummus, it tastes great with tart raspberries or fresh strawberries. It also works well on a dessert pizza.
Eat it with graham crackers, pretzels, or salty crackers for a sweet and salty combination. Slather it on pancakes, waffles or toast.

Versatile
This sweet hummus is really versatile. You could use it as an icing for a cake, or slathered on some toast with fresh fruit for breakfast.
If you need a thinner consistency, just add more almond milk or water. This would also work well as a filling in a pastry or sandwiched between two cookies.
Easy
I know a lot of people who still buy hummus instead of making it themselves. It literally only takes about 5 minutes to make, and it is cheaper than store-bought.  Plus, you can customize it to your liking.
This healthy Dark Chocolate Hummus can be used as a frosting or eaten by the spoonful!
Click To Tweet
After School Snack
With school starting just around the corner (this week where I live), I thought this would be the perfect time to post this recipe. Spread it on some apple slices, top with coconut chips and some chopped nuts, and this makes a great after school snack.
I'm sure many kids would love to find this in their lunchbox too.
Affiliate Link
Normally hummus is made with garbanzo beans (chickpeas), tahini, lemon juice, garlic, olive oil, salt, and water to thin it out. You can then add in the flavors of your choice.
The chocolate hummus ingredients are only slightly different. You don't need tahini. Some dessert recipes may call for it, but I decided it was unnecessary for my recipe.
Of course you omit the garlic and lemon juice, and you use almond milk to thin out the hummus instead of water. You sweeten the chocolate dessert hummus with maple syrup and add cacao powder. Yum!
How To Make Chocolate Hummus
For this recipe blend garbanzo beans, cacao powder, maple syrup, vanilla extract, almond extract, almond milk, and salt in a food processor until smooth and creamy.
Place in an airtight container and store in the fridge.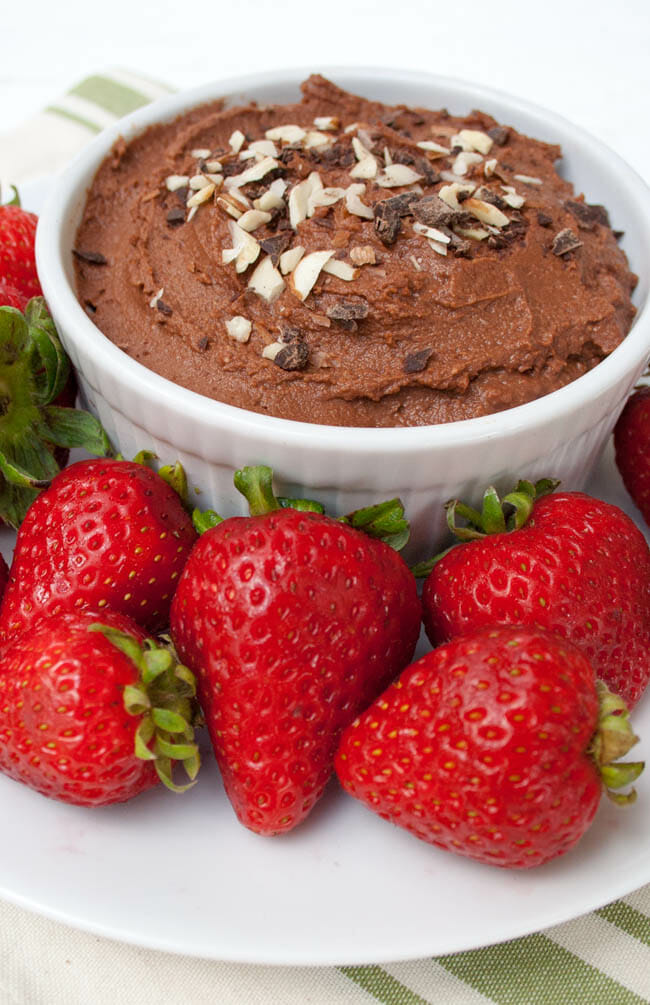 Other Kid-Friendly Snacks
Recipe
This vegan dessert hummus is a healthy treat. It is both dairy-free and gluten-free. After you taste this, you'll see that chocolate and hummus were meant to be together!
If you love this recipe, please come back and leave your feedback and star rating.
Affiliate links below. We are a participant in the Amazon Services LLC Associates Program, an affiliate advertising program designed to provide a means for us to earn fees by linking to Amazon.com and affiliated sites.
You may need:
Print
Dark Chocolate Hummus
This healthy Dark Chocolate Hummus combines two great snacks into one. It can be used as a frosting or eaten by the spoonful!

Instructions
Mix all ingredients in a

food processor

until smooth and creamy. Garnish with chopped dark chocolate and sliced almonds, if desired.
Notes
*You might want to start with ⅛ teaspoon almond extract. A few of my readers didn't like the addition of almond extract so I made this optional.
Nutrition
Calories:
123
kcal
|
Carbohydrates:
23
g
|
Protein:
5
g
|
Fat:
1
g
|
Saturated Fat:
0
g
|
Cholesterol:
0
mg
|
Sodium:
15
mg
|
Potassium:
218
mg
|
Fiber:
4
g
|
Sugar:
8
g
|
Vitamin A:
15
IU
|
Vitamin C:
0.7
mg
|
Calcium:
50
mg
|
Iron:
1.9
mg
Vegan Made Easy
Discover vegan products and dishes on the abillion app. Use code WMOON to get started.
Sign Up For My Newsletter
Get a FREE ebook with my Top 10 Vegan Recipes as a welcome gift!
*Note: Nutrition information should be considered an estimate only. Different nutrition calculators give you different results.
Do You Prepear?
I have partnered with Prepear as one of their Meal Plan Pros to offer meal plans and recipes to users. It makes meal planning fast and easy! Plus it's FREE!