This easy Strawberries and Coconut Cream will make you feel like you are indulging, but it is really quite healthy!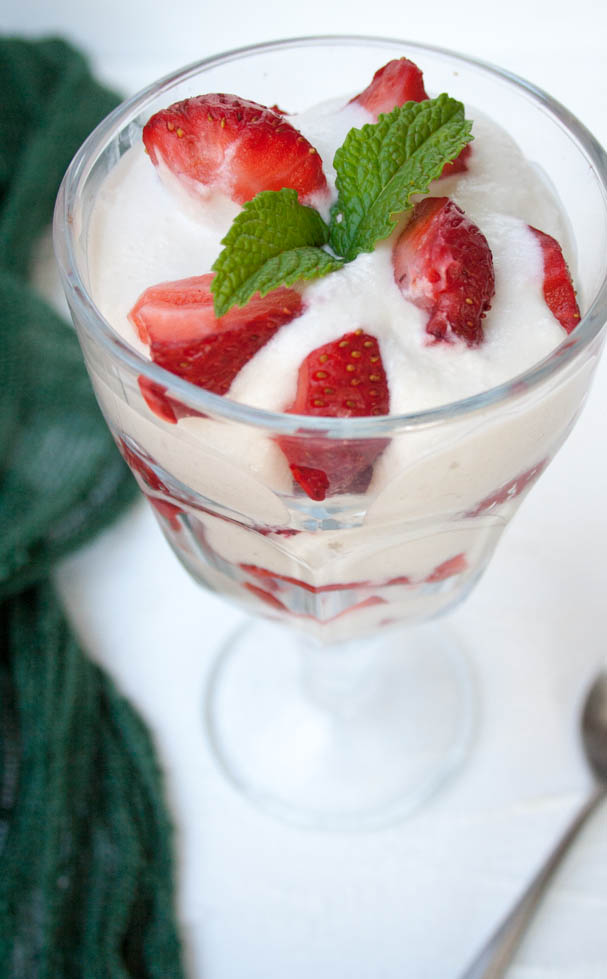 My go-to dessert of choice is usually chocolate chunks and roasted peanuts or chocolate chips and peanut butter. I love the sweet, salty, savory combination.
That is why many of the desserts on Create Mindfully include chocolate and peanut butter. Sometimes they include banana too, like my Banana, Chocolate and Peanut Butter Dessert Pizza.
Occasionally I will create something that doesn't include chocolate or peanut butter, like this recipe for Strawberries and Coconut Cream. I love all things coconut, so adding it to some fresh strawberries was a no-brainer, especially this time of the year when strawberries are at their peak. Since they are so sweet, sweetener is unnecessary.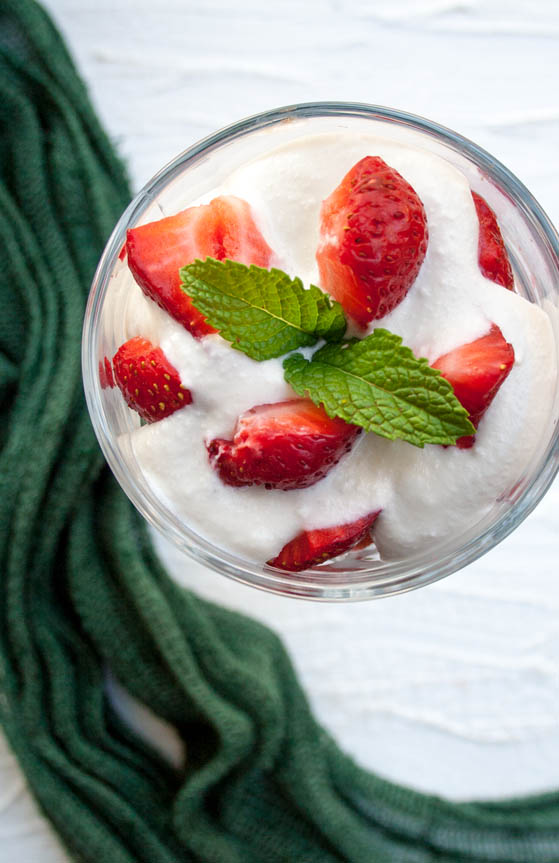 Coconut cream is really easy to make. You just put full fat coconut milk in the fridge overnight. Then scoop off the solid part and either whip it with a hand mixer, or do like I do and throw it in a Nutribullet.
The only thing that I add to it is vanilla extract. You could also add sweetener, but I think it tastes good on its own.
I have also used the whole can of coconut milk to make coconut cream - coconut water and all. It just depends upon the consistency you want. When I make coffee I use the whole can. I spoon the coconut cream into my coffee with some stevia. It has the consistency of a latte.
It's funny, before I was a vegan I didn't use whipped cream very much. Maybe it was because I was surrounded by Cool Whip. The only time in my life that I remember enjoying it was at a coffee shop close to my college.
I would always order a large coffee with whipped cream and shaved chocolate on top. It was decadent indeed!
Since becoming vegan 18 years ago, I don't miss meat or dairy. Even though I have been vegan for so many years, I have yet to try any vegan whipped cream products. I just never felt the need. Besides, making your own is probably a lot cheaper, and there aren't any weird processed ingredients.
If you haven't tried coconut whipped cream yet, I highly recommend it. If you like coconut, you will most likely like it!
Other Vegan Desserts
Recipe
This vegan dessert is an easy healthy treat. No sweetener necessary!
*Don't forget to come back and leave your feedback and star rating.
Affiliate links below. We are a participant in the Amazon Services LLC Associates Program, an affiliate advertising program designed to provide a means for us to earn fees by linking to Amazon.com and affiliated sites.
Strawberries and Coconut Cream
This easy Strawberries and Coconut Cream will make you feel like you are indulging, but it is really quite healthy!
Instructions
Put coconut milk into fridge overnight so it solidifies on top. Scoop out the solid part*. With either a hand mixer or

Nutribullet

, whip with vanilla extract until it is light and airy.

Layer strawberries and coconut cream in a dessert glass or bowl.
Notes
Don't discard the coconut water! It tastes great in a smoothie or or other drink.
Nutrition
Calories:
405
kcal
|
Carbohydrates:
11
g
|
Protein:
4
g
|
Fat:
41
g
|
Saturated Fat:
36
g
|
Cholesterol:
0
mg
|
Sodium:
25
mg
|
Potassium:
531
mg
|
Fiber:
1
g
|
Sugar:
3
g
|
Vitamin C:
44.2
mg
|
Calcium:
46
mg
|
Iron:
6.6
mg
Vegan Made Easy
Discover vegan products and dishes on the abillion app. Use code WMOON to get started.
Sign Up For My Newsletter
Get a FREE ebook with my Top 10 Vegan Recipes as a welcome gift!
*Note: Nutrition information should be considered an estimate only. Different nutrition calculators give you different results.