This easy Tofu Ricotta recipe is perfect for lasagna, ravioli, pizza, calzones, or served as a dip. No one will even notice it is tofu!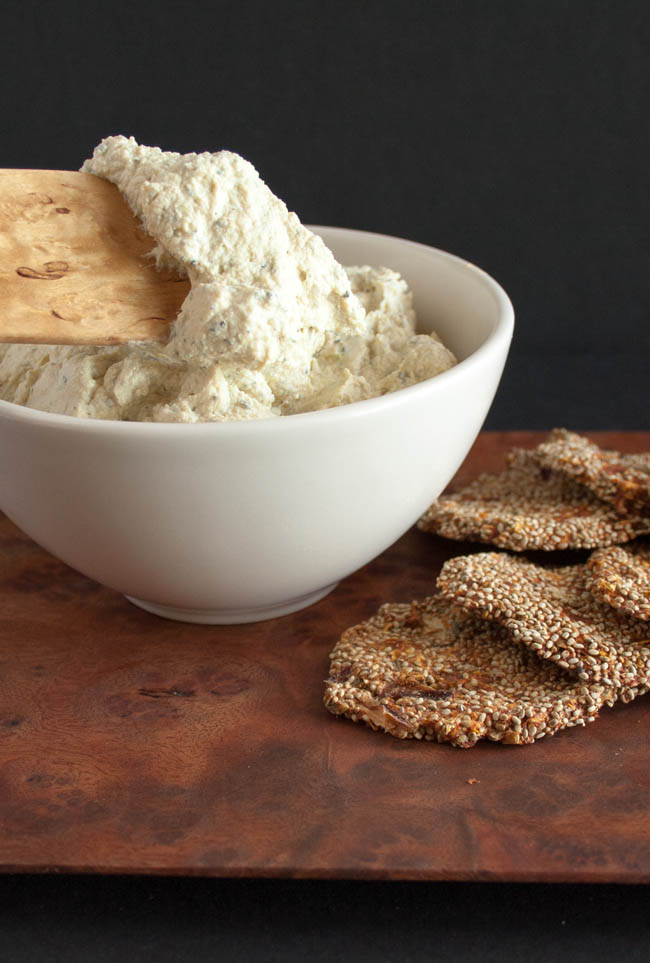 First off, I have to give a disclaimer. I have been vegan for over 20 years so it has been a really long time since I have had ricotta cheese. In fact, I don't even remember what it tastes like.
As with any vegan cheese, they don't taste exactly like the flavor they are replacing.
To be honest, I wouldn't want them to taste like the real thing anyway. I just want a good flavor, consistency and texture when I am eating vegan cheese.
This vegan ricotta recipe has all of that. It spreads nicely, and it is creamy and savory.
Right after I became a vegan I couldn't stand the smell in the deli section. The smell of cheese was too much for me.
It is funny how your senses change after changing your diet.
This Tofu Ricotta came about because I wanted to make Eggplant Lasagna. I wanted the ricotta to be homemade instead of store bought, so that I could create the flavor that I wanted, which included basil.
Actually, I have not tried store bought vegan ricotta cheese yet. I have been tempted a few times, but the price tag has always put me off.
I wish I could say that about other vegan cheeses. I still buy vegan cheddar, Mozzarella, and cream cheese. Maybe it is time to get in the kitchen and try to make them!
It will be interesting to see if store bought vegan ricotta tastes anything like this. Considering how much cheaper mine is, and how easy it is to make, I probably won't be trying it anytime soon.
This literally takes minutes to make. There's no soaking time, like with cashews. This recipe is nut-free and gluten-free.
Jump to:
🧾 Ingredients
Firm tofu: I used firm tofu packed in water found in the refrigerated section of the grocery store. Extra firm tofu would work as well.
Lemon juice: Adds a sour flavor. I recommend fresh lemons instead of store-bought lemon juice.
Dried basil: I have only made this recipe with dried basil, so I cannot speak to how it tastes with fresh basil. I'm sure it would be just as good, if not better.
Nutritional yeast: Adds a cheesy
Garlic: Adds a pungent flavor.
Olive oil: Adds a creamy texture and adds flavor.
Salt and pepper: Enhances flavors and adds flavor.
This is an overview of the ingredients. To see the full list of ingredients with measurements and instructions, see the recipe card at the bottom of this post.
5 Secrets to Transforming Tofu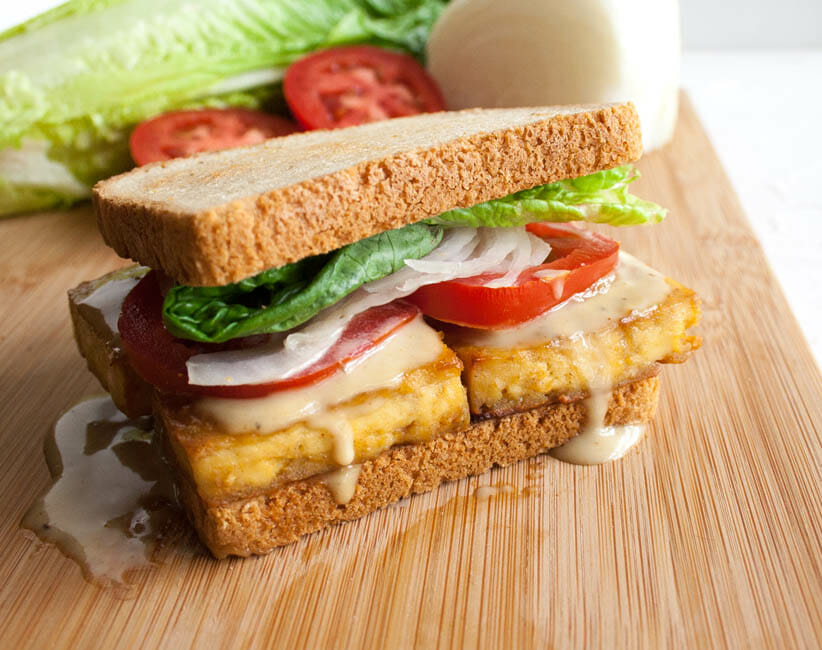 FREE 5 part email series to help you cook tofu like a pro.
We respect your privacy. Unsubscribe at any time.
🔪 Instructions
Drain and press the tofu to get rid of the excess liquid. If you do not have a tofu press you can place the tofu in between a clean kitchen towel and place a heavy object, like a cast iron skillet, on top.
Blend all ingredients in a food processor until smooth and creamy.

🥡 Storage
This vegan tofu ricotta recipe will last 5 days in an airtight container in the fridge.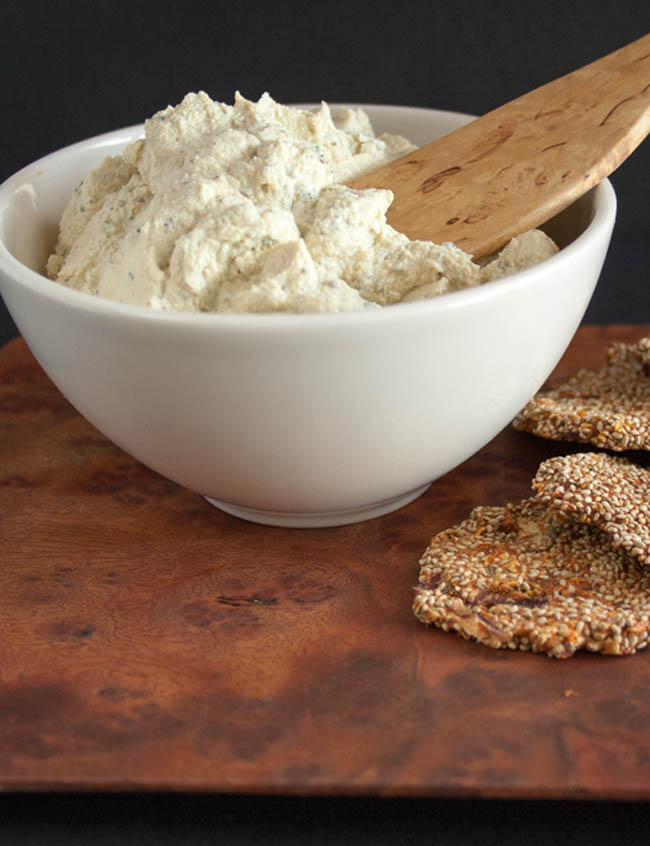 This vegan tofu ricotta cheese recipe not only tastes great in lasagna but tastes good with crackers as well. The crackers in the photo are my Pizza Crackers, which work really well with this basil-flavored Tofu Ricotta.
Ways To Use It
It is versatile to say the least!
🧀 Other Vegan Cheese Recipes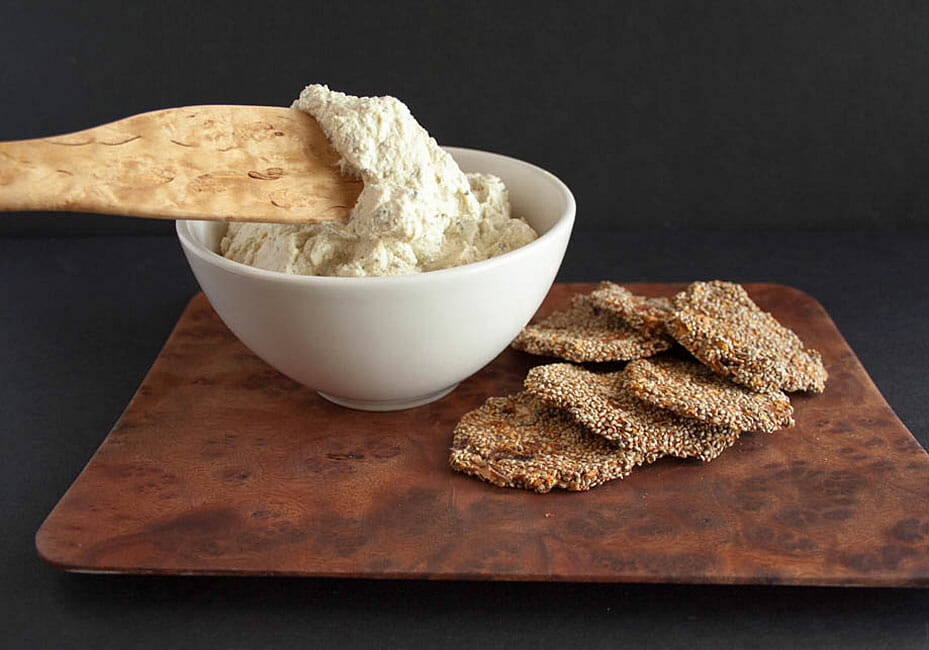 🎥 Video
If you are looking for a dairy-free ricotta, you have come to the right place.
This vegan ricotta is sure to please! If you love this recipe, please come back and leave your feedback and star rating.
📋 Recipe
Tofu Ricotta
This easy Tofu Ricotta recipe is perfect for lasagna, ravioli, pizza, calzones, or served as a dip. No one will even notice it is tofu!
Instructions
Mix all ingredients in a food processor until smooth.
Sign Up For My Newsletter
Get a FREE ebook with my Top 10 Vegan Recipes as a welcome gift!
Nutrition
Calories:
78
kcal
|
Carbohydrates:
3
g
|
Protein:
6
g
|
Fat:
4
g
|
Saturated Fat:
0
g
|
Cholesterol:
0
mg
|
Sodium:
24
mg
|
Potassium:
220
mg
|
Fiber:
1
g
|
Sugar:
0
g
|
Vitamin C:
1.2
mg
|
Calcium:
36
mg
|
Iron:
1.5
mg
*Note: Nutrition information should be considered an estimate only. Different nutrition calculators give you different results.