These healthy sweet Chocolate Coconut Almond Fat Bombs are a great way to add coconut oil into your diet!
Low Carb High Fat (Keto)
These Chocolate Coconut Almond Fat Bombs are about the fourth fat bomb recipe that I have made. Fat bombs have become a staple in my house.
When you are eating a low carb high fat diet, or keto diet, fat bombs are a great way to get healthy fats into your diet, like avocado and coconut oil. They also satisfy your hunger.
Even if you aren't on a keto diet, fat bombs make a great sugar free snack. I am actually taking a break from eating a keto vegan diet, but I will still be posting low carb recipes.
You can see a bunch of my Keto Vegan Recipes in a round-up, or see all of the them in my Vegan Keto category page.
I have always liked to make swaps in recipes, like using cauliflower rice instead of white rice, or using zucchini noodles in place of pasta.
You will find many of those recipes here, next to more indulgent comforting recipes. It's all about balance.
Pantry Staples
These Keto Almond Joy Fat Bombs came about because I was out of my Raspberry Chocolate Fat Bombs, and I needed some more fat bombs ASAP.
So these were another one of those look-into-my-pantry-to-see-what-I-can-find recipes. I have many of those!
The recipes that I have created using pantry staples have become some of my favorites. I love to make them because I have to work within a set of rules.
They are some of the simplest recipes on the blog, sometimes using as little as three ingredients.
I had a professor in college tell us that when we make rules for ourselves, we come up with more ideas.
She was talking about creating rules for art, but I have found it applies to creating recipes as well. Smart woman Maria was.
These Chocolate Coconut Almond Fat Bombs are a great way to add coconut oil into your diet!
Click To Tweet
Crunchy and Chocolaty
These sweet chocolaty treats are crunchy with cacao nibs, coconut flakes, and sliced almonds. Sometimes I like to eat them with a dab of peanut or almond butter on top to add a savory touch.
These are not too sweet, but more like a dark chocolate. I used stevia to sweeten them, which has become a staple in my house.
If you have not used stevia before, I highly recommend giving it a try. I didn't like it at first, but it has grown on me.
There's a fine line of having just enough stevia vs. having too much. Once you have too much, it gets bitter, and there's no going back.
Affiliate Link
Of course, that's not totally true because you can always add more of the other ingredients, but if you are putting it in something like coffee, then you have to be careful.
I am talking about like the LAST cup in the pot and not enough almond milk to make your Cup A Joe recover from the I crossed the stevia line.
Once you have used stevia for awhile, you will not only understand where I am coming from, but you will know where your own stevia line is.
For example, for my morning cup of coffee I only add about five drops of stevia to eight ounces of coffee mixed with about two ounces of unsweetened almond milk. That's the perfect amount of sweetness for me.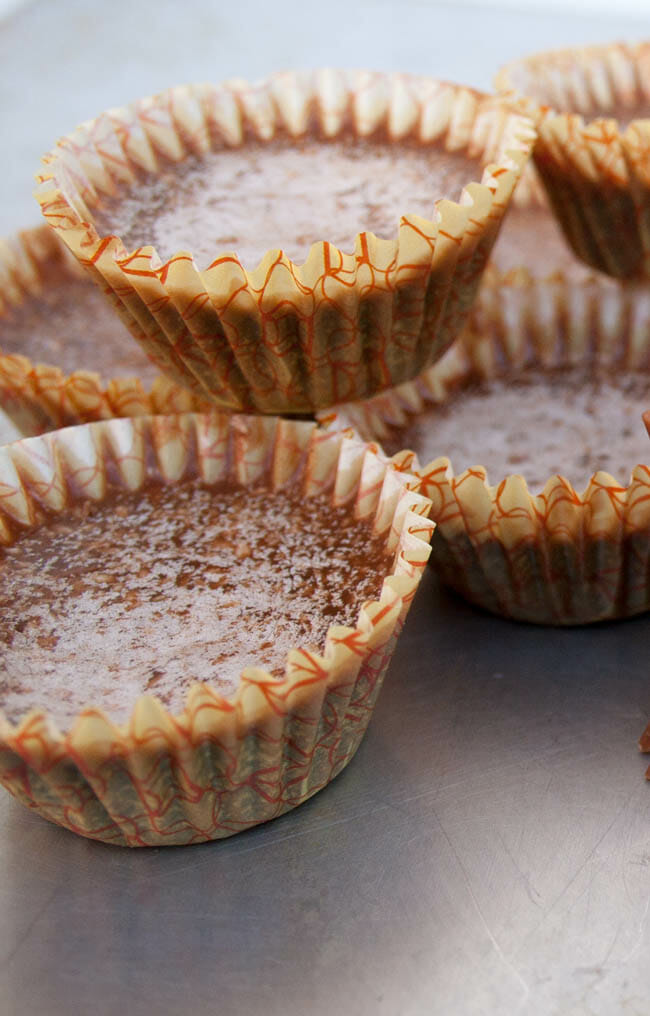 Other Vegan Fat Bomb Recipes
Chocolate Coconut Almond Fat Bombs
These keto fat bombs are the perfect treat! Chocolate coconut fat bombs with almond, what's not to love!
If you love this recipe, please come back and leave your feedback and star rating.
Affiliate links below. We are a participant in the Amazon Services LLC Associates Program, an affiliate advertising program designed to provide a means for us to earn fees by linking to Amazon.com and affiliated sites.
If you make fat bombs regularly, you may want to invest in some silicone muffin pans. They are oven, microwave and fridge safe.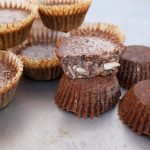 Print
Chocolate Coconut Almond Fat Bombs
These healthy sweet Chocolate Coconut Almond Fat Bombs are a great way to add coconut oil into your diet!

Instructions
Mix coconut oil, coconut butter, cacao powder, almond extract, vanilla extract, and stevia or erythritol together. If using erythritol: heat in microwave or on stove for 1-2 minutes until erythritol is dissolved. You may want to taste to check that there are no crunchy erythritol crystals.

Add in crushed slivered almonds, coconut flakes, and cacao nibs. With a tablespoon, fill mini cupcake liners or an ice cube tray, putting 1 tablespoonful in each. Store in fridge.
Nutrition
Calories:
72
kcal
|
Carbohydrates:
1
g
|
Protein:
0
g
|
Fat:
7
g
|
Saturated Fat:
4
g
|
Cholesterol:
0
mg
|
Sodium:
1
mg
|
Potassium:
21
mg
|
Fiber:
1
g
|
Sugar:
0
g
|
Vitamin C:
0.1
mg
|
Calcium:
5
mg
|
Iron:
0.3
mg
Love Animals?
Support animals by reviewing vegan dishes or products on the abillion app. One review = $1 and takes 30 seconds! Use code WMOON to get started.
*Note: Nutrition information should be considered an estimate only. Different nutrition calculators give you different results.
Do You Prepear?
I have partnered with Prepear as one of their Meal Plan Pros to offer meal plans and recipes to users. It makes meal planning fast and easy! Plus it's FREE!