Whether you want to add more coconut oil to your diet, or you are on a vegan keto diet, these Coconut Fat Bombs are for you!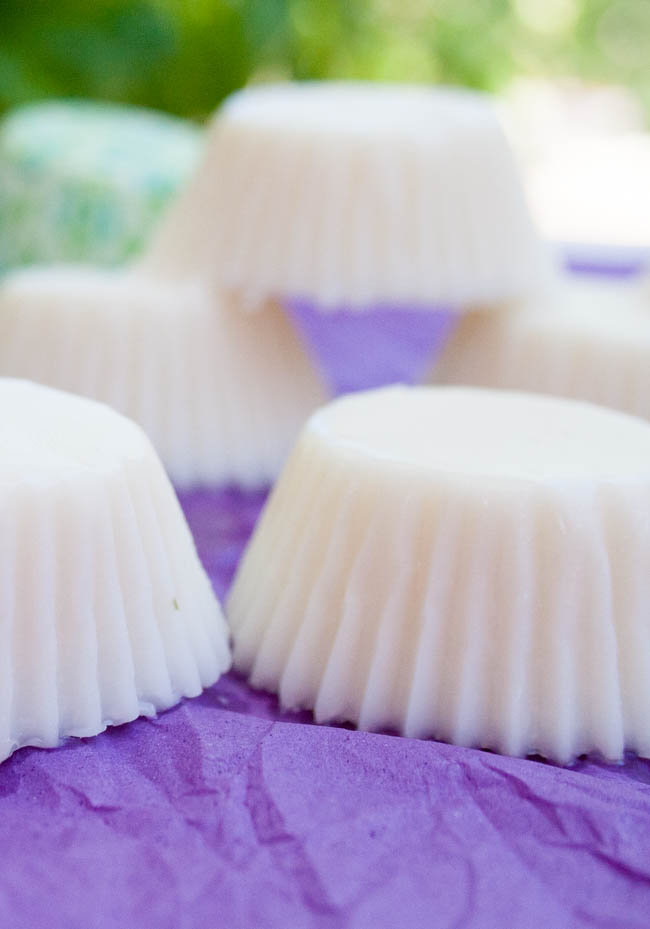 I made these vegan Coconut Fat Bombs because one, I am trying to get more coconut oil into my diet and two, I am currently on a low carb high-fat vegan diet, otherwise known as a vegan ketogenic diet.
By eliminating grain from my diet, I have had no allergy symptoms this past Fall. Seasonal allergies are something that I have dealt with for the past seventeen years, since moving to Arizona.
I will eventually add grain products back into my diet, but for now, I am feeling great and burning fat.
You can see a bunch of my Keto Vegan Recipes in a round-up, or see all of them on my Vegan Keto category page.
These Coconut Fat Bombs are an excellent way to include more coconut oil into your diet. Before these vegan keto fat bombs, I added coconut oil to smoothies and vegan Bulletproof Coffee, and cooked with it.
I would also eat a spoonful straight from the jar. I probably don't have to tell you that these taste much better than gulping down coconut oil straight!
Coconut butter and coconut flakes add a wonderful crunchy texture to these dairy-free fat bombs. I have made fat bombs without both, and even though they were good, they didn't have the crunchy mouth-feel that I was looking for.
If you are interested in more high-fat low-carb treats, try my Vegan Keto Eggnog Fat Bombs, Chocolate Low Carb Vegan Fudge, or my Low Carb Vegan Almond Cookies. They both are indulgent and not overly sweet, so they make a perfect snack.
Other Vegan Fat Bomb Recipes
Instructions
Melt coconut butter (see below for the best way).
Mix melted coconut butter, melted (or soft) coconut oil, finely shredded coconut, and stevia.
Fill mini cupcake liners, an ice cube tray, or silicone molds with a tablespoonful of each of the mixture.
Freeze for an hour. Store in the fridge.
How to Melt Coconut Butter
Melt coconut butter by placing the jar in a saucepan filled with water over medium heat. Occasionally pull the jar out with oven mitts and stir it. If it's hard to stir, stick it back in the simmering water until it's ready.
Do NOT put the coconut butter in the microwave. It will cook unevenly and burn.
When it's easy to stir, spoon it into a measuring cup to measure out the amount you need.
Tips
The coconut oil CAN be heated in the microwave if it's solid, but the coconut butter will cook unevenly and burn.
Freeze the fat bombs and store in the fridge or freezer.
How Long Do They Last?
These vegan fat bombs will last about 1 week in the fridge, and several months in the freezer.
Variations / Additions
lemon or lime juice and zest
ginger
strawberries, raspberries, blackberries, cherries or blueberries
cacao powder or cocoa powder
vanilla extract
almond extract
mint extract or peppermint extract
spices: cinnamon, nutmeg, allspice, pumpkin spice, chai spice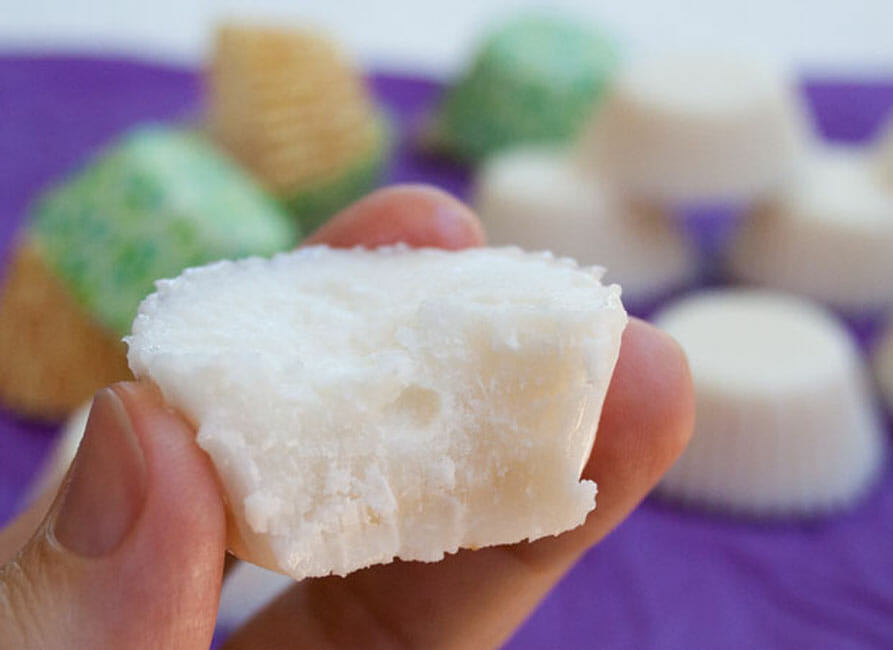 These keto fat bombs will help you meet your daily fat intake while eating low-carb and sugar-free.
If you love this recipe, please come back and leave your feedback and star rating.
📋 Recipe
Coconut Fat Bombs
Whether you want to add more coconut oil to your diet, or you are on a vegan keto diet, these Coconut Fat Bombs are for you!
Instructions
Mix all ingredients. With a tablespoon, fill mini cup cake liners or an ice cube tray, putting 1 tablespoonful in each. Freeze for 1 hour. Store in fridge.
Sign Up For My Newsletter
Get a FREE ebook with my Top 10 Vegan Recipes as a welcome gift!
Nutrition
Serving:
1
g
|
Calories:
86
kcal
|
Carbohydrates:
1
g
|
Protein:
0
g
|
Fat:
9
g
|
Saturated Fat:
6
g
|
Cholesterol:
0
mg
|
Sodium:
1
mg
|
Potassium:
7
mg
|
Fiber:
0
g
|
Sugar:
0
g
|
Vitamin C:
0.1
mg
|
Calcium:
1
mg
|
Iron:
0.2
mg
*Note: Nutrition information should be considered an estimate only. Different nutrition calculators give you different results. I calculated the nutrition information long before installing a nutrition calculator. If you see my results in the comments below you will see the differences.