These easy low carb Tamari Seaweed Flax Crackers are healthy and flavorful! They are savory and satisfying!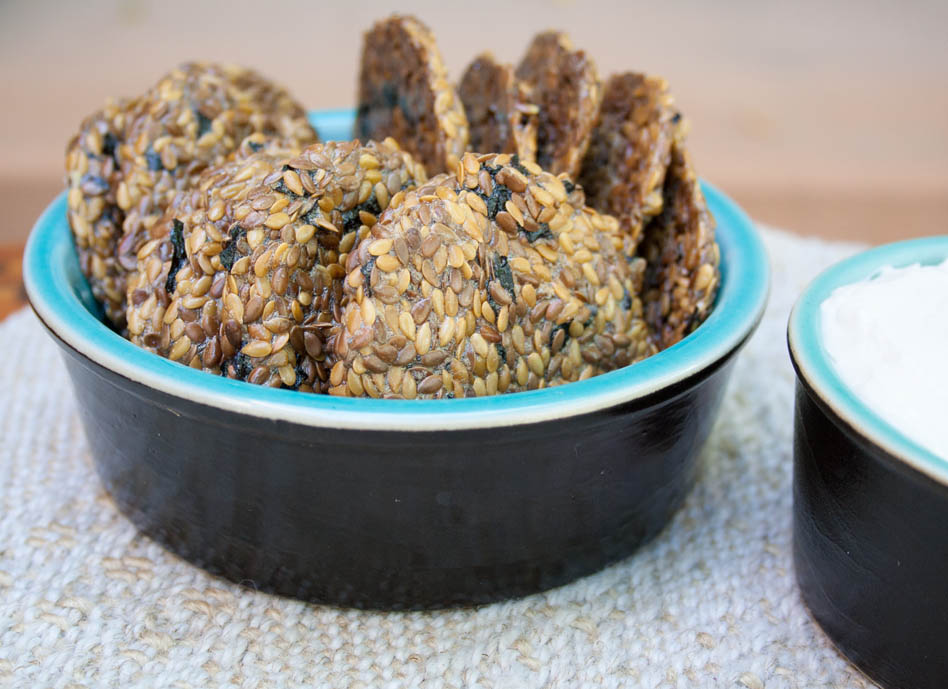 A Dehydrator Can Be Your Best Friend
Many moons ago I went through a raw vegan phase. I no longer eat all raw, but a balance of raw and cooked foods. I found it to be a lot of planning, and I missed many of my favorite foods.
During that time I experimented with raw vegan recipes. A few of the kitchen tools that raw vegans use are a juicer, a dehydrator, and a sprouting jar, all of which I have and still use occasionally.
One of my favorite ways to use my dehydrator is to make vegan crackers. I've made Pizza Crackers, Zucchini Walnut Crackers, and Spicy Flax Crackers, to name a few.
Since being diagnosed with a gluten intolerance around six years ago, I have missed bagels terribly. If you miss everything bagels, like me, you should check out my Everything Bagel Flax Crackers.
They may not satisfy your bagel craving, but they may satisfy your everything seasoning craving!
It is really easy to make your own flax crackers, and you can control what goes in them. By dehydrating flax crackers instead of baking them, you keep more of their nutrients.
Besides dehydrating crackers, I have also dehydrated fruits and vegetables, and made Salt and Vinegar Squash Chips.
Dehydrators are a great way to use up your produce. If you are a gardener, and have a proliferation of squash, a dehydrator can quickly become your best friend.
They are like slow cookers, in that you set and forget it. Yes, you will hear their quiet hum in the background, but there's no need to watch over the dehydrating process. You put your recipe in the dehydrator, and twelve to twenty-four hours later, it's done!
There's a program in Arizona called Market on the Move, where you pay a $10 donation and receive up to 60 lbs. of produce. Whenever I go to it, I have more than enough of each vegetable.
Many times I dehydrate them in a cracker recipe or make them into something I can freeze. The rest is given away.
High in Fiber, Low in Carbs
Since I love both brown rice seaweed crackers and brown rice tamari crackers, I thought I would combine the two into Tamari Seaweed Flax Crackers. I love to use flax seeds in crackers because they are so healthy. I also love their crunchy texture.
Another reason that I made these is because they are high in fiber and low in carbs. I have been eating a vegan keto diet for awhile, and flax seeds have a very low net carb content.
It is nice to be able to have a crunchy treat now and then. I don't remember the last time that I had toast or my usual gluten free crackers.
These easy low carb Tamari Seaweed Flax Crackers are healthy and flavorful!
Click To Tweet
These Tamari Seaweed Flax Crackers have a salty savory flavor. They go well with guacamole, hummus, or even almond butter. I especially like them with vegan cream cheese.
Other Vegan Snacks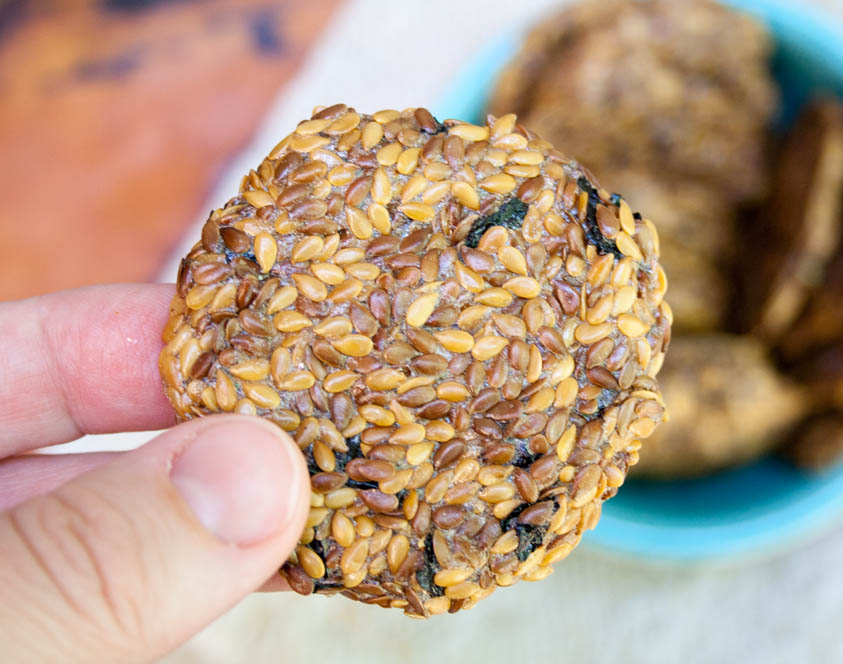 Seaweed Crackers
These dehydrated flax crackers are low carb - perfect for a keto diet.
*Don't forget to come back and leave your feedback and star rating.
Affiliate links below. We are a participant in the Amazon Services LLC Associates Program, an affiliate advertising program designed to provide a means for us to earn fees by linking to Amazon.com and affiliated sites.
Here's the dehydrator that I have. It's perfect for making these crackers as well as other raw recipes.
Print
Tamari Seaweed Flax Crackers
These easy low carb Tamari Seaweed Flax Crackers are healthy and flavorful! They are savory and satisfying!

Instructions
Soak flaxseeds and tamari in water for at least an hour. Next, add nori. Mix thoroughly.

Spoon 1 heaping tablespoonful per cracker on a

Teflon sheet

. Put in dehydrator and

dehydrate

at 110° for 24-28 hours, or until crispy. Turn over halfway through the dehydrating process so that they dehydrate faster.
Nutrition
Calories:
30
kcal
|
Carbohydrates:
1
g
|
Protein:
1
g
|
Fat:
2
g
|
Saturated Fat:
0
g
|
Cholesterol:
0
mg
|
Sodium:
69
mg
|
Potassium:
48
mg
|
Fiber:
1
g
|
Sugar:
0
g
|
Vitamin A:
10
IU
|
Vitamin C:
0.1
mg
|
Calcium:
15
mg
|
Iron:
0.3
mg
Vegan Made Easy
Discover vegan products and dishes on the abillion app. Use code WMOON to get started.
Sign Up For My Newsletter
Get a FREE ebook with my Top 10 Vegan Recipes as a welcome gift!
*Note: Nutrition information should be considered an estimate only. Different nutrition calculators give you different results.