These flavorful Vegan Pesto Shirataki Noodles are a great alternative to pasta. You'd never know they are low carb, low calorie, and healthy.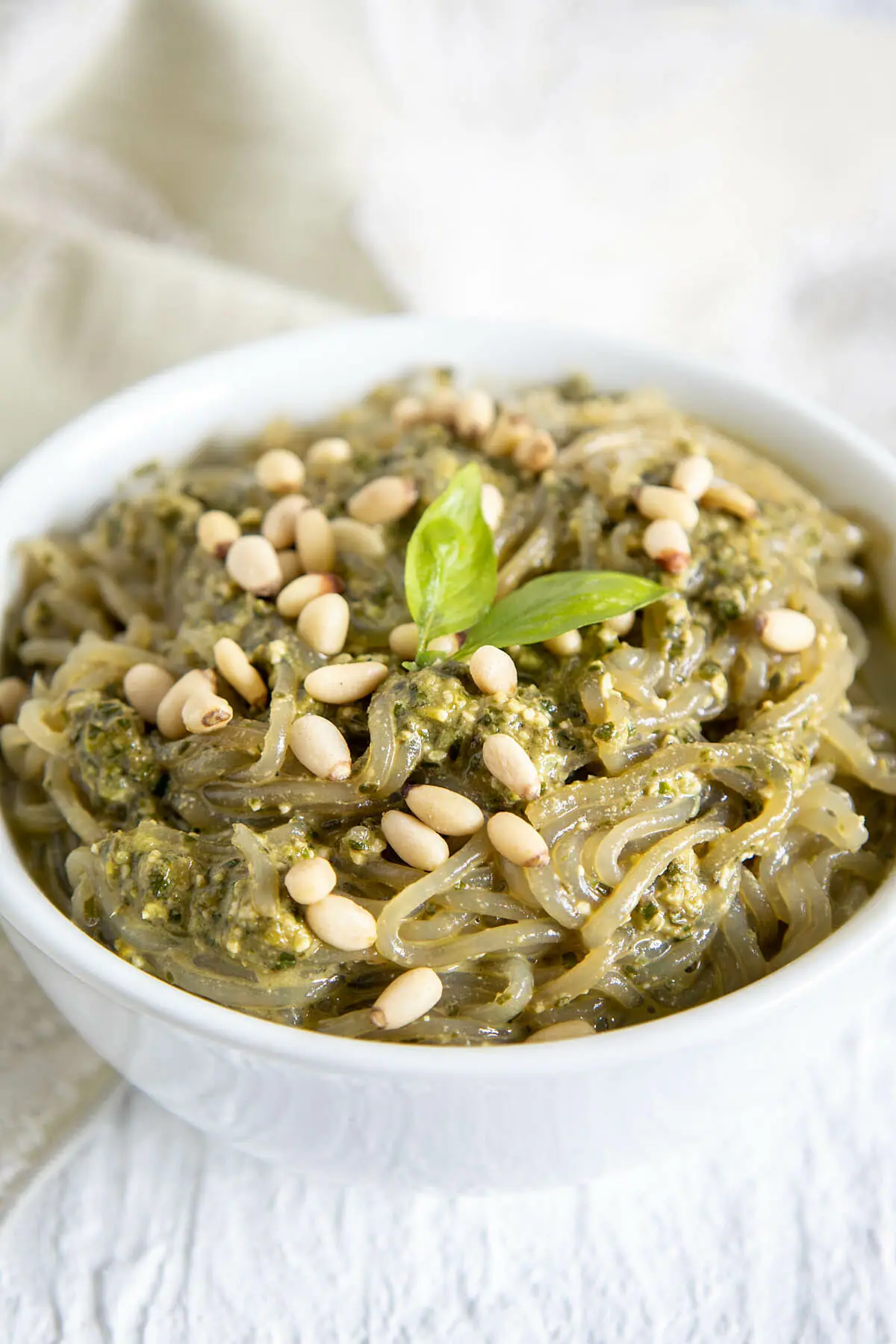 These Vegan Pesto Shirataki Noodles are not only healthy, but they are also low in calories and carbs. If you are on a vegan low-carb diet or you want an alternative to gluten-free pasta, shirataki noodles are a great substitute.
Use them in place of zucchini noodles in my Raw Zucchini Pasta with Red Pepper Sauce or my Frozen Veggie Stir Fry.
Some vegan pasta recipes you could use them in are Tofu and Thai Noodles with Peanut Sauce and Tahini Noodles.
Another fun pesto recipe is Avocado Basil Pesto. I've made it into Vegan Avocado Potato Salad and vegan Avocado Pesto Grilled Cheese.
Jump to:
What Are Shirataki Noodles?
If you've never heard of shirataki noodles (also called konjac noodles), they are noodles made from the root of the konjac plant. They are composed of water and glucomannan starch.
They have anywhere from zero calories to very few calories, depending on which kind you get. They are low in carbs and rich in fiber.
The texture of this low-carb pasta is similar to regular pasta. It comes in a few different noodle types, including spaghetti, fettuccine, macaroni, capellini, ziti, and angel hair. There's even shirataki rice.
I used spaghetti noodles for this recipe because I think the texture is closer to regular pasta than the thicker shirataki noodles.
There are also tofu shirataki noodles, and shirataki noodles with spinach or herbs mixed in. There are even ready-to-eat meals. Talk about convenience!
When you add a flavorful sauce to shirataki noodles, they take on those flavors, and you don't even notice you aren't eating traditional pasta. They can be added to a stir fry with vegetables or used anywhere you would use rice noodles or pasta.
Besides vegan pesto pasta, this low carb pasta tastes great with the walnut sauce that I used in my Vegan Zucchini Lasagna with Tofu Ricotta and Walnut Sauce. Both are a perfect addition to a vegan keto diet.
🧾 Ingredients
Shirataki noodles: I used shirataki spaghetti noodles because I prefer the taste and texture of a thin noodle over something wider like an alfredo shirataki noodle. You can buy shirataki noodles at many grocery stores like Sprouts or Whole Foods. You can also order them online at Amazon.
Fresh basil leaves: Basil is what makes it pesto. It is a traditional ingredient in pesto.
Garlic: Adds a pungent flavor.
Extra virgin olive oil: I prefer extra virgin olive oil because the flavor adds to the pesto. Make sure to use a good quality olive oil.
Pine nuts: Pine nuts are a classic ingredient. You could use walnuts, almonds, pistachios, tamari pumpkin seeds, or your favorite nuts.
Nutritional yeast: Adds a cheesy flavor. You could leave it out but it will change the flavor profile. You could also use store-bought or homemade vegan parmesan cheese.
Salt: Enhances flavors.
This is an overview of the ingredients. To see the full list of ingredients with measurements and instructions, see the recipe card at the bottom of this post.
5 Secrets to Vegan Cooking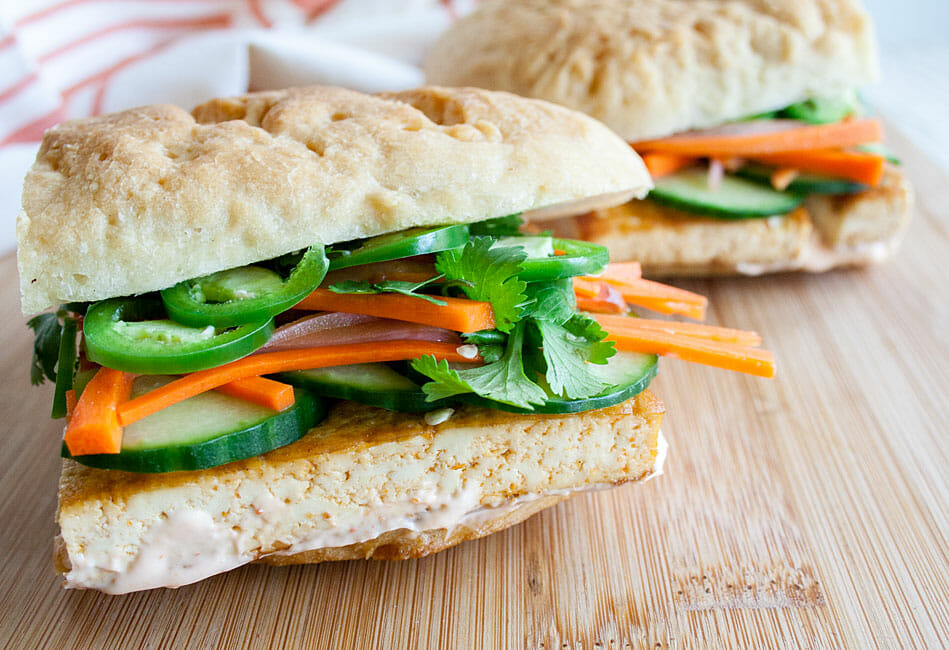 Free 5 Part Email Series to Elevate Your Vegan Cooking
We respect your privacy. Unsubscribe at any time.
🔪 Instructions
Step 1: Thoroughly rinse shirataki noodles under cold running water. Place shirataki noodles in a saucepan with boiling water for 1-2 minutes or microwave them for 1 minute.
Step 2: In a food processor mix basil, pine nuts, nutritional yeast, garlic, and salt. As the food processor mixes, drizzle in olive oil so that it combines.
Step 3: Stir pesto into shirataki noodles. Divide between four or more bowls.
🥡 Storage
This vegan pesto pasta recipe will last 5 days in an airtight container in the fridge.
👩🏻‍🍳 Recipe FAQs
How do you get the weird taste out of shirataki noodles?
If you rinse them well, then either boil them for 1-2 minutes or microwave them for 1 minute, they will have a neutral flavor.
Do shirataki noodles taste like pasta?
They don't really taste like anything. They have a neutral taste. When you add seasoning or a sauce, they pick up those flavors.
🎥 Video
If you tried this Vegan Pesto Shirataki Noodles Recipe or any other recipe on my website, please leave a ⭐️ star rating and let me know how you like it in the 💬 comments below. I love hearing from you!
This vegan shirataki noodle recipe with pesto is a low-calorie, low-carb, healthy meal that will fill you up!
I originally posted this recipe on Feb, 14, 2018. I added new photos, text, and a video when I republished it.
📋 Recipe
Vegan Pesto Shirataki Noodles
These low carb Vegan Pesto Shirataki Noodles are perfect for people who are on a vegan keto diet, have food allergies, or are looking to cut back on carbs. The shirataki noodles take on the flavors of the basil pesto sauce.
Instructions
Drain and rinse shirataki noodles thoroughly. Boil for 2-3 minutes or microwave for 1 minute.

Combine the rest of ingredients in a food processor, drizzling in olive oil as the motor is running.

Mix pesto with shirataki noodles and serve.
Sign Up For My Newsletter
Get a FREE ebook with my Top 10 Vegan Recipes as a welcome gift!
Nutrition
Calories:
190
kcal
|
Carbohydrates:
2
g
|
Protein:
2
g
|
Fat:
19
g
|
Saturated Fat:
2
g
|
Cholesterol:
0
mg
|
Sodium:
1
mg
|
Potassium:
140
mg
|
Fiber:
1
g
|
Sugar:
0
g
|
Vitamin A:
635
IU
|
Vitamin C:
2.4
mg
|
Calcium:
21
mg
|
Iron:
1.1
mg
*Note: Nutrition information should be considered an estimate only. Different nutrition calculators give you different results.