These 10 Easy Vegan Go-To Meals are simple enough that you can learn them by heart. Others can be customized to your liking each time you make them!
I put together these 10 Easy Vegan Go-To Meals as a resource for those of you looking for meals that don't take a lot of thought, time, or effort. Before I started Create Mindfully, I cooked easy meals on weeknights because I was tired from working all day. I found recipes in magazines to try, and I experimented in the kitchen creating my own recipes on the weekends.
Many of these recipes are what I ate when I worked 50-60 hours a week and didn't want to put a lot of time into cooking. Others are easy vegan recipes that I've created since starting my blog.
Many of these 10 Easy Vegan Go-To Meals are ones that I have made so many times that I know them by heart. Then, there are some that are so easy, that you taste as you go, and can be changed each time that you make them.
Breakfast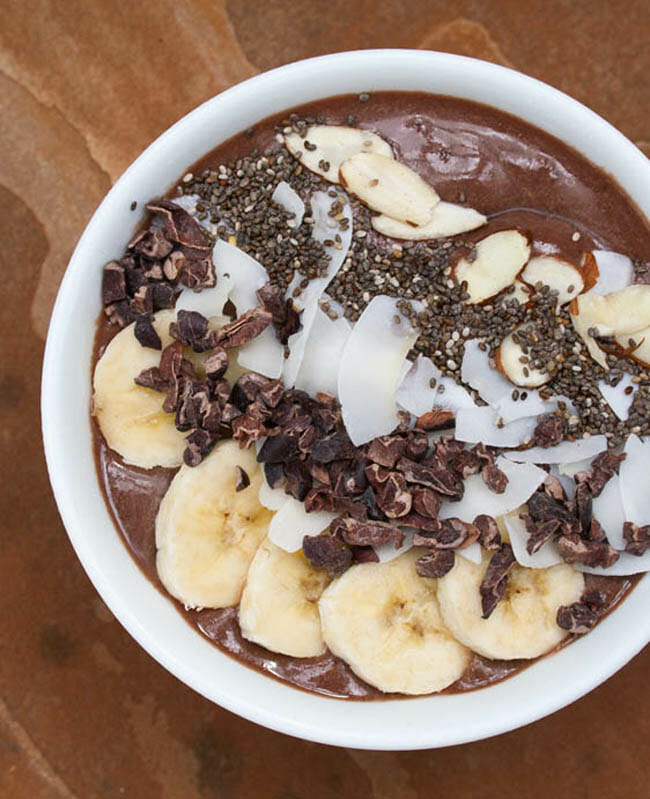 Smoothies and smoothie bowls are about one of the easiest breakfasts you could possibly make. They take only a few minutes to whip up, and smoothies can be taken on the go.
This Cacao Acai Bowl is one of my favorites because it feels like you are eating dessert, but it is really healthy.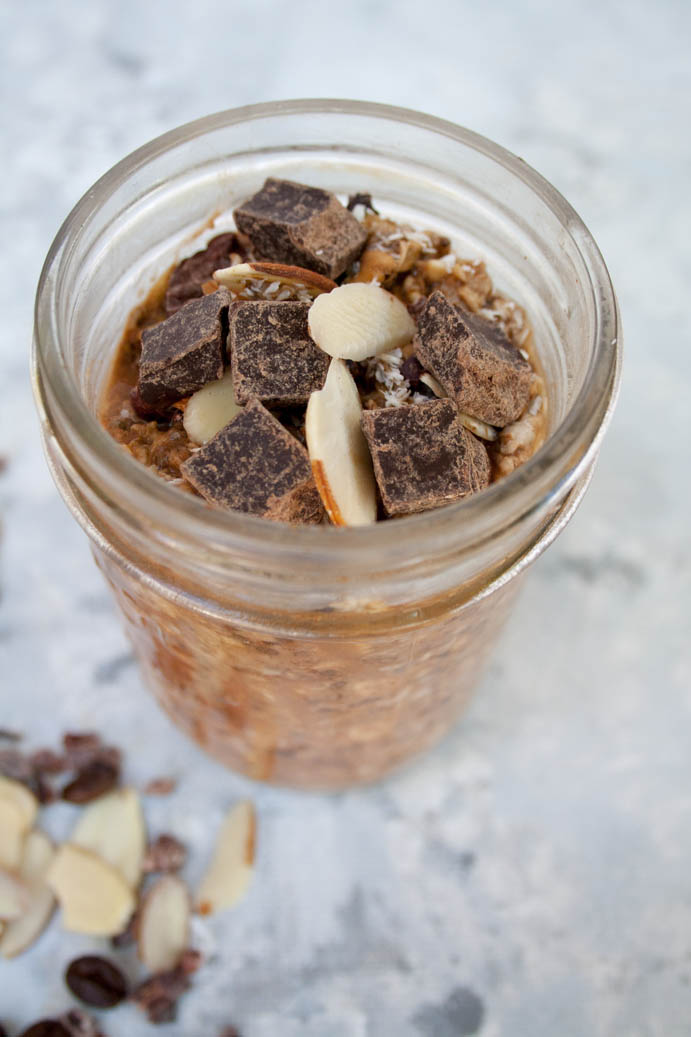 Overnight Oats are my go-to vegan food for traveling. This overnight oats with coffee is perfect for staying at a hotel. I bring the dry ingredients and add the complimentary coffee the night before if I want to eat it cold, and in the morning if I want it hot.
Lunch and Dinner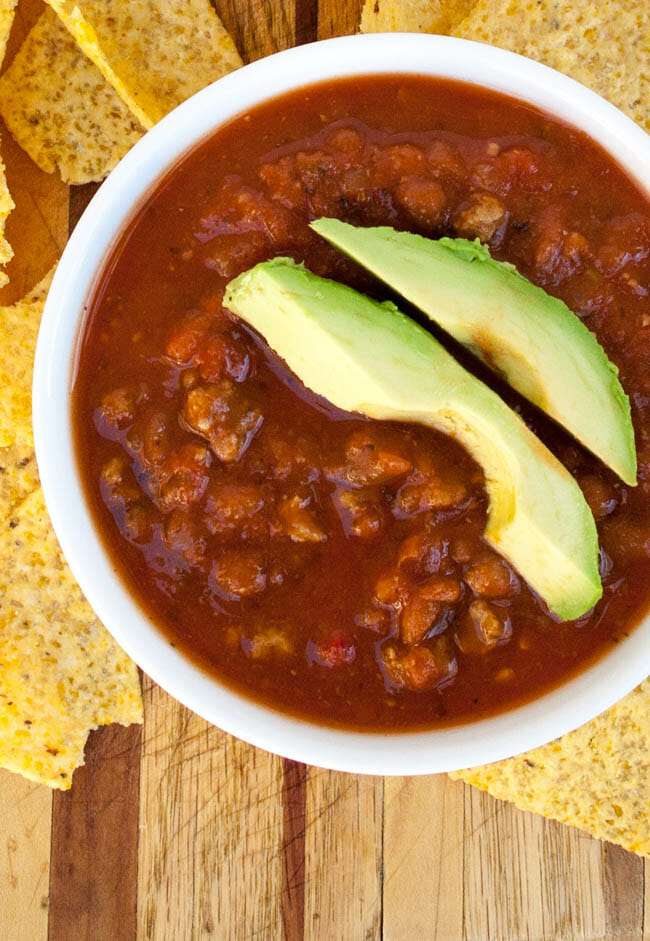 This is one of my favorite go-to meals because it could not be any easier. It doesn't even take measuring, it is so easy. I also love how comforting and filling it is.
5 Ingredient Curry Peanut Pumpkin Soup
This is a great meal for when you need to go grocery shopping, but are putting it off (like I do many times). This is made with pantry staples and comes together pretty quickly. Plus, I can't resist anything with peanuts and curry in the same dish!
Vegan Gluten Free Pizza Crust with Coconut Yogurt
This pizza crust has pretty much replaced the vegan gluten-free pizza mix I normally use because I don't have to wait for it to rise. It takes minutes to make, and I love the cheesy flavor of the nutritional yeast.
Veggie Sandwich with Basil Pesto Hummus
It's funny, I remember putting off posting this recipe because it is so easy that I thought it wasn't blog worthy. To my surprise, it ended up being one of the most popular recipes of 2017.
When I look at the top posts of last year and beyond, one theme that stands out is all of you love easy recipes. Win-win for me!
Ever since then, I have been making even more easy recipes since they have gone over so well.
Tofu and Thai Noodles with Peanut Sauce
I can't count how many times I have made this recipe, especially the peanut sauce, which I know by heart. Sometimes I make this with just the noodles and peanut sauce, other times I add tofu and whatever veggies I have on hand.
I use this sauce with spring rolls and a Vegan Thai Pinwheels recipe too.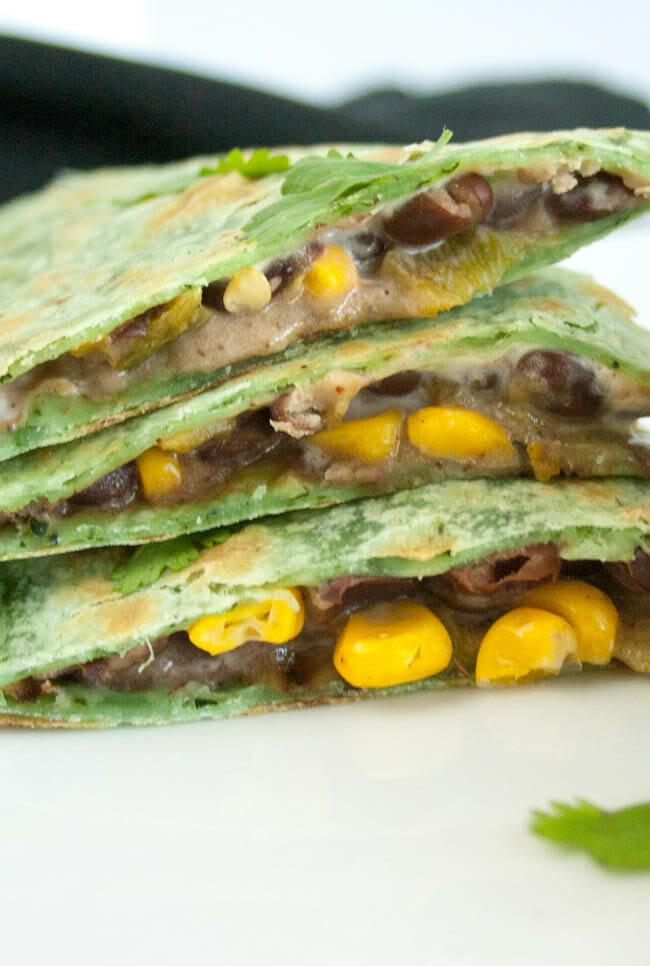 Black Bean and Corn Vegan Quesadilla
Quesadillas have always been one of my favorite easy go-to meals. They come together in minutes. This recipe is one I love because it has spicy green chiles, sweet corn, black beans, and rich vegan cream cheese.
I make tofu scramble a lot, but I actually prefer this Tofu Frittata. It can be as spicy or mild as you wish, with the former being my favorite way to eat it. Since it has vegan cheese mixed in, it has a slightly creamy fluffy texture.
This is one recipe that I have been making for ages, hence the photo that could use reshooting.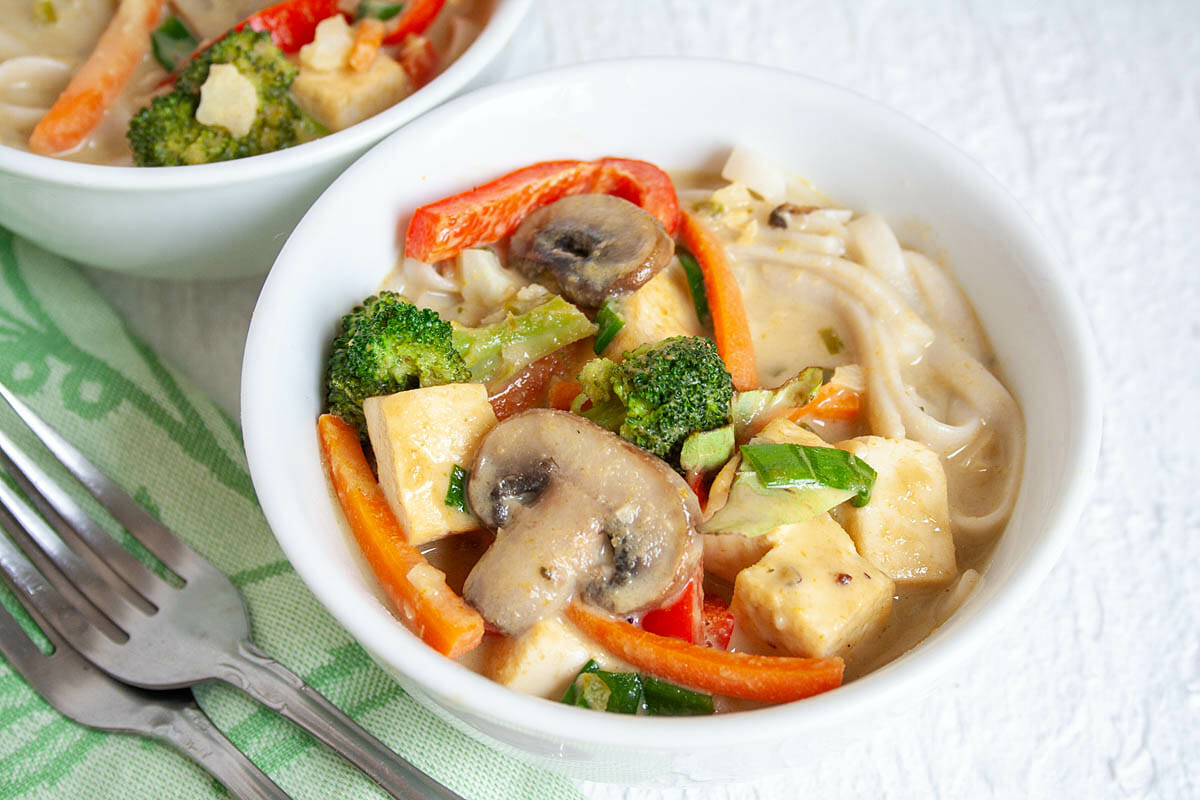 Even though this recipe was posted very early in my blogging career, and the photo needs to be reshot, I had to include this recipe because it is one of my all-time favorite meals.
I could eat green curry several times a month if I wasn't a food blogger, and needed to constantly be creating new recipes.
It is super easy to make, doesn't really need measuring, and you can customize it to your liking. To make things really easy, I use store-bought curry paste, but I add other ingredients like garlic and brown sugar to give it a more well-rounded flavor.
Other Easy Vegan Go-To Meals
No, I didn't include Tofu Scramble, which if you do a search on my blog, I have made at least three different ways if not four. It has been one of my go-to meals since becoming vegan almost 19 years ago. It is also pretty easy to figure out, so I didn't include it.
I even made a Spicy Chickpea Scramble, which is a good alternative for those of you who are allergic to soy.
I also didn't include any Vegan Grilled Cheese recipes, which I have several. I used to make them a lot when I was busy and didn't want to cook. They are also pretty easy to figure out, although my Vegan Caramelized Onion and Mushroom Grilled Cheese has been a hit with readers.
Maybe I'll have another batch of 10 Easy Vegan Go-To Meals by this time next year. There's only one way to find out: subscribe or come back again next year!