Even salad haters will love this Crispy Tofu Salad with Sweet Mustard Dressing! It is sweet, savory, and indulgent!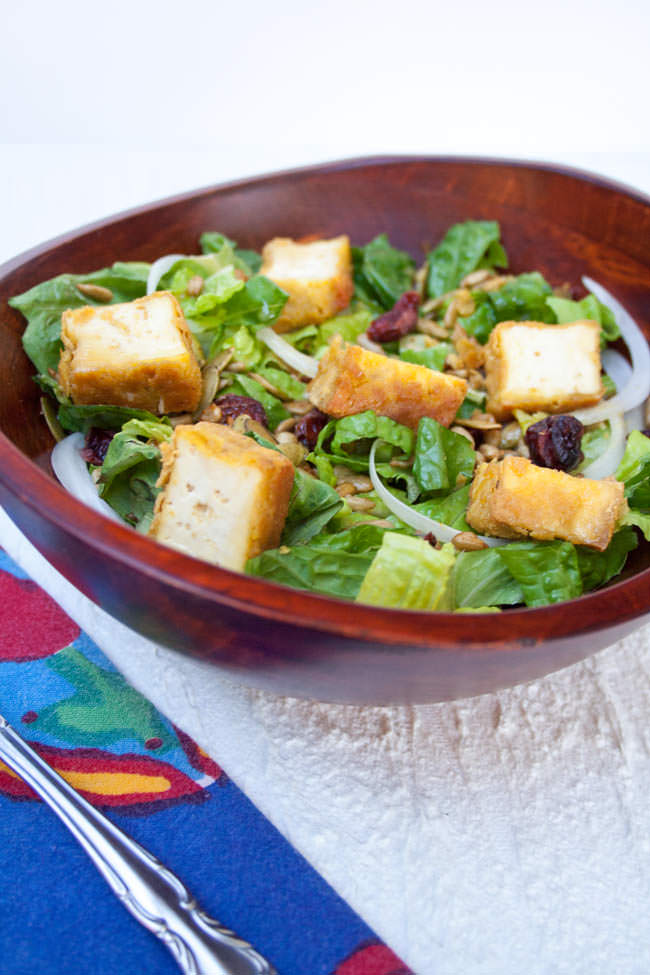 After making some Baked Tofu Chicken Nuggets, I knew I had to make this Crispy Tofu Salad with Sweet Mustard Dressing. The inspiration for it came from a restaurant that I used to work at many years ago. On the menu was a fried chicken salad with a honey mustard dressing.
I always thought of it as a salad for people who didn't really like salads because it had large pieces of fried chicken on it. I figured it was their way to get some greens in their diet while still indulging in some comfort food.
My version is a lot healthier because I used baked tofu nuggets in place of the fried chicken strips. Instead of honey mustard dressing, I used a mustard dressing sweetened with agave syrup.
The Sweet Mustard Dressing has become one of my go-to dressings because not only do I have the measurements memorized, which isn't hard because it's almost equal parts of all the ingredients, but I can easily make a single serving of it.
I love recipes that I make often that I don't have to look up the ingredients. It makes my life so much easier!
If you aren't that into salads, then this is the salad for you! The tofu is coated in almond milk and Dijon mustard, then baked in a breading of chickpea flour and nutritional yeast.
When baked in breading, tofu becomes crispy on the outside and soft on the inside. Nutritional yeast adds a cheesy flavor, while Dijon mustard adds a tangy note.
Then, I added sweet dried cranberries and sweet mustard dressing. The sweet ingredients compliment the savory baked tofu recipe nicely. This salad makes you feel like you are indulging, yet it is good for you.
Having a variety of textures and colors helps to jazz up a salad: creamy avocado, crunchy almond bacon, creamy turmeric dressing, and juicy strawberries.
Homemade croutons are another easy addition that adds crunch and flavor.
I think the vegetable haters of the world just need to experiment to find out how they like their vegetables prepared. My personal favorite way of cooking vegetables is roasting them.
Who says you can't have roasted veggies on a salad? One of my favorite Fall salads is a Roasted Beet and Butternut Squash Salad with Maple Tahini Dressing. I wouldn't have my beets any other way!
Another recipe to try is my Maple Mustard Tofu Sandwich.
Other Easy Salads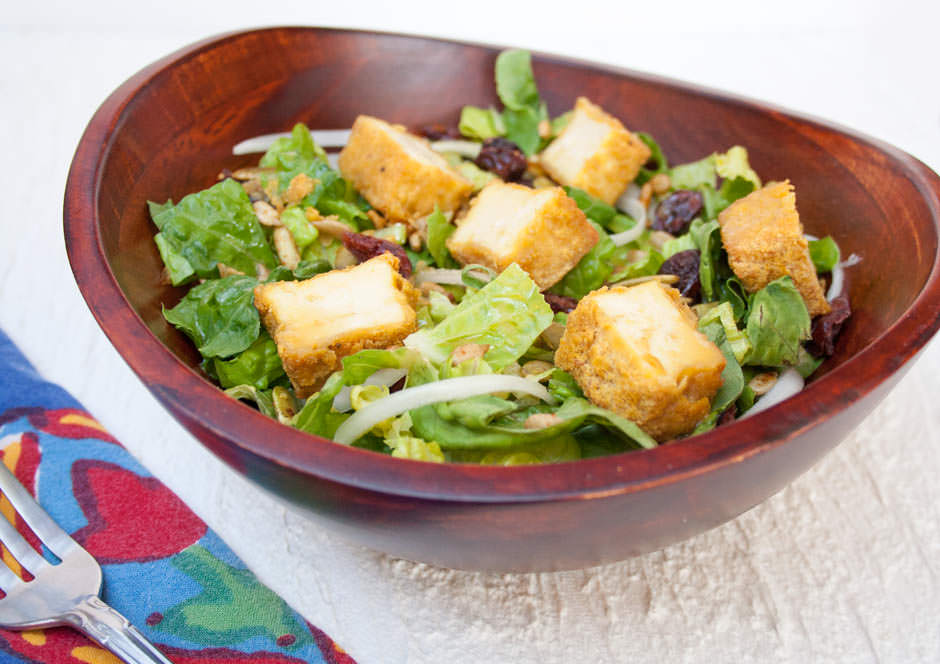 *Don't forget to come back and leave your feedback and star rating.
📋 Recipe
Crispy Tofu Salad with Sweet Mustard Dressing
Even salad haters will love this Crispy Tofu Salad with Sweet Mustard Dressing! It is sweet, savory, and indulgent!
Instructions
In two bowls, place Romaine lettuce, sliced onion, chopped celery, dried cranberries, and tofu nuggets. Drizzle sweet mustard dressing on top.
Notes
If you are using leftover tofu nuggets, bake them for a few minutes and they will crisp up again. Microwaving them will not keep them as crispy.
Baked tofu nuggets are NOT included in the nutrional info since I didn't specify how much to use. You may want a lot or a little. However, you can find the nutritional amounts in that recipe. 
I DID include the sweet mustard dressing in the nutritional info.
Sign Up For My Newsletter
Get a FREE ebook with my Top 10 Vegan Recipes as a welcome gift!
Nutrition
Calories:
155
kcal
|
Carbohydrates:
21
g
|
Protein:
1
g
|
Fat:
6
g
|
Saturated Fat:
4
g
|
Cholesterol:
0
mg
|
Sodium:
110
mg
|
Potassium:
287
mg
|
Fiber:
2
g
|
Sugar:
11
g
|
Vitamin A:
6230
IU
|
Vitamin C:
5.3
mg
|
Calcium:
39
mg
|
Iron:
0.9
mg
*Note: Nutrition information should be considered an estimate only. Different nutrition calculators give you different results.